Preferred Freezer Services system walk-through
Preferred Freezer Services's new facility maximizes throughput while minimizing labor and energy consumption.

Bob Trebilcock
·
February 1, 2012
Preferred Freezer Services; Elizabeth, N.J.
Size: 170,000 square feet, including 140,000 square feet of AS/RS
Products handled: frozen food products
Stock keeping units: 2,000 across multiple clients
Throughput: 1,020 pallets per day in and out of the facility
Employees: 30
Shifts/Days: 3 shifts/5.5 days
Receiving: When trailers are backed into a loading dock (1), the back portion of the trailer extends into the facility. This allows PFS to open the trailer doors inside the warehouse, minimizing the exchange of air with the outside. Trailers are unloaded by lift trucks or pallet jacks and staged in the receiving and shipping area (2). Pallets receive a license plate bar code that identifies the product and the customer. The bar code is then wirelessly scanned and the pallet is staged for induction into the automated storage and retrieval system (AS/RS).
Putaway: The automated system operates without conveyor. Instead, cranes can reach pick up and drop off staging and palletizing locations (3) near the freezer entrance. The system is a dual-cycle system. That means that the crane retrieves a pallet for picking each time it exits the freezer to pick up a pallet for storage. When pallets are ready for putaway, the warehouse control system sends a signal that opens a high-speed door and directs a crane to a pick up location. The crane drops off pallets (3) retrieved from storage, and picks up two pallets for putaway. The pallets are dropped off at one of several hundred freezer buffer locations (4) inside the 140,000-square-foot freezer AS/RS (5). Later, the crane will pick up a pallet from a buffer location and deliver it to a storage location inside the freezer AS/RS (5) based on throughput metrics for that stock keeping unit (SKU) and the customer. Pallets are now available for orders.
Picking and shipping: Order fulfillment takes place in the receiving and shipping area (2) on the dock. Full pallets are delivered from the drop off location directly to a trailer (1) for delivery. Mixed pallets are manually palletized in the receiving and shipping area (2). When the picks from a pallet are completed, the crane will remove the partial pallet and return it to the freezer buffer area (4) for putaway (5) later. The completed pallet is stretch-wrapped and loaded into a trailer (1) for delivery.
System suppliers
AS/RS cranes: LTW Intralogistics
WMS: Accellos
Warehouse control system: Preferred Freezer Services
Pallet rack: Frazier
Lift trucks: Crown
High-speed doors: Rytec
Insulated panels: Metl-Span
Dock equipment: Kelley (4Front Engineered Solutions)
Bar code scanning: LXE/Honeywell
Stretch wrapping: Lantech

click here to download PDF article

February 15, 2012
About the Author
Bob Trebilcock Bob Trebilcock, editorial director, has covered materials handling, technology, logistics and supply chain topics for nearly 30 years. In addition to Supply Chain Management Review, he is also Executive Editor of Modern Materials Handling. A graduate of Bowling Green State University, Trebilcock lives in Keene, NH. He can be reached at 603-357-0484.
Subscribe to Modern Materials Handling Magazine!
Subscribe today. It's FREE!
Find out what the world's most innovative companies are doing to improve productivity in their plants and distribution centers.
Start your FREE subscription today!
Latest Whitepaper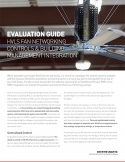 How to Invest Smartly in Industrial Fans
Read this white paper to learn the 7 defining factors to consider about your facility so you can maximize the benefits of your fan investment. HVLS High volume low speed fan white paper, Entrematic fans white paper. Benefits of HVLS fans in the warehouse.
Download Today!
From the April 2018 Modern Materials Handling Issue
Why smarts are central to Internet of Things in the warehouse
New warehouse gives winemaker a "Smooth Finish"
View More From this Issue
Latest Webcast
Industry 4.0: What you need to know today
This webinar takes a closer look at industry 4.0 and provides a roadmap for building and effectively utilizing Industry 4.0 capabilities.
Register Today!