Preferred Freezer's New Take on Automation
PFS built one of the largest and most automated AS/RS freezers in the world in Washington state. Next up is a new design for automation.

Warehouse in the News
SencorpWhite names Corey Calla president
RFID companies innovate to harness the growth opportunities generated by Manufacturing 4.0
Great Northern joins Amazon Packaging Support and Supplier Network
JDA and Panasonic partner to co-innovate on integrated digital supply chain technology solutions
IFS Study: Double-digit increases in industrial IoT sophistication in 2018
More Warehouse News
Warehouse Resource
Automated Packaging Trend
Driving Out Parcel Packaging Costs While Boosting Your Fulfillment Strategy
Tuesday, January 29, 2019 | 2pm ET
All Resources
By
Bob Trebilcock
·
January 22, 2018
Editor's Note: With all the talk of omni-channel, it's no wonder that the industry is focused on item-level picking and handling technologies. But, there are still many warehouses and distribution centers challenged with moving pallets quickly, efficiently and accurately. This month's System Report on Preferred Freezer Services is the first of two cover stories featuring unique, automated pallet handling systems.
---
Outside of Richland, Wash., a town once best known as the site of the Hanford nuclear site and now home to a growing wine industry, a 380,000-square-foot freezer warehouse rises some 120 feet above what is otherwise flat, arid land. Built by Preferred Freezer Services (PFS) to store and distribute roughly 2 billion pounds of frozen French fries per year, it is the largest automated freezer warehouse in North America.
With 120,000 pallet positions capable of storing 10-foot tall pallet loads, it could be the largest of its kind in the world, according to John J. Galiher, CEO of the New Jersey-based, third-party logistics (3PL) provider. "We know of one facility in Japan that may be bigger," says Galiher, who founded what is now the third-largest freezer warehouse provider in North America. "But it wasn't built all at one time like this one."
It is also one of the most highly automated facilities in PFS's stable of company-designed buildings. It includes:
three freezers serviced by automated storage and retrieval system (AS/RS) cranes (Dematic) equipped with carts that automatically deliver pallets into storage. Operating in -20ºF temperatures, the carts can travel about 300 feet before a charge, which happens in 6 seconds. The freezer incorporates a number of energy saving and safety features, such as reduced oxygen to prevent fires; lights out storage; and spiral tubes around the cooling towers that save an estimated 3 million gallons of water annually;
thirty-six dock doors, including four receiving docks that can automatically unload a 53-foot trailer in a matter of minutes;
an overhead monorail with 36 carriers on a 2,200-foot loop to deliver pallets into the freezer and back out to feed a mixed pallet build area and shipping; and
eighteen pallet conveyor lines that service the freezer—nine lines in and nine lines out.

Trucks are automatically unloaded in a matter of minutes at four of the 36 dock doors.
---
Using 120 employees across three shifts, the facility can hold 200 million pounds of product and handles 2 billion pounds annually, with approximately 10 inventory turns a year. On average, it receives 120 to 150 trucks a day, including 100 from local factories that are equipped with chain conveyor and pneumatics for automatic unloading; ships out roughly 120 trucks and 12 rail cars a day; and moves an estimated 700 pallets per hour.
"We've developed a system that allows us to load a truck in 36 minutes with a permanent electronic record of what went on a truck, in what order and when it was loaded," he says. "Automation allows us to keep incredible KPIs."
Designed by PFS, Galiher says it represents an evolution from 45-foot high buildings to 120-foot high buildings. At the same time, he says this is the last of its breed: He and his team at PFS are investigating new technologies for the automatic movement and storage of pallets that will be incorporated into the next building.
---
Don't Forget Pallets
In most operations, pallets are an afterthought. But highly automated systems require precision and consistency for optimal performance. In that kind of application, pallets are anything but interchangeable.
The system in Richland, Wash., was designed to work with a hardwood version of a Euro pallet, a block pallet design that doesn't have bottom deck boards. Partway through the project, Preferred Freezer Services's customer asked for an alternative design out of concern that the European design wouldn't work on its conveyor system. PFS created an alternative pallet manufactured from hardwood: The design allowed for the pallets to be screwed together, rather than nailed, for durability while deflecting less than 3/16 of an inch when fully loaded.
While the designed worked well in PFS's operation, the 100-pound weight was more than the customer could handle ergonomically. To meet everyone's requirements, PFS would need to come up with a pallet that weighed less than 65 pounds, performed at -20ºF, interfaced with multiple types of conveyors and handling devices, and held 3,500 pounds without deflecting more than the 3/16 of an inch. And, PFS needed 150,000 of them. "We went through 30 different designs from 10 different suppliers before we came up with a design that worked," says John J. Galiher, CEO.
The winning design (Millwood) was engineered in the pallet provider's tech center in Ohio. The provider used the Pallet Design System software as well as multiple tests on the center's equipment, which replicates real-world handling situations. Samples were subsequently tested in the freezer warehouse in Richland.
To meet weight requirements, the nine-block pallet was initially manufactured from kiln-dried Douglas fir, which is lighter than hardwood, to meet the new weight requirement. Since going live, the design has been modified to use lead boards manufactured from hardwood, which adds slightly to the weight of the pallet but holds up better over time. "As pallets need to be repaired, we replace the pine board with hardwood," Galiher says.
---
March to automation
The Richland warehouse is the sixth highly automated facility PFS has built, with automated facilities in three countries. Each has built on the learnings from previous designs and taken the 3PLs automation capabilities to new heights—literally: The first generation facility reached up 45 feet and the latest generation is 120 feet high.
According to Galiher, automation was inevitable given the business equation his company must work with. On one side of the equation are the demands of customers, especially those who are looking at their supply chains as a means to reduce the cost of goods and improve their bottom lines.
"The supply chain went from an ignored expense to a focused part of our customers' business models to improve profitability," Galiher says. Those customers don't just want their suppliers to reduce their costs, they also want them to reconfigure their supply chains to reduce the number of times a product is touched, and drive fewer miles to shorten delivery times. "It is no longer good enough to be considered a good supplier," says Galiher. "Customers are going to measure and benchmark your performance. They want proof that you do a good job."
On the other side of the equation is the cost to PFS of operating a facility: While customers are simultaneously expecting improved customer service and reduced costs, the costs to PFS of land, labor, energy and construction continue to rise. And, as Galiher points out, all of those are exacerbated in a freezer, where just running lights can raise the cost of maintaining a temperature.
Automation became the vehicle for balancing the two sides of the equation. "Automated systems address many of those areas where our costs are rising," Galiher says. "You can do more in a smaller space, which reduces land and construction costs; you have fewer employees; and you have less damage. And, you now have traceability at a level that our customers expect."
The new facility took several years to come to fruition. Initially, the French fry producer requested design proposals for a massive consolidation center in the region, but decided not to move forward. A few years later, the producer sent out another RFP to 10 service providers. They were asked to design, build and operate a facility on a long-term basis to handle the output from three manufacturing sites operated by the company as well as other nearby suppliers. One requirement incorporated in the design criteria was the capability to automatically load and unload trailers. Energy efficiency and ergonomic optimization were also important, given the challenge of maintaining a -20ºF temperature in a large building where outside temperatures can reach 100ºF in the summer. The list of 10 was narrowed to four before PFS was awarded the contract to build the facility.
---
The time to automate is now
As one of the first executives in the freezer warehouse industry to embrace automation in a big way, CEO John J. Galiher has a message for manufacturers, distributors and retailers: "Don't be afraid of automation. If you don't embrace it now and spend time to get ahead of the curve, you'll end up behind the times."
What's more, Galiher believes the push toward automation is being driven by the marketplace, whether those are consumers who demand high levels of customer service, often for free, or industrial customers who are no longer willing to pay more to get more from their suppliers. "I'm in the 3PL business and my customers want automated warehouses," Galiher says. "They're concerned about the rising cost and availability of labor. They're worried about regulation, and, more importantly, they want data to prove that our system is delivering what we say its delivering." Automation, he adds, addresses those issues: It allows PFS to operate with fewer associates, reduces damage and provides a real time and reliable transaction history. "An automated system allows us to keep incredible KPIs," he says.
---
Final design
The final design is both efficient and speedy. Trucks are automatically unloaded in a matter of minutes; mixed pallet deliveries are loaded in a little more than a half an hour; and the facility loads out 84 rail cars a week. The materials handling system is moving an estimated 7,000 pallets a day between receipts and shipments.
The ultimate design went through several iterations before the facility went live. "We did it component by component," Galiher recalls. For example, to develop the chain-driven trailer unloading system, PFS first had to learn what happened at the customer's manufacturing sites. Trailers had to be locked in place and connected to the building to ensure the trailer didn't move during unloading. Pneumatics were required to raise and lower the conveyor. The design team then worked with Great Dane, the trailer manufacturer, to add the pneumatics and chain conveyor as well as a third axle to accommodate the added weight of the equipment.
Another innovation was the substitution of an overhead monorail for conventional pallet conveyance to move pallets to and from the freezer. "We had planned on using a conveyor, but when we looked at the volume of pallets and the distances they would have to move, conveyor wasn't cost effective," Galiher says. "We considered a cart system that would move on the floor, but were concerned with wear and tear." The overhead monorail system proved to be a cost-effective method of transportation that also freed up space on the floor. "They're also reliable," Galiher adds. "We've had few maintenance issues."
The design also made use of carts in the AS/RS system. The cranes raise pallets to the designated level for storage, but rather than a crane moving down an aisle, a cart onboard the crane delivers the pallet to a storage location and then returns to the crane.
One change was an unexpected curve ball: the pallets that would be used internally to interface with the automation. "In automation like this, everything is engineered around handling a pallet," Galiher recalls. "Our original plan was to use a hardwood Euro pallet." A Euro pallet is a block pallet design that does not include bottom boards. About halfway through the project, PFS's customer was concerned with whether a Euro pallet would work with its conveyors and asked for a block pallet with bottom boards like CHEP or PECO. PFS experimented with about 30 different designs from 10 suppliers before finding a pallet that met everyone's criteria.
To save energy, the three freezers are lights out. For fire protection, the oxygen level is reduced to 18% oxygen, a level in which maintenance personnel can still work but that is low enough to reduce the chance of a fire without a sprinkler system.
Finally, the 24/7 facility was designed to operate with a total of 120 people working two 12-hour shifts, or 60 people per shift. Since working in a refrigerated or freezer environment is a tough work space, the workforce is divided into four teams. Each team works three 12-hour days followed by four days off. "The work schedule was designed with our employees in mind," Galiher says. "They get their 40 hours in three days, and every three weeks, they get a four-day weekend."
---
Where should a company start?
PFS's Galiher suggests seven points:
Automate non-value-added activity: Any time you have to get a pallet or carton from Point A to Point B and back to Point A again, that's an opportunity for automation.
Start small: Automate a portion of your operation and get a win, not the whole facility. As CEO John J. Galiher points out, PFS has gone through multiple design iterations over 10 years to get where it is currently at with automation.
Get buy-in from all of your departments: You need more than operations personnel. IT must be part of the solution because you will need to integrate with other systems along with addressing issues like server redundancy and spare PLCs.
Invest in site visits: It's important to see how other companies with similar solutions are staffing and operating their systems.
Go with experience: Before the go live, bring in crews from other buildings that have done this before.
Sweat the details: Improperly designed pallets can bring an automated system to a halt, as can something as simple as flapping stretch wrap that blocks a photo eye.
Maintenance counts: If you haven't done automation before, don't assume you have the talent to run it, maintain it or stock spare parts to keep it running. No one wants their system down for lack of a part.
---
The next design
The requirement to be better, faster and more accurate with less damage and lower costs never ends for a 3PL. As impressive as it might be, Galiher says that the Richland facility is the last of this second-generation design that PFS will build. "In the future, we won't use cranes in an AS/RS," he says. "The future—our Generation III—is lifts and carts."
What he envisions, and what PFS is developing with solution providers, is similar to the shuttle or mobile bot solutions now used to move cases and cartons in goods-to-person picking operations, but large enough to handle 10-foot tall pallet loads weighing 4,000 pounds. A lift, or elevator, will raise the pallet to the right height and a cart or shuttle will move the pallet to its storage location. But rather than just move forward and backward, like the cart PFS is currently using, the next generation will also be able to move side to side. "We think the future is some kind of cart that can move in two directions," Galiher says.
Some solutions like this have been exhibited at past ProMat and Modex shows; PFS is working with one supplier to develop a solution that will meet its unique handling requirements. It is all part of the company's continued march to automation. "The days of a person taking a pallet from Point A to Point B are numbered," Galiher says. "To us, automation is absolutely mission critical and essential to building a business for the future."

January 22, 2018
About the Author
Bob Trebilcock Bob Trebilcock, editorial director, has covered materials handling, technology, logistics and supply chain topics for nearly 30 years. In addition to Supply Chain Management Review, he is also Executive Editor of Modern Materials Handling. A graduate of Bowling Green State University, Trebilcock lives in Keene, NH. He can be reached at 603-357-0484.
Subscribe to Modern Materials Handling Magazine!
Subscribe today. It's FREE!
Find out what the world's most innovative companies are doing to improve productivity in their plants and distribution centers.
Start your FREE subscription today!
Latest Whitepaper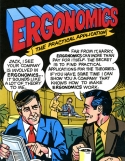 Southworth Brouchure Shows Practical Applications of Ergonomics
This little booklet done in comic book style uses simple illustrations to take readers on a walk through a hypothetical, yet typical, plant where the plant manager, safety director, and controller point out a variety of problems that were solved through the practical application of ergonomics.
Download Today!
From the December 2018 Modern Materials Handling Issue
Educational Development Corp. writes a new chapter in distribution
2018 Top 20 warehouses
View More From this Issue