ProMat 2011 to host Classroom Day
Students supplement classroom time with first-hand learning about materials handling technology, careers

Sara Pearson Specter
·
February 1, 2011
Students of engineering, manufacturing, operations, supply chain and logistics will experience first-hand the latest technologies and solutions as they tour the ProMat on the first day (March 21) as part of the Material Handling Logistics Classroom Day. Accompanied by professors, teachers and administrators, the students are from two- and four-year higher education programs, as well as from high schools.
The program is in its eighth year, explains Carmen Murphy, Classroom Day coordinator for the Material Handling Industry of America (MHIA). The event is put together by MHIA's College Industry Council on Material Handling Education (CICMHE) and Technical Career Education Program (TCEP) in conjunction with the Material Handling Equipment Distributors Association (MHEDA).
"The opportunity to spend time at the show offers students a better understanding of the latest industry developments by giving them a chance to see the wide variety of solutions that support the flow of materials for both manufacturing and distribution operations, all in one place," says Murphy.
Classroom Day is so important to MHIA's Board of Governors, adds Murphy, they set aside $15,000 in grants to be awarded among attending schools on a first-come/first-served basis to help defray travel and lodging costs. "Because of these grants, more than 175 students are expected to participate," she notes.
The day kicks off at 9:30 a.m. with breakfast in Room S403A/B on the fourth level of McCormick Place South. Students and faculty receive "Academic VIP" ribbons to affix to their badges. They also receive a packet of materials to help them better understand the show and the industry, and educational materials from CICMHE, TCEP, MHIA and MHEDA.
From 10 to 10:30 a.m., a brief presentation will provide an overview of how materials handling and logistics solutions make goods flow, how solutions are developed, current and future trends, people and jobs in the industry. A special emphasis will be placed on helping the groups determine how to maximize their time at ProMat 2011.
After this session concludes, Allan Howie, MHIA's director of continuing education and professional development, will conduct a special break-out session with high school administrators and instructors to share additional details about the resources available through the TCEP program to aid them in establishing their own materials handling educational curriculum.
From 10:45 a.m. to 12:45 p.m., Students and professors will split into groups to take a guided tour of the show floor and see the latest technologies. Industry experts at selected show booths will be on hand to discuss the industry, solutions and careers.
Lunch is served at 1:00 p.m., courtesy of CICMHE and MHIA. During the meal, Classroom Day participants will learn more from young professionals and other industry groups about career opportunities and financial aid. Presenters include:
general manager for Sears Holdings, where she is in charge of managing a warehouse that handles home delivery of appliances, in Ft. Pierce, FL. Kim has been with Sears for over seven years.
Josh Dennie, production control manager at Optimiax and a 2006 graduate of Rochester Institute of Technology (RIT), where he obtained his bachelor's and master's degrees in industrial and systems engineering.
Kristin Cullen, graduate student at Auburn University and part of a team that won a research grant from MHIA/CICMHE in 2009 for the work entitled "The State of the Distribution Workforce and What It Means for the Material Handling Industry."
Victoria Wheeler, executive director of the Material Handling Education Foundation Inc. (MHEFI), who will discuss the organizations scholarship opportunities.
Liz Richards, executive vice president of MHEDA will discuss the organization's Gateway program, which provides connections between students looking for a career within the material handling industry and industry professionals who are seeking students ready for employment or internships.
After lunch concludes at 2:30 p.m., students and professors are encouraged to attend educational sessions or speak with more vendors until the show floor closes.
MHIA member companies slated to participate:
Advance Storage Products
Autoquip
Beumer
Carter Control Systems
Dematic
Engineered Products
Frazier Industrial
Hamilton Caster & Mfg. Co.
Hanel Storage Systems
Intelligrated
John Bean Technologies
KardexRemstar
Red Prairie
Sapient Automation
ProMat 2011 will be held March 21 - 24, 2011 at McCormick Place South in Chicago. The tradeshow will showcase the latest manufacturing, distribution and supply chain solutions in the material handling and logistics industry.

February 14, 2011
About the Author
Sara Pearson Specter Sara Pearson Specter has written articles and supplements for Modern Materials Handling and Material Handling Product News as an Editor at Large since 2001. Specter has worked in the fields of graphic design, advertising, marketing, and public relations for nearly 20 years, with a special emphasis on helping business-to-business industrial and manufacturing companies. She owns her own marketing communications firm,
Sara Specter, Marketing Mercenary LLC
. Clients include companies in a diverse range of fields, including materials handing equipment, systems and packaging, professional and financial services, regional economic development and higher education. Specter graduated from Centre College in Danville, Ky. with a bachelor's degree in French and history. She lives in Oregon's Willamette Valley where she and her husband are in the process of establishing a
vineyard and winery
.
Subscribe to Modern Materials Handling Magazine!
Subscribe today. It's FREE!
Find out what the world's most innovative companies are doing to improve productivity in their plants and distribution centers.
Start your FREE subscription today!
Latest Whitepaper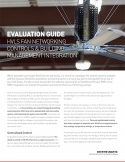 How to Invest Smartly in Industrial Fans
Read this white paper to learn the 7 defining factors to consider about your facility so you can maximize the benefits of your fan investment. HVLS High volume low speed fan white paper, Entrematic fans white paper. Benefits of HVLS fans in the warehouse.
Download Today!
From the April 2018 Modern Materials Handling Issue
Why smarts are central to Internet of Things in the warehouse
New warehouse gives winemaker a "Smooth Finish"
View More From this Issue
Latest Webcast
Industry 4.0: What you need to know today
This webinar takes a closer look at industry 4.0 and provides a roadmap for building and effectively utilizing Industry 4.0 capabilities.
Register Today!