ProMat educational tracks to offer deep dives into industry-related information
ProMat is presenting three separate educational tracks during the show. Each offers an expanded view into a specific topic related to material handling and supply chains.

Sara Pearson Specter
·
December 13, 2012
ProMat is presenting three separate educational tracks during the show. Each offers an expanded view into a specific topic related to material handling and supply chains.
On Tuesday, the Association for Automatic Identification and Mobility (AIM) will present a series of three speakers discussing the use of their members' technologies.
"For an educational partner of MHIA, ProMat provides a terrific opportunity for us to share some just-in-time information about topics that our members know a lot about," said Linda Young, AIM's director of business development. "Participants will take away some innovative ideas about how companies are using automatic ID and mobility technologies, perhaps in ways that they hadn't thought of before. The presenters will share sample case studies that have potential for use in other applications in different industries."
First up, from 10:00 to 10:45 a.m., Jonathan Ludlow, author and project manager at Microscan, will discuss "Unit Level and Product Traceability using Data Matrix Codes - Benefits, Applications and Trends." Ludlow will explain the benefits of providing unique identity to individual components in a manufacturing process, as well as practical methods of direct part marking.
Next, Patrick Noone, vice president of sales and marketing at Woelco Labeling Solutions presents "Improving ROI with Automated Identification Technology." From 10:45 to 11:30 a.m., he will review the emerging technologies that can be combined to facilitate automation in product identification, as well as verification, to yield improvements in production, quality and traceability.
Finally, from 11:30 a.m. to 12:00 p.m., Jason Bridwell, vice president of sales at Portsmith Technologies will conclude the AIM sessions with "Mobile Computing for the Advanced Supply Chain." Bridwell will detail how enterprise mobile computing solutions are impacting some of the largest global supply chain operations, and share how real-time information and immediate communication can boost productivity and effectiveness.
The sessions are free to registered ProMat attendees without advanced registration.
On Wednesday, from 8:00 a.m. to 1:00 p.m. the EASE Council (Ergonomic Assist Systems and Equipment) will host "Manual Material Handling Workshop: Engineered Solutions for Manual Handling Jobs," with sponsor support from the Institute of Industrial Engineers (IIE) and the National Institute for Occupational Safety and Health (NIOSH). This workshop will provide an opportunity to hear from retailers, wholesalers and warehouse safety and loss prevention representatives as they participate in open panel discussions about the ergonomic challenges associated with manual material handling jobs.
"This session features a panel of internationally-recognized experts who design material handling devices, along with leading ergonomic health and safety experts," explained Ray Niemeyer, educational services director and EASE Council managing executive of MHI. "They will be exchanging ideas to help find material handling technology solutions that can reduce workers compensation claims and improve employee performance."
Participants must register in advance for the session, which includes a separate fee outside of ProMat registration. ProMat attendees wishing to participate can contact Ray Niemeyer at .(JavaScript must be enabled to view this email address) prior to Wednesday.
Also on Wednesday, a special educational track session presented by the Council of Supply Chain Management Professionals (CSCMP) will be offered immediately after "The Future of Material Handling, Logistics and Supply Chain" keynote panel. Held in the Grand Ballroom, Room S100 from 10:00 to 11:00 a.m., this panel discussion will further elaborate on the insights shared during the keynote.
Entitled "When the Rubber Meets the Road…Implementing Future Vision," the panel includes Jeff Starecheski, vice president of logistics for Sears Logistics Services, and John Caltagirone, supply chain management strategy educator at Chicago's Loyola University. Moderated by Rich Sherman, director of strategic development for CSCMP, the panelists will offer their views on how logistics and supply chain management are evolving to meet future business challenges. They will examine significant trends and practices that will most impact operations in achieving and sustaining peak performance.
ProMat 2013 is scheduled to be held January 21-24, 2013 in Chicago's McCormick Place South. The tradeshow will showcase the latest manufacturing, distribution and supply chain solutions in the material handling and logistics industry. Modern's complete ProMat 2013 coverage.


December 13, 2012
About the Author
Sara Pearson Specter Sara Pearson Specter has written articles and supplements for Modern Materials Handling and Material Handling Product News as an Editor at Large since 2001. Specter has worked in the fields of graphic design, advertising, marketing, and public relations for nearly 20 years, with a special emphasis on helping business-to-business industrial and manufacturing companies. She owns her own marketing communications firm,
Sara Specter, Marketing Mercenary LLC
. Clients include companies in a diverse range of fields, including materials handing equipment, systems and packaging, professional and financial services, regional economic development and higher education. Specter graduated from Centre College in Danville, Ky. with a bachelor's degree in French and history. She lives in Oregon's Willamette Valley where she and her husband are in the process of establishing a
vineyard and winery
.
Subscribe to Modern Materials Handling Magazine!
Subscribe today. It's FREE!
Find out what the world's most innovative companies are doing to improve productivity in their plants and distribution centers.
Start your FREE subscription today!
Latest Whitepaper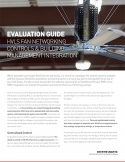 How to Invest Smartly in Industrial Fans
Read this white paper to learn the 7 defining factors to consider about your facility so you can maximize the benefits of your fan investment. HVLS High volume low speed fan white paper, Entrematic fans white paper. Benefits of HVLS fans in the warehouse.
Download Today!
From the April 2018 Modern Materials Handling Issue
Why smarts are central to Internet of Things in the warehouse
New warehouse gives winemaker a "Smooth Finish"
View More From this Issue
Latest Webcast
Industry 4.0: What you need to know today
This webinar takes a closer look at industry 4.0 and provides a roadmap for building and effectively utilizing Industry 4.0 capabilities.
Register Today!