Robotic Industries Association announces new alliance with OSHA, NIOSH
Alliance aims to enhance robot expertise within OSHA and NIOSH, improve awareness of workplace hazards of traditional industrial robots and emerging collaborative systems, and identify needed research.

Warehouse in the News
ID Label celebrates 25 years
ProMach acquires Code Tech
Motion Industries to acquire automation and robotics company
Pelican BioThermal opens new network location in Jeddah, Saudi Arabia
AMT U.S. Manufacturing Technology Order Report: December dip caps off strong 2018
More Warehouse News
Warehouse Resource
Crossover Businesses: Blurring the Lines Between Manufacturers, Distributors, and Retailers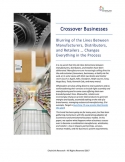 Download the report and uncover how to survive the new challenges businesses are facing and the technology required to keep pace.
All Resources
By
MMH Staff
·
October 25, 2017
The Robotic Industries Association (RIA), North America's robotics trade group, has signed an alliance partnership with the Occupational Safety and Health Administration (OSHA) and the National Institute for Occupational Safety and Health (NIOSH).
OSHA has established alliances with a number of industry groups to share expertise and knowledge about safety practices in the industries involved. The OSHA/NIOSH/RIA Alliance will focus on communication and education about best practices in robot safety.
"RIA has a long history of helping to keep workers safe around industrial robotics," said Jeff Burnstein, president, RIA. "We developed the first American national robot safety standard, R15.06, in 1986 and we've kept it up-to-date since then. This new alliance with OSHA and NIOSH will help us to continue advancing worker safety as more robots enter the workplace."
The goals of the OSHA/NIOSH/RIA Alliance are enhancing technical expertise about robotics within OSHA and NIOSH; improving awareness of workplace hazards associated with traditional industrial robots and the emerging technology of human robot collaboration (HRC) installations and systems; and identifying research that may be needed to help reduce workplace hazards.
"The robotics industry has a great track record of safety dating back to 1961 when the first industrial robot was installed," said Carole Franklin, director of standards Development, RIA. "We're trying to make sure every integrator and user of robotics in the country is aware of the best practices described in our R15.06 standard. This new partnership with OSHA and NIOSH will certainly help us in that effort."
The Alliance will foster technical exchange and information sharing among RIA members, OSHA, NIOSH, employers, and workers concerning hazards that may be present around industrial robot systems. It will also facilitate the sharing of information about how best to control exposure to such hazards during operations involving human interaction with the robotic systems in workplaces. Alliance participants will collaborate to develop technical training, resources, and tools for OSHA staff, NIOSH researchers, employers, and workers.

October 26, 2017
Subscribe to Modern Materials Handling Magazine!
Subscribe today. It's FREE!
Find out what the world's most innovative companies are doing to improve productivity in their plants and distribution centers.
Start your FREE subscription today!
Latest Whitepaper
Insider Q&A: The Robotics Revolution is here. Is your company ready for it?
Download this free Insider Q&A with Matt Wicks, VP, Product Developent, Honeywell Intelligrated for his unique perspective on robotics in the modern-day warehouse.
Download Today!
From the February 2019 Modern Materials Handling Issue
Modern's System Report: Robots at GEODIS
ProMat 2019 to showcase record number of exhibitors, 45,000+ attendees
View More From this Issue