Supply Chain Education for The Masses
Here are five key developments to watch as executive and continuing education make their way into the broader supply chain.

Equipment in the News
CEMA reports 2017 shipments up nearly 16%, an increase of $1.85 billion
Duravant acquires QC Industries
Other Voices: Optimizing WES with integrated order consolidation
Other Voices: Bringing data-driven analysis to supply chain problems
Conveyors & sortation: Carrying the e-commerce burden
More Equipment News
Equipment Resource
Top 20 industrial lift truck suppliers, 2017
The top lift truck suppliers list is changing with industry acquisitions causing a dramatic departure from the norm.
All Resources
By
Bridget McCrea, Editor
·
December 13, 2016
As thousands of materials handling and supply chain professionals converged in Tucson, Ariz., for MHI's annual conference in October, at least a few of them noticed something new and different listed in the event's conference guide. For the first time in the history of the annual event, MHI featured a separate "executive summit" meant to deliver focused, concise executive education to high-level supply chain professionals.
Centered on building the future of the supply chain workforce, managing change, measuring the impact of technology on supply chains, and leveraging materials handling solutions, the summit was specifically for senior supply chain executives. The full-day event included six short talks on the issues relating to the conference's overall "accelerating change" theme and numerous interactive sessions. There, speakers like Stephen M.R. Covey, Alan Amling (UPS), and Sherry Harriman (Walmart) shared their insights with about 40 attendees.
Each of the short TED Talks-like presentations lasted about 20 minutes and centered on overcoming materials handling, logistics and/or supply chain challenges within a compressed, educational-focused format. George Prest, MHI's CEO, says the summit is part of the association's long-term mission to provide more "educational tracks" for end users.
"We wanted to create a unique environment exclusively for C-level professionals with 50% from our membership and the other 50% from the end users of our members' products," Prest explains. "We wanted to create awareness of what keeps users up at night, discuss solutions to those problems, and look at overall market trends and developments."
Prest says this type of continuing education format works well in the logistics space, where the velocity of change is increasing, new technologies are being introduced all the time, and companies are scrambling to keep up with those evolutions. It also helps professionals learn from one another, share best practices, and gain knowledge without having to sign up for and participate in formal coursework. "Everyone is pressed for time and executive-level professionals are looking for opportunities to get in and out in a day or less and come away with real, useful value," says Prest. "That's what we're trying to offer."
Key trends to watch in 2017…and beyond
MHI isn't alone in its quest to bring executive education and continuing education opportunities to logistics, supply chain and warehousing professionals. Following a trend that originated decades ago in the manufacturing and procurement sectors, institutions of higher education, trade associations and other providers are finding new ways to deliver education to the broader supply chain industry.
"Both the supply chain and the warehouse have huge implications on the costs of running a business," says Norm Saenz, managing director at St. Onge Co. "As a result, we see more executives getting interested in understanding the value of supply chain, warehousing, distribution and seeking education in these areas."
While continuing education and executive education for the broader supply chain may still be in the developmental stages, some organizations are already making inroads in this area.
Here are five key trends currently taking place and a look at how companies are leveraging them to their advantage:
1.) More supply chain product vendors get into the education game. Recently, Nick Little, assistant director of executive development programs for Michigan State University's Broad College of Business, has found himself working closely with providers of warehouse automation to create supply chain management programs.
The idea, he says, was to create programs that a business development professional or sales manager could use to get a "very quick understanding of supply chain," including what its functions are, who it impacts, and what role materials handling plays in the bigger picture. Little sees more of these engagements in his department's future. "We're definitely seeing more companies interested in expanding their business development operations to cover an understanding of supply chain," says Little, "and how it impacts the type of equipment that they supply."
2.) Growing interest in education from the distribution market. Little says he's also working with more load haulage firms, third-party logistics (3PLs) providers, and warehouse management firms that want their employees to have a better understanding of the supply chain. The fact that many transportation and warehousing managers and supervisors lack formal education in business and/or supply chain is driving this trend, Little adds.
"It's helpful for them to get a better understanding of the whole end-to-end picture of the supply chain so they can see where they fit into that picture," says Little, "and where they influence performance against the customers' ultimate requirements." Achieving that goal isn't always easy when the student doesn't see his or her aspect of the supply chain as part of the "bigger picture," says Little, whose team uses games, simulations, and Lego models to illustrate the interdependence of the various links of the supply chain, including warehousing, distribution and transportation.
3.) Executive ed helps companies fill in supply chain knowledge gaps. This year, APICS introduced a new certification in logistics, transportation and distribution (CLTD), a program that helps students master logistics, transportation, and distribution industry knowledge; expand their outlook in the logistics field; remain current on global logistics trends and developments; and reduce costs and increase customer satisfaction for their companies. Abe Eshkenazi, CEO of APICS, says this and other supply chain education offerings were developed in answer to the ongoing need for executive education for management professionals (versus just functional and technical workers).
"Unfortunately, the universities and even MBA programs don't develop the supply chain professional at the broadest level; they tend to focus on operations, logistics or industrial operations," says Eshkenazi. "As a result, there are a lot of very talented and functionally skilled individuals, but not as many broad-based [individuals] who have cross-functional skills and management capabilities."
As the supply chain has become a strategic imperative for many organizations, the need to recruit and retain qualified workers has put more pressure on companies that are grappling with these types of talent gaps. "We heard from one company that sent its employees to CLTD training. When they came back, the employees said, 'Oh, I get it now. I understand how these pieces [of the supply chain] fit together,' says Eshkenazi. "Through the executive ed, those employees were able to understand complexities and, more importantly, impact and apply that learning immediately on the job."
4.) Companies break continuing education down into digestible chunks. No one has the time to spend weeks—or, in some cases, days—participating in offsite coursework in today's hectic business world. To ensure that executives and supervisors are up to speed on the most recent industry trends and developments, more companies are offering shorter educational sessions and coursework that fit into their employees' busy schedules.
At Millwood, for example, the company provides product and sales training program that covers all products, sales strategies, customer service issues and supply chain trends. "We want our sales and customer service people to be able to assist our customers with any unit load packaging issue," says John Moore, director of corporate marketing. "We also want them to be a resource to our customers."
Moore says that a five- to six-week-long program highlights different products or topics (e.g., pallets, consumables, systems, etc.). The company also has a "Millwood Cares" program that is focused primarily on its production personnel. This program provides assistance for continuing education (including college courses) and provides in-house educational programs such as financial planning, English as a second language, Spanish as a second language, and more. "We have found that by providing these types of programs," says Moore, "we gain a more valuable employee."
5.) A "meeting of the minds" between educational providers and supply chain vendors. For the first time in the history of the event, Saenz fielded requests from colleges and universities wanting to take out booth space at the North Texas WERCouncil 15th Annual Warehousing Resource Convention, which took place in October. "They want to be able to say, 'Look what I can tell you and look what I can teach you,' to the manufacturers and warehousing companies that attend the event," says Saenz, who sees this trend as a "meeting in the middle" between educational institutions and the vendors that are selling warehousing equipment and software to end users.
Texas Christian University, for example, set up a booth to showcase its Neeley School of Business Center for Supply Chain Innovation. "I've been doing this [event] for 15 years and that's the first time a university has been interested in a booth," says Saenz, who sees more potential ahead for broader supply chain education, but admits that there are still some obstacles to come on that path. "There's no one center of excellence or standard terminology at this point. I don't think everyone is on the same page yet in terms of the right definitions, terms and solutions, but we're heading in that direction."
More to come
As supply chain executive and continuing education continues to evolve, expect to see even more trends and developments taking place—all in the name of helping companies "fill in" knowledge gaps, develop up-and-coming professionals, and retain top talent in the ever-shrinking labor market.
"People are recognizing that our industry is moving fast, and that keeping up to speed with what's going on is extremely important," says Prest, who adds that MHI plans to once again incorporate the executive summit into its next annual event. "With everyone crunched for time, professionals need concise programs that deliver true value for them and that help them manage the exponential change in the supply chain."
Companies mentioned in this article
• APICS
• MHI
• Michigan State University
• Millwood
• St. Onge
• Texas Christian University

June 13, 2017
About the Author
Bridget McCrea, Editor Bridget McCrea is a Contributing Editor for Logistics Management based in Clearwater, Fla. She has covered the transportation and supply chain space since 1996 and has covered all aspects of the industry for Logistics Management and Supply Chain Management Review. She can be reached at
[email protected]
, or on Twitter
@BridgetMcCrea
Subscribe to Modern Materials Handling Magazine!
Subscribe today. It's FREE!
Find out what the world's most innovative companies are doing to improve productivity in their plants and distribution centers.
Start your FREE subscription today!
Latest Whitepaper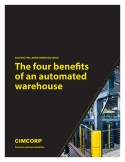 Solving the Labor Shortage Crisis: The Four Benefits of an Automated Warehouse
Not enough warehouse staff? Finding it difficult to keep up with orders during peak periods?
Download Today!
From the March 2018 Modern Materials Handling Issue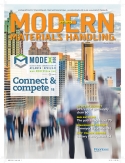 Conveyors & sortation: Carrying the e-commerce burden
2018 Productivity Achievement Awards
View More From this Issue
Latest Webcast

Emerging Technologies for Your Distribution Center
Come get an insider's view of the latest technologies for inside your Distribution Center. You'll learn which technologies are being piloted, which are having success and moving from concept to implementation and into production on the maturity scale, and what's coming on the horizon.
Register Today!