The Pallet Report: Users want more service & support
Amid the reshaping of manufacturing and distribution supply chains, Modern's annual survey suggests that pallets remain critical to efficient and timely operations.

Pallets in the News
Loscam introduces new strategic shareholders
Invert an Entire Pallet Load in Seconds
Level Loader With Turntable Can Be Fed With a Hand Pallet Truck
IFCO North America names company alumnus Jon Heyler VP of operations
Arbor Day Foundation partners with CHEP for international reforestation projects
More Pallets News
Equipment Resource
Southworth Brouchure Shows Practical Applications of Ergonomics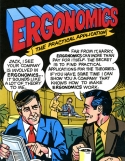 This little booklet done in comic book style uses simple illustrations to take readers on a walk through a hypothetical, yet typical, plant where the plant manager, safety director, and controller point out a variety of problems that were solved through the practical application of ergonomics.
All Resources
By
Josh Bond, Senior Editor
·
September 7, 2018
For many businesses, the days of handling primarily pallet quantities are over as they transition to direct-to-consumer models. However, no matter how cartons and eaches are sliced and diced, the unit load is still the starting point, and palletized loads remain the most efficient to transport.
As the literal foundation of most material movement, pallet procurement and management practices are attracting more scrutiny than ever as supply chains respond to rapidly changing trends. Modern's annual survey of pallet users reflects the evolution of best practices.
For our annual survey of readers who use pallets, Peerless Research Group (PRG) surveyed subscribers of Modern along with a sample of recipients of our e-newsletters in July 2018. We received 170 qualified responses from readers employed at a location that uses pallets.
The survey's areas of investigation include:
important factors when determining types of pallets to use,
types of pallets used or planned for future use,
usage of new vs. used wood pallets,
usage of plastic pallets,
usage of metal pallets,
recent changes to pallet usage patterns,
usage of pallets rental services, and
usage of pallets outside the United States.
By collecting the sentiments of pallet users, the survey captures broader market trends. Pallet providers have shifted focus in recent years as well, pursuing consultative relationships aimed at helping customers achieve a more holistic view of the role of pallets in their supply chain.
So far, one in 10 respondents say their company has used a third-party service to help better understand the combination of pallet and transport packaging solutions, such as whether stretchwrap, shrinkwrap, banding, etc., is best suited to the operation. However, more than half of respondents expressed interest in such a service in this year's survey.
But, first things first.
Defining pallet requirements
The importance of purchase price in the pallet selection process has slowly waned in recent years and is now tied with strength (57%). In an age of increased focus on supply chain performance, sustainability and resiliency, it is not surprising to see this theme repeated throughout the survey. Cost per use—and even pallet weight—are of less oncern than reusability and durability.
The breakdown of pallet composition remains familiar, as 93% of respondents use wood, more than a third use plastic, while wood composite (14%), metal (6%) and cardboard (4%) bring up the rear.
Preferred dimensions remain relatively unchanged, with 48 x 40-inch size in the lead (71%), followed by 48 x 48-inch (34%), 42 x 42-inch (20%) and 36 x 36-inch (13%). Half pallet usage stayed in the single digits.
Among wood pallets, usage of block (18%), stringer (54%) and both (28%) remains virtually identical to last year. Sentiments surrounding the use of used wood pallets, however, continue to indicate frustration. Nearly half of respondents report their usage of wood pallets has increased in the past year (the highest in several years), while just 8% say it decreased (the lowest in several years).
Three out of five respondents prefer new wood pallets, but the cohort buying used wood pallets has shrunk from the mid-60% range to fewer than 50%. Quality (36%) and availability (27%) are common complaints, but to be fair, 36% haven't had any trouble buying used pallets and don't anticipate they will.
Those who have concerns about used wood pallets have been prompted to consider alternatives like pursuing pallet pool providers (5%), creating their own pool (5%), or simply buying new pallets (50%).
Among the 40% who report they'll take "other" steps, many mentioned diversifying pallet providers or even moving to plastic. Likely due to a demographic shift in the respondent base, 23% indicate they use a pallet pool, up from the low teens in recent years.
In 2015, more than a third of respondents reported their use of plastic pallets increased in the previous year. The next year, 13% boosted their reliance on plastic pallets, and the number hasn't changed much since. Those who decreased (16%) or maintained the status quo (67%) are similarly unchanged.
To find out more about plastic pallet usage, we asked: For what purposes are you using plastic pallets? Some of the responses included:
They stack neatly and don't shed nails when damaged.
Closed-loop distribution routes.
Customer requirements.
Durability.
Export restrictions on wood.
Green, reusable, returnable, cleanable, recyclable.
In-house picking and warehouse storage, nestable for space savings.
Going forward, about the same number expect to increase (18%) or decrease (17%) plastic pallet usage in the next year. Among respondents turning to plastic, incentives include durability (29%), compliance (18%), improved sustainability (17%), and customer requests (14%).
Dipping a toe in the pool
Companies lean on pallet providers and third parties to help control costs and pallet performance, and there's a growing hunger for support. Only a few use a pallet rental partner (11%) or another type of pallet retrieval and recovery system (5%).
However, when asked whether they would consider participating in a pallet retrieval, recovery system or a third-party pallet rental system in the next year, 40% say they are likely to pursue such options.
Similarly, survey participants were asked whether, if available, they would be interested in using a pallet pooling service managed by the pallet industry that would serve as an alternative to CHEP, PECO, iGPS, 9Bloc, etc. In 2017, 27% of respondents indicated they were between mildly and highly interested.
This year, that figure is 37%. The same question framed around a specifically plastic pallet pool yielded 21% interest last year, and 32% interest in 2018.
When we asked: How interested would you be in using a pallet pooling service managed by the pallet industry and that would serve as an alternative to the major providers? Responses of those who indicated they were "interested" included:
Always interested in opportunities to reduce costs.
Allows another service to look after the pool of pallets instead of our customers.
Might be a good way to keep supply constant.
Need control over quality and availability.
Next to labor, pallet cost is our highest expense.
Return stream on plastic pallets is difficult to manage.
Responses of those who indicated they were "not interested" included:
Cost.
Need a worldwide supply.
Pallet program dictated by customer.
We use too many custom-sized pallets or make our own.
Additional labor required to keep records.
In the meantime, pallet users are looking for more services. Respondents report their current pallet providers also offer on-site recycling and reclamation process management (35%), vendor-managed pallet inventory or just-in-time delivery (24%), backhauls (20%), and data or information related to the customer's supply chain network (8%).
However, the market seems far from saturated; there is roughly the same level of interest for each of the above services if they were available to respondents.
Demographics
In the 2018 survey, the average respondent works for a company with $340 million in annual revenue (median: $45 million). Eight percent represent companies with more than $2.5 billion in revenue, while 27% report less than $10 million. In the middle, 37% of companies made between $10 million and $100 million.
Manufacturers account for 55% of the survey's respondent base, followed by retail (9%), wholesale durable goods (8%), wholesale nondurable goods (7%) and other (21%). Manufacturers can be further broken down into segments including fabricated metals (15%), food/beverage/tobacco (11%), paper/printing (11%), industrial machinery (10%), automotive (9%) and plastics/rubber (9%).

September 7, 2018
About the Author
Josh Bond, Senior Editor Josh Bond is Senior Editor for Modern, and was formerly Modern's lift truck columnist and associate editor. He has a degree in Journalism from Keene State College and has studied business management at Franklin Pierce University.
Subscribe to Modern Materials Handling Magazine!
Subscribe today. It's FREE!
Find out what the world's most innovative companies are doing to improve productivity in their plants and distribution centers.
Start your FREE subscription today!
Latest Whitepaper
Making the Case for Warehouse Consultants
Benefits for logistics/operations managers, CFOs, and COOs all lead to safer workplaces, lower costs, and happier customers.
Download Today!
From the January 2019 Modern Material Handling Issue
Inside Canadian Tire Distribution Center: Design for flexibility
Continuous improvement in action
View More From this Issue