Tricked-out Toyota lift truck performs robotic pallet manipulation
Modified by MIT researchers, a Toyota 8-Series lift truck performs unmanned operations, which show potential for future work in high-risk military and civilian environments.

Lorie King Rogers
·
July 28, 2010
Unmanned robotic lift trucks are showing increased potential for handling high-risk materials handling tasks in both military and civilian environments. In fact, routine use of robotic lift trucks is not far off, according to Toyota Material Handling, U.S.A. (TMHU).
In June, the U.S. Army Logistics Innovation Agency (LIA) hosted two days of demonstrations at Fort Lee in Virginia of a prototype unmanned robotic Toyota lift truck capable of locating, lifting, moving and placing palletized supplies within an existing outdoor supply depot. The demonstration included review of the robot's safety features, sensor capabilities and human-robot interface based on voice and gesture commands.
The robotics technology was developed by the Massachusetts Institute of Technology (MIT), BAE Systems and Lincoln Laboratory in collaboration with the LIA, the Combined Arms Support Command Sustainment Battle Lab, the Office of the Secretary of Defense and the Director of Defense Research and Engineering.
The 3,000-pound capacity, internal combustion Toyota 8-Series lift truck was modified by researchers at MIT's Computer Science and Artificial Intelligence Laboratory to perform embodied speech and gesture understanding; shape estimation (from laser range scanner data); machine vision (from camera data); motion estimation (from GPS, inertial data and wheel odometry encoders); and autonomous mobility and pallet manipulation. Proprietary Controller Area Network (CAN-bus) protocols, provided by Toyota's 8-Series product engineering team, enabled the MIT team to connect its algorithms directly to the lift truck's manual and electrical controls. The demonstration illustrated capabilities realized during the first two years of research and development on the project.
"We are excited to work with the innovative researchers at MIT on this promising application of lift trucks," said Brett Wood, president of TMHU. "Robotic forklifts have the potential to protect both military and civilian personnel working in high-risk environments, such as hazardous material storage facilities."
Taking this technology inside the four walls of a manufacturing facility or distribution center is also promising. In an interview with Modern, Martin Boyd, TMHU vice president of product planning and marketing, said, "The MIT accomplishments are important as it gives manufacturers and customers a glimpse into the potential future of material handling technology. Automation is currently a growing trend found in today's warehousing, distribution and manufacturing market segments, and although the MIT project was developed for military purposes, its successes may represent of mirror of exciting things to come for higher level automation in the everyday industrial workplace."
Want to learn more about pallets? Join pallet experts as they put context behind the findings of Modern's 2010 Pallet Usage and Trending Study Webcast on October 28, 2010 at 2 pm ET.

December 1, 2011
About the Author
Lorie King Rogers Lorie King Rogers, associate editor, joined Modern in 2009 after working as a freelance writer for the Casebook issue and show daily at tradeshows. A graduate of Emerson College, she has also worked as an editor on Stock Car Racing Magazine.
Subscribe to Modern Materials Handling Magazine!
Subscribe today. It's FREE!
Find out what the world's most innovative companies are doing to improve productivity in their plants and distribution centers.
Start your FREE subscription today!
Latest Whitepaper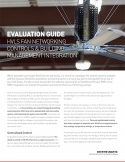 How to Invest Smartly in Industrial Fans
Read this white paper to learn the 7 defining factors to consider about your facility so you can maximize the benefits of your fan investment. HVLS High volume low speed fan white paper, Entrematic fans white paper. Benefits of HVLS fans in the warehouse.
Download Today!
From the April 2018 Modern Materials Handling Issue
Why smarts are central to Internet of Things in the warehouse
New warehouse gives winemaker a "Smooth Finish"
View More From this Issue
Latest Webcast
Industry 4.0: What you need to know today
This webinar takes a closer look at industry 4.0 and provides a roadmap for building and effectively utilizing Industry 4.0 capabilities.
Register Today!