Vera Bradley's multi-channel success
The handbag and accessories maker's new DC was designed to handle store replenishment, wholesale distribution and direct-to-consumer sales under one roof.

Bob Trebilcock
·
September 1, 2013
For years, retailers and their suppliers outsourced distribution activities to third-party logistics (3PL) providers. The argument was that their core competency was in designing, sourcing, merchandising and selling, and not in picking, packing and shipping.
In today's retail market, where sales can originate from multiple channels, that model is being turned on its head. Brick-and-mortar retailers are selling online, Web retailers are opening retail stores and wholesale distributors are competing in both channels. The best retailers recognize that distribution has to be a core competency. They are bringing distribution back in house, often serving multiple channels under one roof.
See the system layout of how Vera Bradley is designed for multi-channel distribution.
Those were among the reasons Vera Bradley, a designer and manufacturer of colorful quilted women's handbags and accessories, expanded to a 400,000-square-foot, multi-channel distribution space near its corporate headquarters in Fort Wayne, Ind., last fall. The new facility added 200,000 square feet and associated capacity in support of multi-channel growth. It was designed from the outset to serve a number of sales channels under one roof and from one reserve inventory, including:
• wholesale distribution to specialty retailers that are Vera Bradley's traditional customers;
• wholesale distribution and value-added services for a growing list of large, national retailers, which they refer to as Key Accounts;
• store replenishment to Vera Bradley's own growing chain of retail and outlet stores; and
• a rapidly expanding direct-to-consumer Web fulfillment business.
Working with a systems integrator (Forte, forte-industries.com), Vera Bradley implemented a flexible system that includes three multi-level pick modules, a best-of-breed warehouse management system (WMS) and a pick-and-pass order fulfillment solution powered by bar code scanning, pick-to-light and put-to-light technologies.
The facility ships mixed pallets to Key Accounts, mostly full cases to its outlet stores, split cases to specialty retailers as well as corporate stores and specially packed gift boxes to online customers. All orders are filled from one reserve inventory. "Orders flow through our pick-and-pass fulfillment pipeline, regardless of where they originate," says Dave Gealy, senior director of distribution. "At the same time, we created a foundation for a separate fulfillment flow for the Web should we begin to experience negative impact to service levels in the future due to multi-channel growth."
Two friends with an idea
In March of 1982, Vera Bradley's co-founders Barbara Bradley Baekgaard and Patricia R. Miller took note of the lack of feminine-looking luggage as they waited for a flight in the Atlanta airport. Within weeks of arriving home, Baekgaard and Miller created a company to market and manufacture their original designs for stylish, cotton luggage, handbags and accessories. The company was named for Baekgaard's mother—Vera Bradley—a stylish woman who had once been chosen by Elizabeth Arden to model.
It was an unlikely beginning for a women's accessories business. The new company was headquartered in Fort Wayne, Ind., a city better known for heavy manufacturing than its fashion sense. But, Vera Bradley quickly developed a loyal following for its colorful designs.
Today, Vera Bradley has grown to more than $541 million in annual revenue. While some product is still manufactured in Fort Wayne, other items are also manufactured overseas.
Over the past seven years, the company has evolved from one distribution channel into multiple channels. A Web store for direct-to-consumer sales was launched in 2006. Internet fulfillment was first outsourced to a 3PL in Michigan. The next year, Vera Bradley opened its first retail store, and by the end of fiscal year 2013, it will operate nearly 100 retail and outlet stores. In 2012, it expanded its Key Accounts program, distributing its product to a select group of large, national retailers and the military, many of whom require value-added services. In all, Vera Bradley is now distributing to more than 3,300 retail partners along with managing its growing online presence.
As recently as 2007, the company was handling wholesale distribution from a 40,000-square-foot facility north of Fort Wayne while the 3PL in Michigan handled Web fulfillment. In the original facility, associates picked by paper to shopping carts. However, the growth in sales and sales channels demanded a new distribution infrastructure, according to Gealy.
The first step was to open a 200,000-square-foot, semi-automated facility in February 2007, which included 50,000 square feet of dedicated manufacturing space. The DC introduced technology, automation and best practices. It featured high-density storage in a very narrow aisle reserve storage area, two pick modules with pick-to-light technology, and a WMS. E-commerce was still being handled by the 3PL.
Within a year, Vera Bradley was investigating ways to turn that facility into a true multi-channel distribution center that could support retail and e-commerce order fulfillment. "In the summer of 2008, we moved domestic manufacturing to a new location across town," Gealy says. "Then we added a level to our pick modules, expanded our packing area and brought Web fulfillment in-house. It gave us the ability to leverage our automation."
By 2009, that facility was constrained. "We only had four dock doors and limited staging space that we often shared with shipping," says Cindy Goheen, distribution manager for the warehouse. "That created a bottleneck." Despite the addition of a third pick module plus adding levels on existing pick modules, more space was needed for picking, Goheen explains. Service levels, which are the life blood of retailing, began to degrade.
Creating a multi-channel facility
In 2010, the company did a network study to determine whether it should add a second distribution center. The result indicated that Vera Bradley would be better served by expanding the existing DC, adding capacity and implementing new processes for multi-channel distribution rather than adding a second DC.
In a sense, Vera Bradley's business model lent itself to multi-channel distribution, since a significant portion of orders for retail distribution involve split-case picking and mixed carton orders, not unlike Web orders. "We ship as many full cases as possible to our outlet stores, but all of our other channels are mostly split-case picking," Gealy says. The difference between the channels is the size of the orders and in how they are packed after picking. "We ship mixed cartons with a number of items to our retail stores and partners," he says. "Our typical Web order, on the other hand, is gift boxed in a special way. So, we have a different profile downstream at the packing station."
The expanded facility builds on the best practices Vera Bradley implemented within the first 200,000 square feet, including very narrow aisle reserve storage, enhancements to the WMS, RF bar code scanning and pick-to-light technologies. Processes are tied together by a conveyor, sortation and associated warehouse control system (WCS).
It features three multi-level pick modules. Faster moving SKUs are picked in two three-level modules. In those, associates are directed by the pick-to-light system.
Slower moving SKUs are picked in a third module, where associates rely on mobile computing and bar code scanning to receive instructions and confirm picks. In the future, the module can be expanded to three levels.
All three modules can fulfill orders for any sales channel. The real difference is how the product is handled after it is picked: Cartons for Key Accounts need value-add attention and may be palletized and stretch-wrapped; cartons for Vera Bradley's stores and retail partners are automatically weighed and taped then sorted into trailers; Web orders are sorted to packing stations for special gift boxing before they are conveyed directly into a parcel carrier trailer.
New features
The facility includes three new features to optimize processes.
One is a put wall for direct-to-consumer orders with more than one item. This is a wall with 18 bin locations that are enabled by lights. Each bin represents a customer order. Totes with SKUs for larger Web orders are conveyed to the put wall area. When an associate scans a UPC bar code label from items in the tote, lights indicate which bins will receive product from that tote. Once all the items for an order are put in the bin, a light on the other side of the wall alerts a packer that the sorting is complete and orders are ready to be packed.
"More than 60% of our Web orders are multi-unit orders," says Gealy. "Using the put wall takes the hunting and pecking for items out of the process." The put wall, he adds, has realized a nice improvement in labor costs associated with filling multi-unit orders.
Another feature is an 18,000-square-foot mezzanine for value-added services required by Key Accounts, such as stuffing the bags with paper for shelf display. The mezzanine area includes some carton- and pallet-flow pick locations. "Before, we picked inventory that required value-added services to a pallet truck and delivered them to processing tables," says Gealy. Now, the product can be picked in one of the pick modules and conveyed in and out of the value-added processing area. Or, during busy periods such as a core product launch, that demand can be picked and processed from the pick locations in the mezzanine. "By putting the demand there, we take that volume out of the other pick modules," Gealy says.
Finally, outbound shipping from the Web packing stations bypasses the shipping sorter and flows directly into parcel carrier trailers. "Before the expansion, all of that volume went through the shipping sorter," Gealy says. "Now, we've opened up capacity on the sorter for retail and partner store growth."
One of the keys to making these systems work together is the integration between Vera Bradley's WMS and WCS. In the new configuration, the WMS communicates with the order management system to receive orders. Based on priorities communicated from distribution management, key shipping associates determine which orders are going to be picked, and the WMS then determines how they will be batched and where they will be picked from. The WMS performs those management functions and then sends the orders to the WCS for execution.
"The WMS still handles conventional RF-directed picking," explains Jason Kiser, senior WMS specialist. "But the WCS communicates with the pick- and put-to-light systems, the conveyors and the sorter. Once the picks take place, that information is communicated back to the WMS." In that sense, Kiser adds, the WMS "has taken on more of a set up role for the WCS."
By October 2012, the expansion had gone completely live. Since then, the bottleneck on the docks has become a thing of the past. "We have 24 doors and significantly more space," says Goheen. "We have the ability to bring in a higher level of inbound materials and process them more quickly." Prior to the renovation, Vera Bradley typically processed four to six inbound containers in a 24-hour period. This past March, the facility processed 39 containers in a 24-hour period.
Overall, the facility has seen a decrease in distribution labor costs. "In the two-week period after Thanksgiving, we processed 40% more volume and improved service levels by 60% over the previous year," says Gealy. "And, we did it with very little stress."
More importantly, he adds, the DC has established the foundation to support Vera Bradley's growth through the foreseeable future. "We've been able to address each of those pain points and create solutions that can handle business growth for the next three to five years," he says.
System suppliers
Systems integrator and warehouse control system: Forte Industries, forte-industries.com
Lift trucks: Raymond, raymondcorp.com
Conveyor: Dematic, dematic.com; Intelligrated, intelligrated.com
Sortation: Dematic, dematic.com
WMS: Manhattan Associates, manh.com
Pick-to-light: Lightning Pick Technologies, lightningpick.com
Mobile computing and bar code scanning: Motorola Solutions, motorolasolutions.com
Rack: Ridg-U-Rak, ridgurak.com

January 22, 2014
About the Author
Bob Trebilcock Bob Trebilcock, editorial director, has covered materials handling, technology, logistics and supply chain topics for nearly 30 years. In addition to Supply Chain Management Review, he is also Executive Editor of Modern Materials Handling. A graduate of Bowling Green State University, Trebilcock lives in Keene, NH. He can be reached at 603-357-0484.
Subscribe to Modern Materials Handling Magazine!
Subscribe today. It's FREE!
Find out what the world's most innovative companies are doing to improve productivity in their plants and distribution centers.
Start your FREE subscription today!
Latest Whitepaper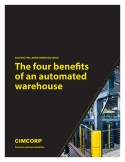 Solving the Labor Shortage Crisis: The Four Benefits of an Automated Warehouse
Not enough warehouse staff? Finding it difficult to keep up with orders during peak periods?
Download Today!
From the March 2018 Modern Materials Handling Issue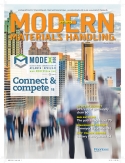 Conveyors & sortation: Carrying the e-commerce burden
2018 Productivity Achievement Awards
View More From this Issue
Latest Webcast

Emerging Technologies for Your Distribution Center
Come get an insider's view of the latest technologies for inside your Distribution Center. You'll learn which technologies are being piloted, which are having success and moving from concept to implementation and into production on the maturity scale, and what's coming on the horizon.
Register Today!