Vision-guided robot lends coffee roaster a hand
Coffee roaster uses robotic solution to solve in-feed problems and double throughput.

Lorie King Rogers
·
April 14, 2011
In manufacturing, a weak link can decrease productivity and increase cost. For a large coffee roaster processing 650,000 bags of beans each year, that weak link was a robot used to unload pallets stacked with bags of raw beans to a conveyor that feeds the roaster. The robot's gripper arm was tearing the burlap bags and spilling coffee beans on the floor. This caused safety issues, wasted about 100,000 pounds of beans every year and directed expensive labor to clean up duty.
So plant managers turned to an advanced vision-guided robotic in-feed system (Concept Systems) for a helping robotic hand. The new system uses two cameras, two lasers and software to scan the bags, calculate the contours and create a 3D profile of the pallets, which are each loaded with twenty 150-pound bags in four five-bag layers. A computer model is constructed for every tier of bags then run through an algorithm that identifies its unique features and determines the precise position and orientation of each bag.
This information determines the optimal pickup point on the bags and is used to dispatch the robot to each bag for pickup. The robot's end effector pierces the bags and picks them up using pneumatically operated tines to push the burlap out of the way and penetrate the bag without tearing it.
As each layer is removed, the 3D model is updated for the next layer. To determine which bag to pick up first when presented with a new pallet or a full tier of bags on a partial pallet, the software directs the robot arm to the highest bag.
The vision-guided robotic in-feed system has helped the coffee roasters double its green bean in-feed rate. And, by keeping the coffee beans from spilling all over the floor, the company has cleaned up waste and safety issues and significantly reduced labor costs.

April 14, 2011
About the Author
Lorie King Rogers Lorie King Rogers, associate editor, joined Modern in 2009 after working as a freelance writer for the Casebook issue and show daily at tradeshows. A graduate of Emerson College, she has also worked as an editor on Stock Car Racing Magazine.
Subscribe to Modern Materials Handling Magazine!
Subscribe today. It's FREE!
Find out what the world's most innovative companies are doing to improve productivity in their plants and distribution centers.
Start your FREE subscription today!
Latest Whitepaper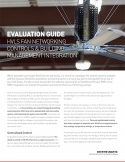 How to Invest Smartly in Industrial Fans
Read this white paper to learn the 7 defining factors to consider about your facility so you can maximize the benefits of your fan investment. HVLS High volume low speed fan white paper, Entrematic fans white paper. Benefits of HVLS fans in the warehouse.
Download Today!
From the April 2018 Modern Materials Handling Issue
Why smarts are central to Internet of Things in the warehouse
New warehouse gives winemaker a "Smooth Finish"
View More From this Issue
Latest Webcast
Industry 4.0: What you need to know today
This webinar takes a closer look at industry 4.0 and provides a roadmap for building and effectively utilizing Industry 4.0 capabilities.
Register Today!