Warehouse System Report: A.B. Beverage Racks Up Productivity
A.B. Beverage improved throughput and eliminated a third shift through better warehouse design and a new rack system.

Rack in the News
Rack and shelving market reaching new highs
Other Voices: Understanding your options for bulk location warehouse signs
Three ANSI standards on industrial shelving, work platforms and ladders released
Hall Wines purchases base isolators for future seismic protection
Cold storage distributor optimizes rack to continue expansion
More Rack News
Warehouse Resource
Crossover Businesses: Blurring the Lines Between Manufacturers, Distributors, and Retailers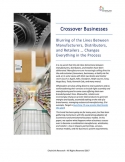 Download the report and uncover how to survive the new challenges businesses are facing and the technology required to keep pace.
All Resources
By
Bob Trebilcock
·
April 17, 2018
What do you get when you combine a warehouse redesign with a new rack system, voice recognition technology and a warehouse management system (WMS)? If you're A.B. Beverage, a beer, wine and spirits distributor near Augusta, Ga., the answer is: a lot. The distributor saw a nearly 45% increase in picking productivity, from 225 to 330 cases per hour, along with better utilization of warehouse space to accommodate the increasing number of SKUs in the craft beer industry—the fastest-growing segment of the distributor's business.
"Before this project, we were operating three shifts per day, had people working overtime and we still could barely get trucks built to leave on time in the morning," says Doug Varnadore, vice president and general manager of A.B. Beverage, which has been in the same family since the end of prohibition. "We're now able to get our work done on two shifts, and we rarely have overtime."
Along with impressive results, the project is a reminder that while we all love to focus on high levels of automation, there are still thousands of smaller, conventional warehouses that can realize impressive benefits by rethinking their processes; optimizing the layouts of their facilities; and implementing basic warehousing tools. In this case, the transition was from a bare-bones operation that relied primarily on floor storage, with pallets stacked one pallet high and paper-based order picking to carts, to a facility using a variety of rack solutions (Twinlode); a new WMS; and bar code scanning and voice-directed picking.
In A.B. Beverage's case, the variety of rack storage made all the difference. While the facility still relies on floor storage for reserve storage and fast-moving SKUs, pick modules were re-done with a combination of single-deep pallet rack; push-back rack for high-volume items; case flow for low-volume products; and keg rack for draft beer. Hands-free, voice-directed pick to pallet on pallet jacks and walkies replaced paper-based pick manual processes, including pick to cart and pick to pallet on sit down rider lift trucks. And, a WMS designed for the beverage industry manages inventory and optimizes picking to build the best pallets for the route trucks.
Warehouse manager Terry Wicklum notes that since initiating the project, the distributor has nearly quadrupled the number of SKUs it's managing in the 50,000-square-foot facility, from 330 to nearly 1,200. "There's no way we could have added that many SKUs under the old system," he says.
Varnadore adds that order selectors are paid to work 40 hours a week but can leave early if they get their work done. "They haven't had to work 40 hours yet. We've reduced the number of people we need, and we have better pallets and better accuracy."

Left: Doug Varnadore, vice president and general manager. Right: Terry Wicklum warehouse manager.
---
Craft beer revolution
A.B. Beverage, a third-generation family-owned business, was founded in 1933. One of the largest beer distributors in the Southeast, A.B. Beverage distributes Anheuser Busch products from facilities in Georgia and South Carolina to more than 1,000 customers across 11 counties in Georgia and five nearby counties in South Carolina. Total annual volume is a little more than 4 million cases annually, with the Georgia facility handling more than 2.5 million cases a year—a typical day sees 9,000 cases go out the door. "We deliver to every licensed account in our territory, from the barbecue joint to a Costco," Varnadore says. "Our model is to get orders in the afternoon and deliver the next day, with orders ranging from one case to 100 cases or more."
The warehouse is a controlled environment and includes three 3,000-square-foot coolers; all told, it manages approximately 225,000 cases of beer at any one time, as well as an area for the storage of wine and some spirits. Freshness is also an attribute that needs to be managed through inventory rotation. "Our product is only good for 110 days, and draft for only 50 days," says Wicklum. "We keep just a 30-day supply on the floor to account for the time in-transit and the sell through time at retail. We don't have a big margin of error before it gets expensive."
For many years, beer distribution was a staid and predictable business. "When I came into the warehouse from sales, my boss was a 30-year operations veteran," Wicklum recalls. "When he started working here, we carried just six SKUs in inventory."
That all began to change about eight years ago with the revolution in micro-breweries and the craft beers favored by Millennial drinkers. "If we were going to not be left behind, we had to add craft beers to the mix," Varnadore says.
That was easier said than done given the amount of space required for all those extra SKUs, which by 2013 had grown to 330, and has since expanded to 1,200—with more on the horizon. At the time, orders were filled from a pick line that consisted of four rows measuring 50 yards each, with one pallet to a slot that was picked until empty. Paper in hand, order selectors manually pushed carts through the pick line or picked to pallets, but on sit down lift trucks. More SKUs meant potentially longer pick lines and a requirement for more storage locations. "The question was: Do we add more space, or do we do more with what we had," Wicklum recalls.
The answer was to improve productivity and storage capacity. "Before doing the project, we visited facilities of various sizes and took away pieces from each that fit our size, our products, our sales mix and our physical building," Wicklum says. He adds that they investigated automation, "but we just aren't big enough to get a payoff."
Bring in the rack
Once A.B. Beverage understood some of the technologies it could apply to the distribution center, it took a deliberate and measured approach to the redesign of the facility. "We realized we could take baby steps and keep changing over time, or bite the bullet and jump in," says Varnadore. "We decided to do it all, but to do it in stages."
The first stage was to bring in a consulting firm with deep experience in beverage distribution (PDC). The firm did a more than six-month study of the previous year's sales, not just looking at the volume of overall sales, but also at how things were ordered at various times throughout the year.
For instance, you would expect heavy beer sales around holidays and major sporting events like the Super Bowl. But, located near the home of the Masters and Augusta National golf course, A.B. Beverage essentially had a 13th month of sales during the tournament. At the end of that study, the consultant brought in the rack supplier to reconfigure storage and flow in the facility, including the rack solution in the pick area.
Instead of floor storage, the pick area consists of a mix of single-deep pallet rack on one side of an aisle and three-deep, push-back racks on the other side of an aisle. The push-back rack is used for last-in/first-out inventory retrieval and also increased pallet storage density by up to 35%. In addition, the facility features seven-deep case-flow rack in the picking area for items ordered in smaller quantities. The floor space underneath the racks is designated for picking while the upper levels are used for replenishment pallets. "That allowed us to maximize the floor space for picking," says Varnadore.
The redesign reduced aisle space by about 20%, but was still wide enough for lift trucks to navigate. All picking is now done to pallets on walkie riders, eliminating manual carts. What's more, as they began working in the space, they discovered the smaller rows allowed for better efficiency and speed to the dock doors for the fastest-moving items.

Voice-directed picking has improved accuracy and productivity, and replaced a cart-based system with walkies.
---
Once the rack system was in place, A.B. Beverage began the transition to technology, including voice-directed picking, bar code scanning to manage inbound receiving, storage and replenishment, and using the WMS system for inventory management and route building. The transition was a learning experience. "One of the things we did was an online digital time clock," he remembers. "I gave everyone their passwords and on the first day we were supposed to use it, I realized some of our team had never used a cursor before."
Wicklum began the transition with voice-directed picking, using the greenest associates, since they didn't have ingrained habits to break. Wicklum piloted it for a month on one route before going live across the facility. "The guys really caught on to it, and we went from there," Wicklum says.
With new storage and picking processes in place, the last step was to go live on the WMS for inventory management and rotation, and route planning and pallet building, and add bar code scanning in the receiving area. "We had on-site support from our software supplier, who started by walking the receiver through putting away every pallet," Wicklum says. "Then, they went to every other pallet and so on until the receiver had the system down." Becoming more efficient meant the facility could do a more effective job of planning the day's work.
Another big change has been the transition from carts to walkies and pallet jacks for picking and delivery. The change saved a net three hours
of activity per night.
In the five years since A.B. Beverage realized it had to do something to accommodate the growth in SKUs, it has nearly quadrupled the number of SKUs in the facility, with more likely to come. As Wicklum says: "The business is harder than it was last week, and next will be harder than this week." But he and Varnadore are confident they have tools and processes in place that will enable them to continue to add the products demanded by their customers and to grow their business. "If we add a product, we just enter it into the system, and it's ready to go," says Varnadore. "We've reduced the number of hours we need to get the job done, the efficiency is better and the accuracy is better."
See a detailed overview of the new distribution center's layout here.

April 18, 2018
About the Author
Bob Trebilcock Bob Trebilcock, editorial director, has covered materials handling, technology, logistics and supply chain topics for nearly 30 years. In addition to Supply Chain Management Review, he is also Executive Editor of Modern Materials Handling. A graduate of Bowling Green State University, Trebilcock lives in Keene, NH. He can be reached at 603-357-0484.
Subscribe to Modern Materials Handling Magazine!
Subscribe today. It's FREE!
Find out what the world's most innovative companies are doing to improve productivity in their plants and distribution centers.
Start your FREE subscription today!
Latest Whitepaper
Insider Q&A: The Robotics Revolution is here. Is your company ready for it?
Download this free Insider Q&A with Matt Wicks, VP, Product Developent, Honeywell Intelligrated for his unique perspective on robotics in the modern-day warehouse.
Download Today!
From the February 2019 Modern Materials Handling Issue
Modern's System Report: Robots at GEODIS
ProMat 2019 to showcase record number of exhibitors, 45,000+ attendees
View More From this Issue