What's new in conveyor technology
Think there's nothing new about conveyor technology? Think again.

Bob Trebilcock
·
February 1, 2010
If you haven't purchased a new conveyor system in the last five years or so, you might think the book was closed long ago on conveyor technology. After all, how tough can it be to power some rollers and move a carton from here to there, right?
If you're talking about a basic roller conveyor in a small factory or distribution center, maybe that's true. But once you get beyond the basics, the next generation of conveyor systems and controls is addressing the needs and concerns of today's increasingly complex and automated manufacturing and distribution environments. Several factors are at work, say industry experts, who cite the need by end users to handle more throughput with less equipment and a growing emphasis on energy savings and sustainability. But those aren't the only factors.
"The incremental growth of Internet sales is pushing companies to handle more individual items than cartons and pallets, and we're seeing changes in packaging," says Phil Kaffenberger, vice president of product development for HK Systems (262-860-7000, http://www.hksystems.com)). "Both of those are impacting the way companies operate their conveyors."
In addition to changes in products and packaging, order fulfillment best practices, like the increasing use of crossdocking, automated storage and retrieval systems (AS/RS) and the growing demand for mixed SKU pallets are also shaping the next generation of conveyor technology, says Ken Ruehrdanz, distribution and warehousing market manager for Dematic (877-725-7500, http://www.dematic.com)). So is the rapid change of business. "For businesses to accommodate changes in market conditions, volumes or other unforeseen conditions, logistics operations need to adjust," Ruehrdanz says. "That means all the material flow systems, including conveyor technology, must adjust accordingly."
Here are some of the most common trends identified by some of the leading providers of conveyor equipment, systems and controls that are driving the conveyor market today.
Conveyor modernization: A well-designed, well-built conveyor system has an operational life expectancy of 15 or 20 years. During that time, however, your business processes and materials handling systems are likely to change. Not to worry, says Ruehrdanz. "There are a number of options that can modernize and extend a conveyor system's life." First, worn rollers that produce excess noise or damage side frames can be replaced with new rollers. Mechanical sensor rollers can be replaced with electronic sensing that allows lighter weight cartons to convey and improve carton control. Line shaft conveyors can be upgraded to motor driven rollers (more on this later) that offer sleep modes, accumulation modes, variable speed control and improved carton flow. Finally, traditional pulley motor assemblies can be replaced with a motorized pulley that will reduce energy usage and sound levels and maintenance costs.
Do more from less: "Increasingly, our customers tell us they want to do more with less," says Kevin Klueber, associate product manager for Intelligrated (877-315-3400, http://www.intelligrated.com)). "That means our conveyors need to be more versatile." One way to more with less is to simply go faster, which has led to conveyor speeds of 700 to 750 feet per minute.
Another approach is to use software, sensors and electronics to close the gap between products on the conveyor and to dynamically control the speed of the conveyor system to match the throughput required for a shift. Reducing the gap between products allows an end user to move more cartons at the same speed. And dynamically controlling the speed allows you to minimize energy consumption and wear and tear on the system.
"You can now input your throughput for the day, and the system will calculate the speed you need to run to match that throughput," says Klueber. "That allows you to better utilize your space, and it reduces maintenance since you're not running the system at full speed all the time." Smarter controls combined with new roller and belting systems is allowing end users to conveyor smaller cartons, envelopes and poly bags that previously didn't work on roller conveyor. "The list of non-conveyables is shrinking," Klueber says.
Getting smarter with software: The real strides in conveyor technology today are not mechanical, an area where improvements are incremental. They're being made in the electronics and software that control the systems, says says Del Deur, director of product development for carton and case conveyor for TGW-Ermanco (231-798-4547, http://www.tgw-ermanco.com)). That's resulting not just in better performance, but also better monitoring and reporting. "One area we're focusing on is dashboards that will tell you what's going on in various pick modules, or what kind of throughput you're getting during the shift compared to where you need to be to hit your numbers," says Deur. "At another level, we're using camera-based systems in some of our conveyors to capture what's going on." If a system jams, Deur adds, an operator can review the tape to diagnose what happened to cause the jam and then take corrective actions to prevent it in the future.

Bring on the belts: The increase in piece picking along with changes in packaging are resulting in an increase in alternatives to roller conveyors. "One of the changes you're seeing is a move from corrugated to blister packs," says HK Systems' Kaffenberger. "And with single line orders, we're handling smaller and smaller packages." That's resulting in an increase in belt and plastic top chain conveyors that can accommodate small packaging. "We're also seeing a higher use of belted motor driven conveyors to accommodate accumulation in piece picking operations," says Kaffenberger.
Green conveying: A tough economy has put a premium on cost containment and an increasing interest in sustainability. Both are creating demand for motor driven roller conveyor (MDR). In these conveyors, each roller is powered by an energy-saving, 24-volt motor inside the roller. "The post office has seen a 60% energy savings in parcel-handling applications, and we have seen savings of up to 90% in some commercial applications," says Rich Kosik, senior vice president for Itoh Denki USA (888-310-8811, http://www.itohdenki.com)). Those savings come in part from the low voltage motors. But it's also because MDR conveyors can run on demand, operating only when product is on the conveyor. Users can also vary the speed of the conveyors, operating at 300 feet per minute on a busy day or 100 feet per minute on slower days.
What's more, MDR providers are developing smart rollers that can monitor the operation of the system for predictive maintenance purposes. "We have developed a smart roller with an embedded memory chip that can keep track of the hours of operation and currents," says John Mosher, solution development manager for Holjeron (971-224-1600, http://www.holjeron.com)). "If a roller is using too much current, it might mean that it's the wrong size roller for that application. But it might also mean that the roller is beginning to fail."
The ergonomic conveyor: Most conveyors are used in place of warehouse personnel. But on the receiving and shipping docks, the loading and unloading zones, conveyors that extend into trailers and shipping containers interface with humans. "In those areas, we are where the rubber hits the road," says Mark Rehder, general manager and vice president for Caljan Rite-Hite (303-321-3600, http://www.caljanritehiteus.com)). "On the docks, ergonomics and safety are as important as throughput speeds." Those concerns are being addressed in several ways, including guarding, labeling and enclosed designs that minimize the number of pinch points where a finger or garment might get caught in the conveyor. It's also reflected in the ability to adjust the conveyor height to place the parcel at an ergonomic location for the operator at the dock. "You'll now see conveyors using hydraulic elevation control and articulated belt systems that allow any individual to put the conveyor at the right height," says Rehder. In addition, conveyor providers are also combining conveyors with vacuum-assist lifting devices that can lift bags, cartons and boxes from a trailer floor or pallet. "All the operator has to do is guide the parcel onto the conveyor," says Rehder.
What goes up: Most people use conveyor for horizontal travel. Vertical reciprocating conveyors (VRCs) are used to transport parts, products, subassemblies and work-in-process from one level of a facility to another. "VRCs are a safe and efficient method of getting material from one elevation to another elevation," says Todd Canham, lift product manager for Wildeck (800-325-6939, http://www.wildeck.com)). "They allow companies to make better use of their floor space by using the space overhead." An electronics manufacturer, for instance, uses a VRC to transport materials from the manufacturing floor to a testing facility and then back to the ground level to a packing station. "It's an easy way to move material while reducing lift truck traffic," says Canham. A new generation of VRCs that use direct-acting lift technologies and eliminate cables and sprockets provides simple and reliable vertical lifting for low usage situations.
Modular conveyors come into their own: End users are increasingly looking for flexibility from automated materials handling equipment, including conveyor systems. That has led to the development of modular conveyors that can be easily reconfigured if needs change. "With a modular conveyor, you can start out with a flat module but later add an incline or expand the length of the conveyor," says Jill Batka, general manager for Dynamic Conveyor (800-640-6850, http://www.dynamicconveyor.com)). "The modules are pieced together with screws and braces that easily snap together." These systems are ideal for light-to-medium applications, with weights of 100 pounds or less and speeds of 60 feet per minute or less. "These types of solutions are especially suited to manufacturing lines, since manufacturers are often reconfiguring their facilities to accommodate new products and processes," says Batka.

June 13, 2012
About the Author
Bob Trebilcock Bob Trebilcock, editorial director, has covered materials handling, technology, logistics and supply chain topics for nearly 30 years. In addition to Supply Chain Management Review, he is also Executive Editor of Modern Materials Handling. A graduate of Bowling Green State University, Trebilcock lives in Keene, NH. He can be reached at 603-357-0484.
Subscribe to Modern Materials Handling Magazine!
Subscribe today. It's FREE!
Find out what the world's most innovative companies are doing to improve productivity in their plants and distribution centers.
Start your FREE subscription today!
Latest Whitepaper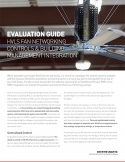 How to Invest Smartly in Industrial Fans
Read this white paper to learn the 7 defining factors to consider about your facility so you can maximize the benefits of your fan investment. HVLS High volume low speed fan white paper, Entrematic fans white paper. Benefits of HVLS fans in the warehouse.
Download Today!
From the April 2018 Modern Materials Handling Issue
Why smarts are central to Internet of Things in the warehouse
New warehouse gives winemaker a "Smooth Finish"
View More From this Issue
Latest Webcast
Industry 4.0: What you need to know today
This webinar takes a closer look at industry 4.0 and provides a roadmap for building and effectively utilizing Industry 4.0 capabilities.
Register Today!