Other Voices: Removing Barriers to Warehouse Productivity
Take a look at how to overcome the most common barriers to getting the most from your warehouse labor

Al Gagnon
·
May 11, 2011
Editor's Note: The following column by Al Gagnon, a senior account executive at enVista, is part of Modern's new Other Voices column. The series, published on Wednesdays, will feature ideas, opinions and insights from end users, analysts, systems integraters and OEMs. Click on the link to learn about submitting a column for consideration.
Labor productivity directly impacts corporate profitability, yet it is one of the easiest and most cost-effective areas to improve within the warehouse. Let's look at the five types of productivity barriers in the warehouse and what you can do to create a more profitable, efficient and better workplace.
Most productivity barriers in the warehouse fall into one of five categories:
• Your people don't know what you expect of them.
• They are not adequately trained how to do the job.
• They are simply unable to perform the job as it is defined.
• They are impeded by organizational barriers.
• They lack the motivation to do the job.
These barriers result in increased performance time and inefficiencies. Sometimes the roadblocks are as obvious as a barricade with flashing red lights. Obvious roadblocks in the warehouse, like blocked lanes or absenteeism, immediately show that your crew is losing time.
However, hidden barriers are just as serious. Think of the unexpected potholes and railroad crossings that delay the unprepared driver, or the broken pallets, machinery breakdowns and shorts that detour the warehouse order picker. As a warehouse manager, you are responsible for managing labor performance for each of your associates. This is true even if supervisors deal with their performance on a day-to-day basis. The first step to removing any productivity barrier is to identify the source, the root cause of the problem. Let's take a closer look at five of the most common barriers to warehouse productivity.
Communication and training are the first two barriers: Throughout any warehousing organization, supervisors must clearly define and explain the job expectations that are to be placed on the associates. If an order selector does not know how you define a well done job, he or she will not be likely to meet your expectations.
Poor training accounts for the majority of lost time in most distribution facilities because the problems that stem from inadequate training do not remain within their point of origin. Their effect increasingly impacts other areas of the warehouse, like ripples from a rock thrown into a pond.
For example, the productivity of one distribution center suffered because its shipping docks were always congested. The traffic jams delayed shipments and generated a few gray hairs for the first line supervisor. Relieving the traffic flow proved difficult until the supervisor identified the source of the problem. The docks were not jammed because there were too many orders, or too few associates. They were congested because the loaders had not been properly trained.
As often happens, the odd-sized cases made the loads unstable on the pallets, so this particular crew used an automatic stretch- wrapping machine to stabilize the pallets for shipping. But instead of using the correct method – wrapping one pallet and loading the finished one at the same time – the associates stood and watched as the machine wrapped plastic around and around the cases. While they waited for the stretch-wrapper to finish its job, orders piled up on the dock. These delays seemed minor to the associates, but they expanded to affect the rest of the shipping operation. When the associates started using the correct wrapping method, the congestion disappeared. Improper or poor training not only makes associates work harder while producing fewer results, it also hurts their motivation. We've heard it said: "if they don't care enough to tell me how to do the job, then they obviously don't care how it's done." Wipe your slate clean of this productivity barrier by putting your limited time and energy where it really counts, up front with an effective, consistent training program.
The third type of productivity barrier occurs when the associate cannot perform the work. This usually involves a limitation of physical ability or aptitude. An example might be a person who lacks the strength to lift cases or doesn't have enough manual dexterity to operate the equipment. It's up to managers to decide how to handle these situations; whether to make exceptions in performance standards for these associates, or to change hiring requirements.
The fourth type of roadblock is organizational barriers, which can be the most frustrating and unnecessary. These problems are caused by procedures, equipment or bureaucracy that is beyond the control of the employees. Sometimes they're minor irritants that take a little extra time, like a broken pallet or an out-of-way order desk. At their worst, however, they become ongoing obstacles and hindrances that wear away the motivation and spirit of your work crew. These barriers are the empty slots or missing products that send order selectors on a wild goose chase, the delays caused by WMS mix-ups and the material handling equipment that falls apart due to lack of maintenance.
enVista once helped a distribution company set up a Labor reporting system with a focus on tracking the time employees spent on all the various tasks in the warehouse. After reviewing the first set of reports, a supervisor noticed that the order selectors lost time each shift because of equipment problems. It turned out that the batteries on the double pallet jacks lost power during the eight hour shift. Every time a battery started to run down, an associate had to go across the warehouse to the battery charging area to get a fresh battery. Those trips were costing the company $2,000 a week in lost work time.
That's a pretty hefty organizational barrier! Once the problem was identified, however, solutions became possible. A better battery, one that ran 14 to 16 hours without charging, was phased in and thereafter installed at the start of each shift.
Many of us know the helpless, frustrated feeling that comes with a flooded basement. The rain trickles in as fast as you mop it up. When a basement continually floods, a more permanent solution is usually implemented, like installing a sump pump or waterproofing the basement foundation. Warehouse associates and their supervisors experience similar frustration when they run into organizational barriers day after day. However, rather than identifying and creating a permanent solution to problems that regularly impact their jobs, all too often employees are not empowered to do anything about it and after awhile become complacent about finding a solution.
Distribution management should not and cannot accept barriers to productivity as standard operating procedure. Most of these problems are not a natural part of the warehouse life, and neither are the frustrations, negative attitudes and inefficiencies that accompany them. By removing these organizational stumbling blocks and all the other roadblocks to productivity, you can make the distribution center both more efficient and a better place to work.
A final type of productivity barrier is a lack of motivation by the associates to do the job. There are bound to be a few associates that lack the motivation to perform at acceptable levels. But our experience has shown that a vast majority of the associates want to do a good job and given the correct tools, feedback and information, will perform as well as they possibly can. Unfortunately time and again we have seen first line supervisors focus their energy on the few under performers. Supervisors are responsible for the productivity of all their employees, not just a few. The supervisors seem to think that, "If only I could get rid of these few, my problems would be solved."
These supervisors might take a lesson from a manager we worked with several years ago. We installed a reporting system with performance standards in a large distribution warehouse that was averaging 75 percent productivity. Rich, the manager, told me, "I'm going to use that information to get rid of employees who aren't performing." I shook my head. "Rich, I think you've got your priorities wrong. You have 200 people working for you around the clock. How many do you figure are troublemakers?""I suppose its three or four percent, "he said. "Okay," I said. "At the most, that's eight employees. Even if you double their output, it wouldn't add much to your total productivity. You need to spend your energy on the majority – your good people- the other 96 percent."
Two years later, I saw Rich at a meeting and asked him how things were going. "You know," he said, "I didn't believe you at first. But I took your advice, and it really is better to focus on managing the majority of the crew. I still have some troublemakers. But we're up to 92% performance now, and because of that I have 170 people in the warehouse, instead of 200. It's a lot easier for me to manage now." Only a small percentage of your employees perform their jobs poorly on purpose. So why spend most of your time with them? You'll have more success helping those who want
to do better. Rewards and encouragement, not punishment, create a positive work environment.
The Importance of Measuring and Monitoring Labor Performance. Tracking productivity and performance is key to improvement. Imagine if only six out of every ten employees showed up for work. Or, if every associate performed his or her job with one hand tied behind their back. No management team would allow such substandard performance. However, the warehouse that does not have goals or performance standards and a good feedback system in place has an average standard productivity rate of 60 percent of its workers' potential. You may not see the ropes that bind your employees' hands, but they are there.
Labor Productivity Directly Impacts the Bottom Line. The volume of products passing through warehouses is so great that every minute lost or gained can account for thousands of dollars a year. That's why improving productivity is so important. For example, if a warehouse worker handles 150 cases an hour, or 300,000 cases a year, and you can shave off one penny a case by using a better method, or by removing a barrier to productivity, you'll save $3,000 per employee. If you manage a crew of fifty, that will total $150,000 – that's enough to get management's attention in most operations! You can raise the productivity level in your area from the standard 60-70 percent to 85 percent or more, without major layout changes, without buying new equipment, and without installing new technology. Hence, workforce productivity should be an area of focus, if it isn't already. Improving labor performance not only improves profitability, it leads to enhanced job satisfaction and security – for you as well!
The individual warehouse supervisor can make a big difference, but improving productivity will require some effort on your part. It takes specialized experience and often an objective view to recognize all of the barriers that consume a crew's time and energy. When you rush through each day, dealing with issues that need your attention now, it's tough to notice a slow pallet jack or the cause of the congested loading dock. But it can be done! Try to take a fresh look at the operations you see every day, and ask yourself: Is there a better way to do this? What are the most effective methods? How can we improve our performance? Qualified consultants can also help provide better training and performance feedback.
With a keen eye and an open mind and ear, you can actively prevent or solve problems that disrupt the flow of work. For some managers, it may be as simple as spending more time walking around the warehouse floor. Others may need to focus on providing better training and feedback on their employee's performance.
You need to identify and remove the productivity barriers that are within your control. Working together with your people, you can convert these stumbling blocks into stepping stones that lead to improved productivity and a better working environment for everyone.

October 3, 2011
About the Author
Bob Trebilcock Bob Trebilcock, editorial director, has covered materials handling, technology, logistics and supply chain topics for nearly 30 years. In addition to Supply Chain Management Review, he is also Executive Editor of Modern Materials Handling. A graduate of Bowling Green State University, Trebilcock lives in Keene, NH. He can be reached at 603-357-0484.
Subscribe to Modern Materials Handling Magazine!
Subscribe today. It's FREE!
Find out what the world's most innovative companies are doing to improve productivity in their plants and distribution centers.
Start your FREE subscription today!
Latest Whitepaper
Corrugated Boxes Deliver for E-Commerce
Corrugated box can and should be thought of as one of the key technologies for e-commerce-era fulfillment.
Download Today!
From the January 2018 Modern Materials Handling Issue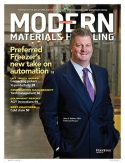 Lift Truck Series Part 1: Lift truck technology connects pickers to productivity
Breaking Through On Yard Visibility
View More From this Issue
Latest Webcast
Emerging Technologies for Your Distribution Center
Come get an insider's view of the latest technologies for inside your Distribution Center. You'll learn which technologies are being piloted, which are having success and moving from concept to implementation and into production on the maturity scale, and what's coming on the horizon.
Register Today!