Packaging Corner: Automated palletizers emphasize flexibility, safety
Companies turn to automated palletizing equipment to accommodate changing packaging requirements.

Sara Pearson Specter
·
March 1, 2013
Smaller packages. Club store packs with shelf-ready packaging. Sustainability. Packaging waste reduction.
All of these trends have pushed manufacturers and distributors to invest in automated palletizing systems, particularly hybrid models that feature a robotic arm to arrange cases that are then fed—layer by layer—to a conventional palletizer to secure them to a pallet.
"Companies are trying to do more with less," says Ted Yeigh, sales director for Columbia Machine. "That's prompting them to implement more automated solutions. With hybrid palletizers, companies get the flexibility of a robot that can quickly adapt to changing packaging requirements and handle very delicate products, including tall and tippy cases, labels-out layer forming and other challenging package types. They also benefit from the simplicity of a conventional palletizer to finish the load-building process."
In the vein of doing more with less, notes Yeigh, there's been a strong uptick in in-line, floor-level palletizer sales. "With the full machine on the floor, it's easier to walk by and visually verify proper operation. Floor-level palletizers are also easier to access for regular maintenance."
Of course, with all automated machinery, regular service is required to keep it functioning at peak performance.
To protect operators and service technicians, Columbia started including Category 3 electrical circuits as a standard feature on all of their palletizers (including hybrid models) more than three years ago. The redundant, fail-safe circuitry ensures that all integrated safety equipment—including interlocked door switches and light curtains in the discharge area—operate properly to protect personnel, even in the event of a circuit failure.
"We were seeing an increasing demand from multi-national corporations to mirror the safety standards set in place in Europe," continues Yeigh. "It just made sense to make these safety enhancements a standard feature, rather than a custom-engineered solution."

March 8, 2013
Latest Whitepaper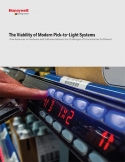 Transform DC Throughput and Accuracy With Pick-to-Light Systems
The demands of omnichannel distribution center (DC) fulfillment are driving the adoption of more advanced pick-to-light hardware and software.
Download Today!
From the December 2017 Modern Materials Handling Issue
The Big Picture: Navigation Gets a Reboot for Automatic Vehicles
Top 20 3PL Warehouses 2017: Growth amid change
View More From this Issue
Latest Webcast
The State of the DC Voice Market
A lot has changed in the last 10 years, especially in voice technology. This webinar will cover the state of the voice market, review two leading voice solutions and help you gain a better understanding of the options and capabilities available today.
Register Today!