Contact Us


Peerless Media produces industry-leading brands in the supply chain, logistics, materials handling and design engineering markets. Each is the content leader in their respective field for news, analysis and resources. Peerless offers unparalleled marketing opportunities for branding, lead-generation, research, content creation and thought leadership.
For Information, please contact:
President and Group Publisher
Brian Ceraolo
.(JavaScript must be enabled to view this email address)
281 Route 79
Morganville, NJ 07751
Tel: 732-970-1070
Office Manager
Laurel Peddie
.(JavaScript must be enabled to view this email address)
111 Speen Street, Suite 200
Framingham, MA 01701
Tel: 508-663-1500 ex 234
Fax: 877-330-7427
Subscriptions/Circulation
Michelle McKeon, Senior Audience Marketing Manager
.(JavaScript must be enabled to view this email address)
508-663-1500 x285
Sales
Northeast/Eastern Canada
Steve McCoy
Sales Manager
.(JavaScript must be enabled to view this email address)
Tel: 508-261-1120
Midwest
Bob Casey
Sales Manager
.(JavaScript must be enabled to view this email address)
Tel: 847-223-5225, ext. 10
Southeast/Mid-Atlantic
Greg Bolen
Sales Manager
.(JavaScript must be enabled to view this email address)
Tel: 704-948-4118
Western Canada Sales
Brian McAvoy, Sales Manager
.(JavaScript must be enabled to view this email address)
111 Speen Street, Suite 200
Framingham, MA 01701
Tel: 508-808-9554
Editorial:
Michael Levans, Group Editorial Director
111 Speen Street, Suite 200
Framingham, MA 01701
800-375-8015
.(JavaScript must be enabled to view this email address)
Executive Editor
Bob Trebilcock
603-357-0484
.(JavaScript must be enabled to view this email address)

Executive Managing Editor
Noël P. Bodenburg
860-217-0474
.(JavaScript must be enabled to view this email address)
Associate Editor
Josh Bond
.(JavaScript must be enabled to view this email address)
Editor at Large
Sara Pearson Specter
.(JavaScript must be enabled to view this email address)
Editor at Large
Roberto Michel
.(JavaScript must be enabled to view this email address)
Please send press releases and product news to: .(JavaScript must be enabled to view this email address)
Latest Whitepaper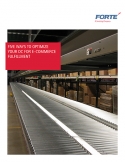 Is Your DC Ready for E-commerce Growth? Here's How to Handle More SKUs and Inventory Turns
The rise of e-commerce and multi-channel fulfillment has caused distribution centers (DCs) to experience ever-growing numbers of stock-keeping units (SKUs) and more inventory turns, up to an average of nine in 2015.
Download Today!
From the August 2016 Issue
The data-driven lift truck
Top 20 Lift Truck Suppliers 2016
View More From this Issue
Latest Webcast
5 Emerging Technologies Enabling Competitive Advantage for Distribution
Come hear about the latest in each-picking robotics, co-bots, artificial intelligence, autonomous vehicles, sensors, drones and droids that are enabling competitive advantage for distribution.
Register Today!