Subscribe to Magazines and eNewsletters
Begin or renew your FREE subscriptions to the market-leading magazines and eNewsletters from Modern Materials Handling .

FREE Magazine Subscription
Modern Materials Handling
delivers an insider's look at what some of the world's most innovative companies are doing to improve productivity, quality and throughput in their plants and distribution centers. From lift truck and conveying equipment to the latest technology trends in RFID and WMS,
Modern Materials Handling
keeps managers and engineers informed like no other business resource.
Start or renew your subscription today.
FREE Email Newsletters
Join our free email newsletter lists
to keep your finger on the pulse of the industry with news alerts and new product announcements.
Contact Customer Service
Email:
.(JavaScript must be enabled to view this email address)
Phone: 1-847-559-7581
Fax: 1-847-564-9453
Mail: Peerless Media, PO Box 677, Northbrook, IL 60065-0677
Latest Whitepaper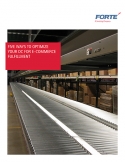 Is Your DC Ready for E-commerce Growth? Here's How to Handle More SKUs and Inventory Turns
The rise of e-commerce and multi-channel fulfillment has caused distribution centers (DCs) to experience ever-growing numbers of stock-keeping units (SKUs) and more inventory turns, up to an average of nine in 2015.
Download Today!
From the August 2016 Issue
The data-driven lift truck
Top 20 Lift Truck Suppliers 2016
View More From this Issue
Latest Webcast
5 Emerging Technologies Enabling Competitive Advantage for Distribution
Come hear about the latest in each-picking robotics, co-bots, artificial intelligence, autonomous vehicles, sensors, drones and droids that are enabling competitive advantage for distribution.
Register Today!