4 ways the Internet of Things will reshape manufacturing
Equipment uptime and diagnostics among top-use scenarios, but experts agree that it is still early days for IoT adoption.

Roberto Michel
·
July 1, 2014
If you listen to the numbers on the billions of machines, automation controllers and other "things" being connected to the Internet as part of the Internet of Things (IoT) trend, one might assume that nearly every manufacturing plant would have an IoT project underway. After all, manufacturing is all about making things, and as part of that, moving materials.
But analysts and technology suppliers agree that it is still early days for the IoT, especially on plant floors. Hurdles for broader adoption include security concerns for plant-floor networks and a fuzzy understanding of how the IoT translates into practical use.
The IoT has many definitions, but revolves around connecting sensors, smart equipment, programmable logic controllers (PLCs), and radio frequency identification (RFID) data with the Internet so that other systems or analytics software can respond to or make sense of the data. The great promise of the IoT is that information technology (IT) systems will have a real-time understanding of conditions, events and material movements in the physical world.
Great expectations
According to analyst firm Gartner, by 2020, there will be 26 billion "things" within the IoT. Potential applications include smart, connected vehicles; smart jet aircraft engines; and smart refrigerators that communicate when a staple is running low.
Smart refrigerators sound fine, but what can the IoT accomplish in a factory? Several scenarios exist, including better materials tracking and better equipment uptime. The promise of the IoT is so significant that MHI made "ubiquitous sensors and the IoT" one of its 10 megatrends in its report, the "U.S. Roadmap for Material Handling & Logistics."
Bill Ferrell, a professor in Clemson University's industrial engineering department and a co-editor of the roadmap, sees promise in the IoT. "If the Internet of Things is this concept that inanimate objects can communicate over the Internet and be controlled, that strikes me as having the potential to revolutionize the way manufacturing is done," says Ferrell. "When inventory bins can automatically indicate when they need to be replenished and trigger materials to be retrieved, now you're moving into some advanced applications."
Some of the emerging ways that IoT technology can help manufacturing operations includes: equipment optimization and energy efficiency; safety; materials tracking and manufacturing agility; and lifecycle product traceability.
While potential uses exist, Harry Forbes, an analyst with ARC Advisory Group, doesn't expect the IoT to supplant proven technologies such as bar code scanning or expect that every piece of machinery will be sending data to the cloud. "We think the IoT will continue to grow, tending to start from applications that are high value but more difficult to implement, down to uses that are relatively low in value, but will become easy to implement as costs drop," says Forbes. "There are a few areas on tap, mainly remote monitoring and management of equipment."
1. Optimizing equipment
By hooking equipment into the IoT, original equipment manufacturers (OEMs) or dealers could use that stream of data to adjust preventative maintenance schedules based on actual wear and be able to better optimize uptime. "Those are the opportunities for the OEMs, because these are valuable areas to the end users," says Forbes.
GE, one of several high-profile companies involved in IoT efforts (see sidebar), uses IoT capabilities in some of its products, including in aircraft engines to optimize fuel use. Providers and users of materials handling equipment similarly can leverage the IoT for high availability and efficiency, says Bob Gates, market director of manufacturing for GE Intelligent Platforms.
Gates believes IoT-enabled materials handling equipment will start to be seen, because of the uptime benefit potential. The IoT also makes service easier for the OEM or dealer. With the IoT, says Gates, "an equipment provider is better positioned to walk into an end user's organization and say, 'I can do a better maintenance program for you and do it very cost effectively. You can just run the asset and not have to worry about it breaking down.'"
Already, some providers of materials handling equipment are using remote monitoring and diagnostics. Matt Inbody, manager of software partnership and cloud services for Dematic, says its controllers can communicate messages remotely with a service called Alert Monitoring Service (AMS). AMS notifies Dematic technicians of any errors and allows the techs to access the machine over a secure connection and troubleshoot the issue with the customer. While AMS does not currently feed machine data directly into a cloud-based analytics software, Inbody says Dematic is working toward this concept by combining elements of AMS with its cloud-based maintenance software.
Corporate IT, however, may have security rules against opening up plant networks to cloud-based remote access. "The way it works now, we have the capabilities to do those types of things [Web-based monitoring], but typically the IT professionals on the customer side are, for a variety of reasons, mostly security reasons, unwilling to allow access through their firewalls," says Earl Wohlrab, palletizing and robotics systems product manager for Intelligrated.
Under the full IoT vision, connectivity between the enterprise and machines is cloud-based, with a near-continuous stream of data being fed up to analytical tools, historian software, or some other system that can process the data. However, if the goal is remote equipment monitoring, but corporate IT doesn't allow access through a firewall, there are alternatives that may fall short of being IoT, but still accomplish the goal. One such approach, according to Bill Conley, M2M systems development engineering manager for B&B Electronics, is to use a wireless cellular router and a mobile network to enable connectivity to PLCs or equipment so that the gear can be monitored.
For some equipment, such as lift trucks, users have been more open to the idea of systems that leverage wireless networks, real-time locating, and cloud-based views into metrics and history to optimize equipment. Raymond's iWarehouse is a lift truck fleet management solution that wirelessly collects and analyzes lift truck data to improve productivity. The solution wirelessly takes in data from onboard computers, generating insights that can be viewed by the end users, while people at Raymond or at dealers also can use the data to improve designs and services.
2. Safety and breaking silos
For users of iWarehouse, the ability to track exactly how lift trucks are being used helps them "right size" their fleets by knowing if a truck is underused, says John Rosenberger, product manager for iWarehouse Gateway at Raymond. The system's knowledge of which operator is "badged" onto a truck, and the travel pattern for a truck, can also be integrated with labor management systems.
Another common use for iWarehouse is to keep track of collisions, including the location, the time of day, and who was operating the lift truck. At one company using iWarehouse, collision data was compared with operations data, says Rosenberger, and it was discovered that a recent string of collisions could be tied to improper staging of goods unloaded from a dock. By moving the staging a few yards closer to the docks, the collisions ceased.
Raymond also makes use of data from these systems to spot trends related to parts failures, warranties and design improvements. For instance, says Rosenberger, analysis might show that a part breaks down more frequently when a truck is used in a cold storage area, which is collected with temperature sensors. "So if a part is wearing down under certain conditions, we would take that into consideration when we do a redesign," says Rosenberger.
Under the IoT, much of the benefits stem from sharing data from sensors and smart equipment beyond the bounds of one narrow, closed-loop function. Sensors often have untapped parameters that could be fed up through the cloud to other systems, says Stacey Kelly, director of sales and marketing for SICK. Various materials handling suppliers use SICK sensors for reasons such as guidance and collision avoidance on automatic guided vehicles (AGVs), or "back-up" sensors that warns lift truck operators of obstructions.
Typically, says Kelly, OEMs use the sensors for a narrow purpose, but could be using more parameters or feeding up parameters to other systems so that correlations can be made. For example, a back-up sensor's history could be integrated with collision and safety records to pinpoint safety trends. Or, with image sensors that read bar codes, there is a quality parameter called a "CS" value that could be communicated to upstream printers when it starts to decline.
So, some of the payoff from the IoT will rely on thinking of ways that sensor data could be used outside of one niche process. "Sensors are being used mainly for intra-machine purposes," says Kelly. "We are still on the very front end of using more of the data that's available from sensors."
Douglas Bellin, senior manager of industry development with Cisco Systems, agrees the IoT necessitates a break from siloed thinking. "The biggest benefit we are going to start to see is the correlation of information from systems that typically did not work together or were not thought of needing to reference each other," he says. "Historically, the information was stored in silos and was very difficult to get to. Now we are adding the connectivity to these machines and are able to extract the data, move the data, store it, and analyze it to see if abnormalities are occurring."
Bellin says Cisco is working with one food manufacturing customer on a project combining data from control systems, flow systems, weather systems, digital media signage and RFID data to ensure worker safety and productivity. In this project, the company uses ammonia, which runs through a pipe system for cleaning and other purposes. A flow analysis device on the piping checks for ammonia leaks, and warns if a leak happens. On the outside of the building, weather monitoring gear tracks wind direction, temperature and other data, while a digital media signage system conveys metrics and messages to workers. Workers wear an RFID badge to track their location. By correlating all this data, the company simultaneously addresses safety and enhances worker productivity.
3. WIP and agility
Another vision for the IoT is to allow for a more hands-off way to track goods and the progress of work. RFID tags and readers can play a role in this by allowing materials, locations, or tooling to essentially talk with each other, says Adebayo Onigbanjo, senior manager of product marketing for Zebra Technologies.
In the auto industry, where active RFID is attached to vehicles to track their progress in assembly, a next step would be to use RFID technology on assembly equipment to speed up work processes, says Onigbanjo. For example, an RFID-enabled torque wrench could "sense" the subassembly that appears in front of it, and immediately calibrate itself for the task, and with cloud connectivity, trigger the proper work instructions. "We see RFID as being a major, instrumental piece of IoT," says Onigbanjo.
Zebra has a developed an IoT platform called Zatar that connects devices to the cloud and manages them. With the right connections to back-end systems or analytics, says Onigbanjo, the manufacturer can gain visibility into factors like the dwell times for parts in an assembly process or holding location. "The idea is to take advantage of the cloud, to see how many of these previously siloed systems we can get connected so that we can make our processes smarter and retrieve information faster," he says.
Some of the early uses for Zatar, says Onigbanjo, include cloud printing where a manufacturer who doesn't want to own label printers could have a provider manage them through the cloud.
4. Hands-off traceability
With the IoT and its potential links into RFID readers and other sources of data, the end user organization can gain valuable insight into the movement of goods, the lifecycle of parts on goods, and other data that gets recorded with RFID.
One potential use for this data is component-level traceability of parts for the lifespan of a product, so that OEMs know the exact product and service history for that product. The aircraft industry already is moving toward this, says Onigbanjo, by using RFID on parts. Additionally, with RFID, data can be automatically captured without much human labor. "The idea is to automate that data capture to provide more intelligence to your systems," he says.
Cisco's Bellin agrees that better component traceability will be part of the IoT. Cisco is having RFID tags put on board assemblies, he adds. The company also is working with a contract manufacturer to start using assembly robots that will convey more real-time information. "This will allow us to stop assembly if there are issues that we see at that point in time since we'll be tracking actual values, not average values."
The possibilities are there for the IoT, but even backers of the concept agree that more examples need to be proven. As Bellin concludes, "Bringing this together is adding services and capabilities that we are just starting to understand."
Companies mentioned in this article
ARC Advisory Group, arcweb.com
B&B Electronics, bb-elec.com
Cisco Systems, cisco.com
Dematic, dematic.com
Gartner, gartner.com
GE Intelligent Platforms, ge-ip.com
Intelligrated, intelligrated.com
Raymond, raymondcorp.com
SICK, sick.com
Zebra Technologies, zebra.com

July 31, 2014
About the Author
Roberto Michel Roberto Michel, an editor at large for Modern Materials Handling (MMH), has covered manufacturing and supply chain management trends since 1986, mainly as a former staff editor and former contributor at Manufacturing Business Technology. He has been a contributor to MMH since 2004. He has worked on numerous show dailies, including at ProMat, the North American Material Handling Logistics show, and National Manufacturing Week. He can be reached at
[email protected]
Subscribe to Modern Materials Handling Magazine!
Subscribe today. It's FREE!
Find out what the world's most innovative companies are doing to improve productivity in their plants and distribution centers.
Start your FREE subscription today!
Latest Whitepaper
Corrugated Boxes Deliver for E-Commerce
Corrugated box can and should be thought of as one of the key technologies for e-commerce-era fulfillment.
Download Today!
From the January 2018 Modern Materials Handling Issue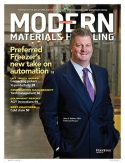 Lift Truck Series Part 1: Lift truck technology connects pickers to productivity
Breaking Through On Yard Visibility
View More From this Issue
Latest Webcast
Emerging Technologies for Your Distribution Center
Come get an insider's view of the latest technologies for inside your Distribution Center. You'll learn which technologies are being piloted, which are having success and moving from concept to implementation and into production on the maturity scale, and what's coming on the horizon.
Register Today!