Canadian Tire's unconventional approach to automation
One of Canada's largest retailers shares the lessons it learned from automating the manual materials handling processes with automatic guided vehicles in its pallet flow area.

Bob Trebilcock
·
November 22, 2010
When it came time for Canadian Tire Corp. to upgrade the pallet picking operations in its 1.2 million square foot distribution center in Brampton, Ontario, the retailer took an unconventional approach to automating some conventional processes.
Rather than upgrade an aging fleet of narrow-aisle turret trucks used to replenish pick faces in a pallet flow area, Canadian Tire replaced the trucks with specially designed automatic guided vehicles (AGVs) capable of working in the same area, bringing automation (HK Systems, 262-860-7000, http://www.hksystems.com) to conventional warehousing processes.
While some aisles have yet to be converted, including the delivery of several more turret-truck AGVs in January 2010, Canadian Tire is already seeing improved productivity and better accuracy in its replenishment operations. "This is still a relatively new solution," says Ken Desloges, Canadian Tire's facilities engineering manager for supply chain. "But the AGV is doing what it's supposed to do."
The new system is a textbook example of how a leading company is using an innovative materials handling solution to improve its processes and retain its position in the marketplace. But more than that, the steps Canadian Tire took to design and prove the concept, manage the change with its employees and implement the new equipment also provide valuable lessons about how to handle a systems upgrade.
Identifying the need
Founded in 1922, Canadian Tire Corp. is a growing network of businesses with more than 1,100 general merchandise and apparel retail stores and gas stations. In addition, the company is a leading provider of financial services and operates a federally chartered bank. With a top 60 listing on the Toronto Stock Exchange, the company has market capitalization of more than $3.6 billion, near-universal brand awareness and is one of Canada's most respected companies.
The 1.2 million square foot, A.J. Billes Distribution Center was built in the 1990s, and sports more than 17.5 miles of conveyor, 137 receiving and shipping doors and an automatic storage and retrieval system (AS/RS) with 78,000 pallet locations for reserve storage. One unique feature: Canadian Tire relies on a towline cart system to deliver pallets from the receiving dock to the AS/RS, the pallet flow area as well as other work and process areas throughout the facility.
The renovation of the pallet flow area began in 2006 and was driven by two concurrent events.
The first was simple: The fleet of high-reach turret trucks was near the end of its life cycle and would have to be replaced.
The second was more complex: As the amount of business flowing through the facility increased, throughput became an issue. One particular bottleneck was the replenishment process in the pallet flow area. Pallets stored in the AS/RS were automatically delivered by the towline system to a spur that has three cart drop-off locations at the back of the pallet flow module. Those pallets were then put into a pick face by a turret truck driver. As volumes increased, the drivers couldn't pull the pallets from the drop-off locations fast enough to keep up.
"If there were no open drop-off locations at the spurs, the towline cart would re-circulate," says Desloges. "If it has to go around the whole towline, it could take up to 23 minutes." By the same token, empty pick face locations resulted in short picks or order cancellations – meaning inventory didn't get into the stores as planned.
That was particularly an issue during peak periods in the spring and fall, when as many as 50% of the towline deliveries were mis-diverted or re-circulated. Errors were also increasing. "Since we were having throughput issues and had to replace the turret trucks anyway, we began to look at new technologies," says Desloges.
Bring in the AGVs
Working with several consultants, Canadian Tire concluded that it needed to get an estimated 20 pallet moves per hour from each lift truck operator to keep up with demand. "The reality is that we were getting an average of about 13 pallet moves per hour in the pallet flow area, and we didn't think our drivers could improve on that," says Desloges. "That meant we had to automate."
Like many companies, Canadian Tire justified the project using labor costs. In this case, however, it was more about labor avoidance than a labor reduction. "Labor was a factor, but it was the last item on our list," says Desloges, who adds that no employees were laid off as a result of the project. Instead, drivers were relocated to other positions within the facility. The driving issues were keeping up with demand and improving accuracy.
When it came to automation technologies, using AGVs with the existing rack infrastructure was more feasible than implementing a crane system like the one used in the AS/RS. First, however, they had to prove the concept.
Canadian Tire visited a manufacturing plant in North Carolina using a similar application. Then, working with a supplier called AGV Products, they modified a high reach turret truck to operate as an AGV for a six-month test. The test was set up in an area of the facility that would not affect operations. "We wanted to see how much was involved in integrating it with our warehouse management system and our processes."
In addition to proving the concept, Canadian Tire learned three important lessons from the pilot.
The first was that it would require a significant amount of work to interface the AGVs with the facility's warehouse management system (WMS).
Second, Canadian Tire identified items within the building that would have to be modified to accommodate AGVs. Floors, for instance, had to be grinded to bring them back to their original super flat condition. Otherwise, a slight deflection at floor level could throw the AGV off when it tried to put a pallet away 35 feet in the air. Other modifications, like pedestrian walkways, had to be made to ensure the safety of workers. Finally, an area had to be modified for the installation of a fast-charging battery system.
"We were already putting in fast-charging throughout the building and the AGVs were a natural because they could go and charge themselves," says Desloges. Although fast-charging was not included in the initial cost-justification, it allowed them to reduce the number of battery attendants servicing turret truck batteries in the pallet flow area. "That was a side benefit," says Desloges.
The third lesson was that the system as designed moved full pallets in and out. But lift truck operators also made non-product moves, like moving empty pallets or replenishing totes. With an operator, those could be handled with visual cues. Not with automation. Since they weren't directed by the WMS system, Desloges and his team designed a workaround – a call button system that allowed pickers to call for the removal of totes or empty pallets. When a picker pushed a button, a signal was sent to the AGV to move a pallet load of totes or remove empty pallets.
At the end of the test period, Desloges says, "I was confident the system would work and that it would pay for itself by getting more efficient in receiving and putaway, and by reducing mis-diverts, cancellations and errors."

Change management
Automation was the solution to Canadian Tire's problem. But if the automation was going to work, the retailer needed its employees to accept the changes. For that reason, Desloges and his team involved Canadian Tire's human resources department early in the process to manage the change.
For starters, a project team member regularly gave presentations to everyone working in the affected areas so they understood the reason behind the project. More importantly, Desloges says, he and other managers met regularly and informally with employees to take the temperature on the floor and answer questions.
"Anytime you're making a major change, there's going to be misinformation floating around," says Desloges. "I went out on the floor every day, even if it was just 10 or 15 minutes, so I could talk to the drivers in the pallet flow area. We were up front and didn't hide anything."
In addition, there were regular progress reports along with a notice board where communications in action, or CIAs, were posted. Senior managers also attended regular team meetings. The result was that employees may not have been happy about the changes, but they bought into them.
"One day, one of the drivers said to me: This is crummy for me because it affects my job, but I understand why you have to do this," Desloges recalls. "They didn't have to like what we were doing, but it was important to us that it made sense to them and that they understood how it would impact them."
On that score, he believes, their approach to open, continual and honest information paid off.
Going live
From start to implementation was a nearly two-year process. When it finally came time to bring in the AGVs, Canadian Tire had to shift gears slightly. The lift truck model that had been modified for the test had gone through a model change. The new model's CAN-bus, or control system, was no longer suitable. Meanwhile, AGV Products had been purchased by HK Systems. Working with HK Systems, they designed an AGV with a turret attachment capable of lifting a 2,200-pound load 35 feet in the air and of making 20 moves an hour.
There were other challenges with the implementing a new concept. The first vehicles went live in September 2008, but took nearly four months before the system was running up to par. One simple example: Canadian Tire had underestimated the size crane required to move the 20,000-pound vehicles and had to get a unit with a larger boom for the second delivery. "One of the lessons we learned was that despite all the planning, we needed to take our time to do this right and to bring our people along," says Desloges. "You cannot rush this kind of project."
By the time the company was ready to bring an additional four vehicles online last September, they had worked through the bugs. Those vehicles were up and running in less than eight weeks. The next phase will begin in January of 2010.
Even with just two phases in place, Desloges is already seeing reduced mis-diverts and canceled orders and improved accuracy. What's more, the AGVs are more efficient because the AS/RS, towline system and AGVs can continue to replenish the pick faces during non-operational periods when the rest of the facility is closed down. "When we are fully operational, we're confident the system will provide additional returns through reduced cancellation rates, reduced misdiverts and more efficient operations," says Desloges. "More importantly, we're getting more product to our stores, more efficiently and when they need it."
(This article was printed in the December 2009 issue of Modern.)
Canadian Tire's super-sized distribution
Canada's largest retailer has built the country's largest distribution center, handling enough product to fill more than 22,000 trailers a year.
Automatic Guided Vehicles (AGVs) help Del Monte Foods be best in class
Del Monte Foods' new Topeka DC brings laser-guided AGVs from manufacturing into distribution. The result is a best-in-class materials handling system that minimizes costs with room to expand in the future.

February 21, 2012
About the Author
Bob Trebilcock Bob Trebilcock, editorial director, has covered materials handling, technology, logistics and supply chain topics for nearly 30 years. In addition to Supply Chain Management Review, he is also Executive Editor of Modern Materials Handling. A graduate of Bowling Green State University, Trebilcock lives in Keene, NH. He can be reached at 603-357-0484.
Subscribe to Modern Materials Handling Magazine!
Subscribe today. It's FREE!
Find out what the world's most innovative companies are doing to improve productivity in their plants and distribution centers.
Start your FREE subscription today!
Latest Whitepaper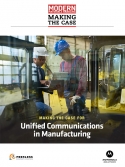 The Overlooked Competitive Advantage: Connected Teams
57% of surveyed manufacturers believe they could reduce downtime by 10-30% by unifying their workgroup communications. What does a minute of downtime cost you?
Download Today!
From the January 2018 Modern Materials Handling Issue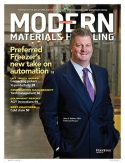 Lift Truck Series Part 1: Lift truck technology connects pickers to productivity
Breaking Through On Yard Visibility
View More From this Issue
Latest Webcast
Emerging Technologies for Your Distribution Center
Come get an insider's view of the latest technologies for inside your Distribution Center. You'll learn which technologies are being piloted, which are having success and moving from concept to implementation and into production on the maturity scale, and what's coming on the horizon.
Register Today!