Automotive: Manufacturers ramp up automation to keep pace with industry growth
With automotive sales rebounding, manufacturers are reshoring operations to North America and investing in automation equipment and technologies.

Technology in the News
New JDA survey finds missing link to omni-channel success for manufacturers and retailers
A3 fall conferences to offer insight into latest automation, strategies and networking
Tecsys partners with Avalon CSC
Middle market research highlights keys to being the "perfect link" in the supply chain
DMW&H announces office relocation and expansion
More Technology News
Technology Resource
Warehouse Execution Systems (WES): The Pathway to Same-Day Fulfillment

Thursday, June 29, 2017 | 2pm ET
All Resources
By
Sara Pearson Specter
·
June 8, 2016
With the end of the recession, Americans are buying cars (and light trucks) again. Spurred by low interest rates and rising consumer confidence—as well as a desire for better fuel efficiency from the newest models, including gas-electric hybrid vehicles—the U.S. automotive manufacturing industry grew 6.8% with revenues of $127 billion in the last five years, according to research from IBISWorld. To keep pace with the demand, more automotive manufacturers and their tiered suppliers are reshoring operations to North American soil. The resurgence of manufacturing and assembly has spurred investment in refurbishing of existing domestic facilities and establishment of new plants, particularly in Mexico. This translates directly into increased investment in new materials handling automation equipment and technologies. Here's a look at some of the latest systems being deployed throughout North American automakers' (and their suppliers') operations.

Quieter, more ergonomic conveyor for assembly line operations
Although still in use, there's been movement away from the installation of the traditional chain conveyor (i.e. "power and free," which uses a continuously powered chain to move a non-powered load carrying trolley) to pull heavy vehicle bodies down a production line, whether for body, paint or assembly processing. Instead, says John Confer, director of sales and marketing for the Dearborn Mid-West Co. (sister company of DMW&H), "automotive manufacturers are looking for cost effective, clean, quiet, flexible and energy efficient materials handling solutions."
These include "skillet" systems that serve as moving work platforms typically supporting the vehicle body on a scissor lift table that rises up and down for better worker ergonomics; friction drive systems using a drive wheel that comes in contact with a load bar to move loads on a carrier; and electrified monorail systems with self-propelled, electrified carriers moving on a high strength aluminum rail.
All three alternatives to chain conveyor are less noisy, clean and energy efficient, says Confer, making them easier to service and maintain, as well as creating a more pleasant working environment. "For example, our overhead and inverted friction drive systems only operate when they are moving product, or when needed, rather than having a continuous running chain that is generally noisy and requires lubrication," he explains.
That's not to say chain conveyors don't have their place, Confer adds. "Chain conveyors will still be needed in specific applications, certain environments and for heavy loads. But often the chainless technologies better accommodate manufacturers' need for systems that can handle various products simultaneously and that can easily be changed for future products and production line rearrangements."
Increasing investment in more standardized automation equipment
With automotive manufacturers now selling more than 17 million units annually, they're increasingly focused on keeping their assembly plants up and running, says Noel Dehne, vice president of automotive factory automation sales at Daifuku America Corp.
"We've been bidding recently on several projects that specify a certain type of conveyor and automatic guided vehicles (AGVs) and automatic guided carts (AGCs) that have been earmarked for as many as three different plant locations, either for installation in a new facility or as an upgrade to an existing operation," Dehne says.
The reason, Dehne explains, is that having common, consistent equipment across multiple facilities enables faster installation and easier maintenance.
"We're seeing much smaller engineering and maintenance groups located at each plant," he says. "Instead, the OEMs are establishing centralized engineering offices. They can easily deploy someone out to the plant locations to quickly resolve an issue, because the team is working on the same kind of equipment with a common controls template. That level of familiarity with equipment from plant-to-plant makes troubleshooting that much easier."
Additionally, automakers are asking automation equipment manufacturers like Daifuku to deliver and test fully assembled system components in an adjacent, on-site location prior to installation in the actual facility, Dehne says.
"The projects can still be quite large, but the amount of time they're willing to shut the live plant down has decreased significantly," he says. "To minimize that downtime, we set up the equipment in an adjacent facility for a total runoff off-site to ensure that when it's installed in the plant, they can hit the ground running and immediately be at high production levels." With that installation methodology, the project costs shift from the field to the shop instead. But, it also improves quality and allows for much faster installation, Dehne adds.
AGV developments support forklift-free mandates
Commonly deployed at automotive OEM and supplier facilities, driverless, battery powered AGVs and AGCs reduce or eliminate the use of forklifts within these facilities, as well as the safety risks they pose to personnel and products.
With OEMs and tiered suppliers wanting to move more materials faster and across longer distances, there's been increased interest in natural environment guidance systems that use a laser scanner on the front of tugger-style vehicles to read fixed features within a plant—such as columns, poles and other immobile objects— for navigation, says Greg Pachuta, automotive industry sales director at JBT Corp.
"Natural environment guidance eliminates the need for fixed targets or floor based magnetic paths for the AGVs to follow, making installation faster, cheaper and more flexible," Pachuta explains. "The guidance system works in conjunction with safety sensors to slow or stop the vehicle so it can avoid mobile objects that cross its path, such as people or other AGVs."
With natural environment guidance, continues Pachuta, it takes just a short period of time to train an AGV to follow an appropriate path. "It's also much easier and faster to initially configure, and later reconfigure, the path without facility modifications or even the need for the AGV supplier to come back. Users can do this themselves."
Additionally, says Pachuta, more operations are investing in fork-style AGVs for automated unloading and unloading of trailers transferring components or supplies.
"We're seeing automotive OEMs and suppliers order complete AGV systems with fork-style AGVs dedicated to one end of the plant for loading and unloading trailers automatically," says Pachuta. "These AGVs interface with the carts pulled by towing-style AGVs for movement through the facility—no human intervention required," he explains. Pachuta notes that some facilities also locate a second set of fork-style AGVs at the storage end of the facility, automatically transferring inventory from the tugged AGVs into conventional and/or automated storage systems. Once emptied, the carts are tugged back to the receiving area.
As with conveyors, automotive OEMs and suppliers are buying larger numbers of AGVs to create a fleet of standard AGVs that are used in multiple plant locations.
"By purchasing standard AGVs for use across their entire enterprise, the benefits are three-fold," adds Pachuta. "First, there are advantages in terms of buying and storing common spare parts and easier maintenance. Second, it's much easier to accommodate a production shift from one plant to another when you're using the same AGVs throughout multiple operations. It's very easy to move vehicles of the same type from one facility and integrate them into another. And third, AGV suppliers like JBT can offer better pricing on larger orders."
Automation to store, organize and handle component parts
Although primary and upper-tiered assembly of vehicles and subsystems has been largely reshored to North America, a large number of component parts are still manufactured and produced overseas, says Victor Hoerst, sales account manager at Muratec USA.
"There continues to be an emphasis on reducing line-side inventory levels at the point of assembly, so operations are establishing hub-and-spoke type centralized warehousing and distribution centers," Hoerst says. "To reduce transportation costs, these smaller component products, such as washers, nuts and bolts that are produced overseas—and some domestically, too—are shipped over in high volumes to reduce transportation costs."
At the centralized distribution hub, these several thousand different stock keeping units (SKUs) are received, stored, picked and shipped out on a just in- time (JIT) basis to OEMs and tier one and two suppliers, Hoerst says. The challenges include accurate inventory management, maximizing storage density, minimizing picker and forklift travel, and speeding up throughput.
Further, "while the number of cases per SKU that must be picked is high, many times that number is not high enough to send a full pallet to an operation, so instead they need to ship in case quantities—but that's not as cost effective from an operational perspective," he explains.
To address that challenge, Murata has developed the FX Quad high-speed, miniload crane that Hoerst says fills the gap between traditional mini-load cranes and newer shuttle technologies. The automated system is less expensive than shuttles, but can move up to four cartons or totes (each weighing up to 55 pounds) in a single cycle, making it more productive than most mini-load cranes which are limited to moving one to two cases at a time.
"This enables faster, forklift-free mixed pallet load building at higher throughput, but still accomplishes rightsized JIT deliveries," Hoerst says.
Companies mentioned in this article:
Daifuku America Corp.
Dearborn Mid-West Co. (sister company of DMW&H)
JBT Corp.
Muratec USA

August 22, 2016
About the Author
Sara Pearson Specter Sara Pearson Specter has written articles and supplements for Modern Materials Handling and Material Handling Product News as an Editor at Large since 2001. Specter has worked in the fields of graphic design, advertising, marketing, and public relations for nearly 20 years, with a special emphasis on helping business-to-business industrial and manufacturing companies. She owns her own marketing communications firm,
Sara Specter, Marketing Mercenary LLC
. Clients include companies in a diverse range of fields, including materials handing equipment, systems and packaging, professional and financial services, regional economic development and higher education. Specter graduated from Centre College in Danville, Ky. with a bachelor's degree in French and history. She lives in Oregon's Willamette Valley where she and her husband are in the process of establishing a
vineyard and winery
.
Subscribe to Modern Materials Handling Magazine!
Subscribe today. It's FREE!
Find out what the world's most innovative companies are doing to improve productivity in their plants and distribution centers.
Start your FREE subscription today!
Latest Whitepaper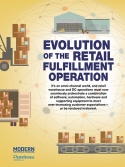 Evolution of the Retail Fulfillment Operation
It's an omni-channel world, and retail warehouse and DC operations must now seamlessly orchestrate a combination of software, automation, hardware and supporting equipment to meet ever-increasing customer expectations or be rendered irrelevant.
Download Today!
From the June 2017 Modern Materials Handling Issue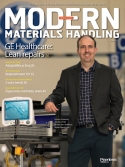 GE Healthcare: Self-driving vehicles are the centerpiece of ROC
The Big Picture: Adaptability as King
View More From this Issue
Latest Webcast

Warehouse Execution Systems (WES): The Pathway to Same-Day Fulfillment
This webinar explores the processes and technologies enabling same-day, same-hour order fulfillment using intelligent supply chain software.
Register Today!