Retail and e-commerce operations chase accuracy and flexibility
New trends and solutions in the e-tail sector are pushing companies to be smarter about how they approach their warehouse, DC, wholesale, store and e-commerce business.

Equipment in the News
Industrial Truck Association names new chairman
CEMA reports December shipments up 15% compared to December 2016
Trinchero Family Estates: Powered storage
Trinchero Family Estates: Pallet handling in the vineyard
The Basics of Warehouse Dock Equipment
More Equipment News
Equipment Resource
Top 20 industrial lift truck suppliers, 2017
The top lift truck suppliers list is changing with industry acquisitions causing a dramatic departure from the norm.
All Resources
By
Bridget McCrea, Editor
·
January 1, 2016
You'd be hard pressed to find a corner of the business world that's evolving as quickly as the intersection of e-commerce and retail. Spurred on by customer demands, a rapid growth in online sales and a seemingly endless lineup of new technological innovations, the retail environment—and the supply chain that supports it—is changing rapidly. And, it's pulling the warehouse and DC right along with it. Some companies are going into it kicking and screaming while others are embracing change, investing in technology and training workers on the fine points of effectively managing the omni-channel distribution environment.
"There's a lot going on right now in the e-tailing world, where everyone is trying to figure out exactly what omni-channel means and how to manage it," says Luther Webb, director of operations and solutions consulting at Intelligrated. "Customers are requiring faster and faster service levels, greater transparency and more products."
Concurrently, brick-and-mortar companies are going head-to-head with pure-play e-tailers that have already ramped up and honed their e-commerce supply chain tactics. "Companies are carefully examining how to use existing infrastructure and assets, rather than spending a boatload of capital trying to address the omni-channel issue," says Webb. "For many, that means using flexible warehousing solutions, augmenting existing operations, and taking other steps to accommodate the demands of additional e-commerce volume."
Turning to the stores for help
Within the retail/e-commerce or "e-tail" segment, several trends are making an impact on how the typical warehouse or DC is run. Distribution centers that were originally put in place with the sole focus of fulfilling store replenishment orders, for example, are now being leveraged to support a company's e-commerce operations. The same goes for physical stores, where more companies are using store-based inventory to fill e-commerce orders (particularly when it comes to quickly making up for wrong or late orders).
To support these new approaches, Webb says companies are installing flexible warehousing solutions such as voice- and light-driven pick carts—both of which can be "added on as a supplement to an existing putwall," says Webb. A retail DC that already uses pick-to-light modules, for example, may want to add a voice application to that existing infrastructure. This retrofit will allow operators to use voice to select a specific product and bring it to a packing solution and have the order shipped out quickly.
In another example, operators can use a combination of pick carts, shelving applications and integrated conveyors to pick products for e-commerce. "An order gets put into a tote that, in turn, goes down to a putwall designated for the holiday or other peak season, for example," Webb explains. "At the putwall, operators separate out the products, consolidate the orders and pack them up for shipping."
Krish Nathan, CEO at SDI Group, says he's seeing more and more DCs focused on "sharing" inventory versus reserving certain items for specific channels (stores, e-commerce, etc.). Companies were once hesitant to blend these channels due to skepticism over e-commerce's longevity, but with Forrester Research's eMarketer report expecting U.S. e-commerce sales to reach nearly $500 billion by 2018 (up from $304 billion in 2014), that skepticism has clearly passed.
Chris Castaldi, manager of business development at DMW&H, has also seen more interest in using shared inventory to reinforce omni-channel distribution. Rather than holding inventory for retail stores, wholesale and direct-to-consumer (D2C) in three different locations—thus multiplying inventory costs times three—companies are sharing inventory across all three.
Going a step further, many of these firms see the D2C component as the "best sale that they can make," according to Castaldi, based on measures like lowest cost and highest profit. With that in mind, companies are moving stagnant inventory out of their stores and shipping it directly to consumers or moving it from store to store—something that just 10 years ago would have been unheard of. This is just one more way that companies are effectively leveraging existing inventory across various channels, including e-commerce.
According to Castaldi, these moves are all being made in the name of pushing out accurate orders as quickly as possible to individual recipients. "Traditional retailers could afford to be a little sloppy because stores would just take receipt of the orders and stock their shelves," says Castaldi. "In the D2C space, you have to be dead-on. You can't be over- or under-shipping or sending things out late. Those days are long gone."

Under the same umbrella
As more companies combine e-commerce and traditional distribution under the same roof, Nathan says they are also relying on automated order fulfillment solutions that help them even out their labor requirements and work more efficiently. "Having multiple channels under one roof gives companies a labor pool to work with," says Nathan, "while the automation gives them the ability to spread that labor pool across two different [channels], based on where the peaks are."
To support these moves, Nathan says vendors like SDI are developing real-time inventory management software solutions that help companies make "changes on the fly" and improve decision-making. To support the need for automation in the warehouse, SDI has released two solutions that are focused on matrix sortation—or, automated solutions that sort and re-sort items through unit sortation machines. This process allows companies to drill units down to the individual order level.
"If someone purchases 1,000 orders, you can process it on a machine that [runs] 100 positions in a 10-way sort," says Nathan. "So that equates to 10 x 100, rather than trying to build a 1,000-position machine."
Nathan says these and other solutions help companies achieve their accuracy and flexibility goals, both of which are critical in the e-commerce world. "Accuracy has to be 100%. In a traditional retail climate, people aren't used to that," says Nathan. "By adding automation to the mix, companies are able to achieve high levels of accuracy right down to the individual order."

Extending the DC into the stores
There was a time when retail was retail and distribution was distribution and "never the twain shall meet" was a common mindset. Fast-forward to 2016 and you'll see many companies taking a decidedly integrated approach to making their warehouses/DCs and brick-and-mortar stores work well together—and often with the best interests of the e-commerce channel in mind. Webb says some companies are using carts, voice and other picking solutions in their retail stockrooms to support the D2C channel (not just their own store shelves).
By extending their DCs into the physical retail environment—or, by using the same strategy within smaller, regional DCs that aren't equipped to handle picking, sorting, consolidating and packing—companies can essentially bypass their "last mile" challenges and get the right products onto end users' doorsteps in a timely manner.
"We're seeing a lot of movement toward this 'same-day shipping' environment, with people delivering and dispatching orders to people's homes," says Webb. "These warehousing strategies help bridge that last mile."

Goods-to-person's growth spurt
At a recent industry conference, Bill Leber, director of business development at Swisslog, listened to Marc Wulfraat of MWPVL International talk about the critical role that robotics are going to play in the future of goods-to-person picking. Wulfraat discussed the "strategic mandate for management to automate," particularly in retail, and highlighted the fact that 90% of e-commerce order fulfillment is currently handled manually. Leber sees the need to automate and the obvious reluctance to do so as a "perfect storm" that will negatively impact companies as the national labor pool continues to dry up.
"This year the labor pool isn't going to be as available, cheap and flexible as it has been in past years," says Leber. "That's really going to hurt e-commerce in particular, where such a high percentage of fulfillment is still managed manually."
Leber says more companies are taking an interest in the robots, shuttles and other automated equipment that supports the goods-to-person movement. "Where a few years ago robotics was an anomaly in this environment," says Leber, "it's now become a cutting-edge trend. It's really moving into the mainstream."
To keep that momentum going, Leber says suppliers are creating more modular and flexible systems that are easier to integrate with existing systems, implement and expand as needed. And while the idea of infusing more automation into the warehouse through robotics is catching on, Leber says the financial aspect of such a move tends to hold companies back.
"These systems are a major leap of faith in the way companies run their models," says Leber. "They are not a six-month to one-year payback, but rather a three- to five-year payback. That presents a challenge for many." With no letup in SKU proliferation in sight, Leber expects more firms to look for ways to speed up the movement of slow-moving products, which he says are "inefficient to pick manually."
One-hour delivery, please
Calling speed the "game changer" in today's distribution environment, Castaldi says companies need only look to Amazon's one-hour delivery promise (available in specific metropolitan areas) as motivation to use shared inventory, store-to-store transfer, in-store picking carts and other innovations to work smarter, better and faster.
"If you have really fast moving items and a very small SKU range, then you can probably live on conventional solutions," Leber says. "But to be competitive today, and particularly in retail, you have to have a much larger SKU range; that requires an automated approach."

Companies mentioned in this article
• DMW&H
• Intelligrated
• SDI Group
• Swisslog

August 19, 2016
About the Author
Bridget McCrea, Editor Bridget McCrea is a Contributing Editor for Logistics Management based in Clearwater, Fla. She has covered the transportation and supply chain space since 1996 and has covered all aspects of the industry for Logistics Management and Supply Chain Management Review. She can be reached at
[email protected]
, or on Twitter
@BridgetMcCrea
Subscribe to Modern Materials Handling Magazine!
Subscribe today. It's FREE!
Find out what the world's most innovative companies are doing to improve productivity in their plants and distribution centers.
Start your FREE subscription today!
Latest Whitepaper
Corrugated Boxes Deliver for E-Commerce
Corrugated box can and should be thought of as one of the key technologies for e-commerce-era fulfillment.
Download Today!
From the January 2018 Modern Materials Handling Issue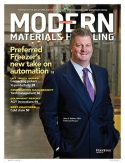 Lift Truck Series Part 1: Lift truck technology connects pickers to productivity
Breaking Through On Yard Visibility
View More From this Issue
Latest Webcast
Emerging Technologies for Your Distribution Center
Come get an insider's view of the latest technologies for inside your Distribution Center. You'll learn which technologies are being piloted, which are having success and moving from concept to implementation and into production on the maturity scale, and what's coming on the horizon.
Register Today!