System Report: Sustainable Distribution at REI
Specialty outdoor retailer REI's new distribution center brings together the next generation of materials handling and sustainability into one facility.

Warehouse in the News
Reusable Packaging Association announces 2018 board and committee chairs
Supply chain management survey indicates greater pressure on companies to demonstrate sustainability
Other Voices: How a warehouse execution system provides product traceability
Retail sales in January are slow to start to the year
Corrugated Boxes Deliver for E-Commerce
More Warehouse News
Warehouse Resource
Corrugated Boxes Deliver for E-Commerce
Corrugated box can and should be thought of as one of the key technologies for e-commerce-era fulfillment.
All Resources
By
Bob Trebilcock
·
December 14, 2016
The first inkling that REI's 393,000-square-foot, $73-million distribution center in Goodyear, Ariz., is different comes when you walk through trails to get from the parking lot to the facility entrance. It's no accident that it's the same experience that a cooperative member might get visiting REI's flagship store in Seattle that connects members to the outdoors experience.
The second hint comes when you notice that the break room is connected to a botanical garden where employees can walk through zones of Arizona fauna or play a game of horseshoes. REI also opens 25% of the second floor space for community use.
Or, you might notice the rooftop solar array, which provides the power for the Net Zero Energy facility that leaves no trace as REI would teach in its own outdoor school. Or, walking the DC floor, you might feel a gentle movement of air from a cooling system that maintains a relatively constant temperature from floor to ceiling while saving a million gallons of evaporated water per year, despite outside temperatures that can reach above 115 degrees. Touches like these are among the factors that led to the building becoming the first distribution facility in the United States to earn LEED Platinum certification and Net Zero Energy designation.
And then, there's the actual order fulfillment processes. After all, this is a distribution center. Dubbed "one-touch production," donor totes are automatically delivered by a mini-load shuttle system to a goods-to-person workstation and touched just once to fill store replenishment and direct-to-consumer (DTC) orders.
See the full warehouse layout here.
It is the first time shuttle and pocket sortation technology have been brought together at one goods-to-person workstation for true omni-channel fulfillment in a high-velocity pick environment, according to Rick Bingle, REI's vice president of supply chain, and Bill Best, divisional vice president of supply chain operations. And, it's efficient. "We're seeing combined picks and puts in 6 seconds," Best says.
Beyond productivity, it's REI's design approach that sets a new standard for collaborative and sustainable distribution. "We hope this facility will be a model for the industry and wait to see who will build upon what's been done here," Bingle says.
How REI brought together brand recognition, sustainability, employee and community engagement, and leading edge materials handling technology in one facility is a story as unique as the building—and perhaps different from the story we would typically tell in Modern Materials Handling. But, it's one worth telling.
The network
As with so many retail DCs these days, this initiative began with a network design study. Since its founding in 1938 as the Recreational Equipment Cooperative to share quality outdoor gear with like-minded climbers and outdoor enthusiasts, REI today manufactures and distributes its own line of outdoor equipment and apparel along with other quality brands to some five million cooperative members through 130 stores and on the Internet.
In 2012, the cooperative began asking the question of how to add capacity to the supply chain to address growth and meet the service-level expectations of its customers, especially those ordering DTC. At the time, REI had two DCs—one in Sumner, Wash., and one in Bedford, Pa. "We wanted to be able to meet same-day and two-day service levels for the Southwest, leveraging ground services to protect our carbon footprint," says Bingle. "The network study showed that we could be operationally cost neutral, and save money on logistics expenses, by putting a new facility in the Southwest."
Cost, however, was only one consideration: It was also important that an additional location have no impact on REI's carbon footprint since sustainability is a core commitment. REI was one of the first retailers to demand that ocean freighters detail their carbon footprint by ship.
"From the network study, we knew we could locate the facility within a 300-mile radius of Las Vegas and do no harm," says Best. "That opened up potential locations in Southern California's Inland Empire as well as the Greater Phoenix market. When we analyzed all of the costs, Phoenix was the best location."
Once the location was determined, the actual building had to satisfy four design tenets, according to Bingle and Best. Those included:
Connect to the REI brand: The building and its surroundings should deliver the same experience to employees or community organizations using the building as an REI store delivers to a member customer. The REI brand should be experienced and felt.
Build the REI culture and values: Sustainability, the REI culture and values such as authenticity, quality, purpose, respect, integrity and balance are central to REI's mission. Business is done differently at REI, and this should be evident to the DC's employees and partners.
Differentiate in the community through stewardship: REI believes in giving back to the communities where its employees work and live. Employees are encouraged to participate in community activities. What's more, 25% of the office space could be made available for community activities. As an example, the local city council inquired about holding a retreat in the building. REI believes it collectively improves the outdoor spaces in its communities, and that belief is put into action through financial and volunteer support.
Build to the highest currently achievable standard of sustainability: The goal from the start was to be energy net neutral and to become the first distribution facility in the United States to also achieve LEED Platinum certification. At the same time, it was important to do that while also delivering "some pretty dramatic ROI," says Bingle. "We do not want to be viewed as tree huggers with no business outcomes." That extended to creating solutions, and a facility, that might influence the retail distribution industry to pause and consider sustainability beyond what is typically done.
With those four tenets in place, the REI team began to look for a design and solutions that would deliver those results.
The challenge
In some respects, the design process began in 2013 with a challenge to Chris Castaldi, vice president of sales for W&H Systems, now part of DMW&H. REI was already a customer—W&H had designed the Pennsylvania facility prior to Best and Bingle joining REI.
That is a fairly conventional facility, so the challenge presented to Castaldi was to come up with something new and innovative for omni-channel distribution—or, as Castaldi recalls it, for W&H "to raise its game."
The four design tenets were reimagined as design goals for the materials handling processes. The vision was to create processes that were efficient and productive, but easy to learn and execute because one of the goals was to provide employment opportunities to individuals with special needs. Reducing the number of times a product was touched was paramount—Bingle was already using the phrase "one-touch production" in early meetings.
"At the time, omni-channel facilities had separate work areas for direct-to-consumer, store replenishment and wholesale distribution, even if they were working from shared inventory," Castaldi says. "The best practice was to do a put, sort it to a put wall or a tilt tray sorter and then aggregate the orders after that. There was always another touch, meaning that you went to a storage location up to three times to fill orders for all three channels."
What Bingle and Best wanted was a technology, or combination of technologies, that would allow an order associate to pick for all channels when presented with a donor tote. The question was: What technology will work? Castaldi believed he saw the answer at the Hannover Fair in Germany in the spring of 2013, where he came across a pocket sorter. The technology was from Durkopp, a solution provider that is now part of Knapp Logistics.
Castaldi, Bingle and Best subsequently visited a DC using the technology in Germany. In that application, a mini-load system was delivering totes to a workstation where an associate was loading the pockets with items for two different channels. However, there was a second touch because the pockets were sorted by channel to different processing areas, as in other omni-channel facilities. As Castaldi recalls, they all came to the same conclusion: Why not fill the stores and DTC at the same workstation so we only touch it once?
Bingle had an additional thought: Each time the order selector removed an item from a donor tote, the associate had to grab a bar code scanner to verify the item and then put the scanner down before putting the item in a pocket, wasting valuable time. Bingle asked her how often there was an error. "Never," she said. It then occurred to Bingle that with a disciplined and accurate receiving process, you could eliminate the bar code scan and gain back those seconds on each pick.

They left with an outline of a solution. The concept was presented to Josef Mentzer, Knapp's U.S. president and CEO. The idea was to use Knapp's shuttle technology to deliver donor totes to a specially designed workstation. There, an associate, directed by lights and a visual display, would pick items from a donor tote to shipping containers for store replenishment and to a pocket sorter for DTC orders: one tote, multiple channels, no bar code scans.
It was a tall order. In part that was because Knapp had never integrated shuttles, pocket sortation and multi-channel fulfillment at one workstation before. "We're not a company that says yes to everything and then can't deliver a solution," says Mentzer. "At the same time, if a customer really pushes for something, we pride ourselves on being innovative. REI asked twice, and ultimately we saw this as important for our customer. I think it's a great example of complexity made simple with a customer-facing innovation."
Design charrette
Putting together a new approach to automated order fulfillment was challenging enough, but Castaldi and Mentzer add that whatever they did had to meet REI's tenets for a sustainable, ergonomic solution, powered by solar and able to accommodate people with special needs in some processes. "Power consumption was an especially big topic during our discussions, and that is unusual because industrial power is generally cheap," Mentzer says. "It's not usually a driving force with a customer."
And, several early designs were rejected because they required too much power.
To pull this all together, Bingle and Best employed a design charrette process. Launched in February 2015, the design charrette consisted of two sets of three-day meetings that brought together all of the project stakeholders to map solutions and explore energy conservation methodologies. That wasn't just DMW&H and Knapp, but the contractor (p. 24) and other stakeholders who would typically not spend a lot of time together. Best describes it as collaborative design. "In a typical project, the builder finishes and hands off to the system integrator and so on until the go live," says Best. "Here, we had everybody look at the physical and technical design in a safe environment where we could identify and address blind spots." To meet those goals meant "you had to go at it from a unique perspective," Mentzer adds.
Best likens it to a marathon. "You don't run 26 miles in a marathon," he says. "You put in 400 practice miles before the race. And, we all know that if you don't put in those practice miles, you pay for it in the race. That's why we put in so much rigor on the front end of this."
Perhaps the two most visible outcomes of the design charrette were the process of filling multiple channels from one goods-to-person workstation—Knapp has filed an application for a patent on the solution naming Bingle and Castaldi as contributors—and the unique approach to air conditioning in the facility, which also resulted in significant savings in the solar array. In the end, Bingle adds, "we yielded to the expertise of everyone in their industry."
Following the charrette, REI broke ground for the facility in April 2015 and the building was operational in July 2016; it earned LEED Platinum certification in October 2016. Since going live there have been tweaks, like adding dividers to the storage totes to optimize variability in the slot demand across the 124,000 storage locations in the shuttle. Most importantly, REI believes the process achieved its four key design tenets.
Looking back, everyone from the builder to REI, DMW&H and Knapp believe they have achieved a milestone that can serve as a model for other distributors, especially those with an eye toward sustainability. "We open source sustainability so that others can learn from what we've done," says Bingle. "That's part of our mission and purpose."
System Suppliers
Systems Integration, Direct-to-Consumer Tilt Tray Sortation: DMW&H
Building Construction: Renaissance Companies
Warehouse Execution System (WES): DMW&H and Knapp
Shuttle System, Goods-to-Person Workstation: Knapp
Pocket Sortation Systems: Durkopp, a member of KNAPP Group
Conveyor and Sortation: Hilmot
Spiral Conveyor: Ambaflex
Expandable Conveyors: FMH Conveyors (Best Flex)
Warehouse Management System (WMS): Manhattan Associates
RF and Mobile Computing: Zebra Technologies
Fixed Scanners and Dimensioner: SICK
Pallet Rack: Elite Storage Solutions
Mezzanine: Steele Solutions
Stretch Wrap System: Wulftec
Lift Trucks: Crown Equipment Corp.

Click here to see an inside look at the different areas of REI's new Arizona LEED Platinum, Net Zero Energy facility

February 14, 2017
About the Author
Bob Trebilcock Bob Trebilcock, editorial director, has covered materials handling, technology, logistics and supply chain topics for nearly 30 years. In addition to Supply Chain Management Review, he is also Executive Editor of Modern Materials Handling. A graduate of Bowling Green State University, Trebilcock lives in Keene, NH. He can be reached at 603-357-0484.
Subscribe to Modern Materials Handling Magazine!
Subscribe today. It's FREE!
Find out what the world's most innovative companies are doing to improve productivity in their plants and distribution centers.
Start your FREE subscription today!
Latest Whitepaper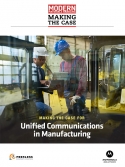 The Overlooked Competitive Advantage: Connected Teams
57% of surveyed manufacturers believe they could reduce downtime by 10-30% by unifying their workgroup communications. What does a minute of downtime cost you?
Download Today!
From the January 2018 Modern Materials Handling Issue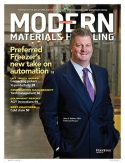 Lift Truck Series Part 1: Lift truck technology connects pickers to productivity
Breaking Through On Yard Visibility
View More From this Issue
Latest Webcast
Emerging Technologies for Your Distribution Center
Come get an insider's view of the latest technologies for inside your Distribution Center. You'll learn which technologies are being piloted, which are having success and moving from concept to implementation and into production on the maturity scale, and what's coming on the horizon.
Register Today!