TOP STORY
3PL retrofits lighting and thermostats
Warehouse enjoys improved productivity, safety, comfort and efficiency.
TOP RESOURCE
How Tracking/Managing Energy Consumption Drives Real Cost Savings
The spacious, expansive nature of the warehouse or distribution center (DC) makes it a prime candidate for managing energy consumption and cutting...
All Lighting News
By Josh Bond · April 1, 2015
Bulk warehouse facilities achieve better lighting with 50% fewer fixtures and big energy savings.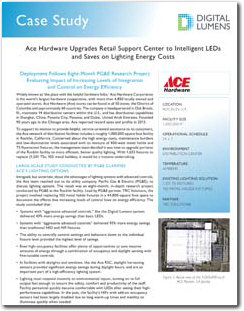 WHITE PAPER
By MMH Staff · December 10, 2014
Read the case study to learn more about the project, and how Ace ultimately replaced the 1,653 fixtures (mostly T5s and some metal halides) with the Digital Lumens Intelligent LED Lighting System to lock in long term savings. LED Lighting benefits, Warehouse lighting solutions.
By Josh Bond · November 1, 2014
Eight-month utility study validates efficiency benefits of integrated and controllable lighting systems.
By Josh Bond · October 2, 2014
Distributor reduces annual lighting costs by 97% with wirelessly connected LEDs.
By Josh Bond · April 1, 2014
Intelligent lighting contributes to building's LEED Silver certification.
By Josh Bond · December 1, 2013
Intelligent lighting system includes occupancy sensors and the ability to harvest natural light.
By Josh Bond · October 2, 2013
Connected lighting system includes web-based portal for performance metrics and configuration.
By Mike Feinstein, vice president, sales and marketing, Digital Lumens · May 14, 2013
Smart lighting technologies can lead to significant energy savings
WHITE PAPER
By MMH Staff · October 9, 2012
LEDs have unique and compelling characteristics that make them ideal for industrial lighting applications. LED lighting white paper, Digital Luments
By Josh Bond · October 2, 2012
Grocery supplier eliminates maintenance and cuts energy use by 90%.
By Lorie King Rogers · March 1, 2012
Clover Hill Foods installs an intelligent LED system to reduce lighting energy use by 91% and overall energy use by 32%.