Content from our sponsor
Beacon ® Hydraulic Scissor Lift provides ergonomic lifting solutions
Standard and special size hydraulic lifts provide solutions for positioning at the job site.

Warehouse in the News
ID Label celebrates 25 years
ProMach acquires Code Tech
Motion Industries to acquire automation and robotics company
Pelican BioThermal opens new network location in Jeddah, Saudi Arabia
AMT U.S. Manufacturing Technology Order Report: December dip caps off strong 2018
More Warehouse News
Warehouse Resource
Crossover Businesses: Blurring the Lines Between Manufacturers, Distributors, and Retailers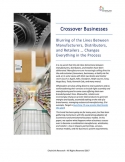 Download the report and uncover how to survive the new challenges businesses are facing and the technology required to keep pace.
All Resources
By
Susan Lee Smith
·
January 4, 2018
BHTTL models are designed for long heavy duty lifting. Designed for long center of gravity capacity applications, surface or pit installations, the BHTTL use a double long leg set. Standard and special sizes are available to be engineered and tailored for your specific application.
Standard Feature design includes heavy duty electro hydraulic scissor lifts with capacities of 2,000 to 12,000 lbs., raised heights of 43" to 56", platform sizes of 24" Wide x 96" Long to 48" Wide x 168" Long. An internally mounted power unit is available with 1-1/2 Hp, 230 Vac, 1 Ph, 60 Hz or ¾" Hp, 115 Vac, 1 Ph, 60 Hz or 208/230/460 Vac, 3 Ph, 60 Hz, intermittent duty TENV super torque motor.
Constructed of smooth steel platform, straight toe guards. Electric tape switch or tapered toe guards are available upon request for pit mount or edge applications. NOTE: Add 8" to the overall width and length when calculating the deck size for tapered toe guards. Designed for maximum horizontal and longitudinal stability with minimal deflection.
Learn more about this product.
Beacon's wide range of lift tables, hydraulic scissor lifts, ground lift tables, adjustable U tables, small scissor lifts and long scissor lifts provide solutions for industrial lifting requirements.
Beacon® was requested the task to supply a foundry that manufactures ductile iron products including pipes, valves, hydrants, fittings and plumbing products with a BHTTL model hydraulic scissor lift, Event ID: BE-9665.
All lifts are to be operated by trained personnel. Always keep hands and feet clear of the underside of the lift platform, optional safety skirts available. Hydraulic scissor lifts are designed for use of stable uniformly distributed loads on a solid level floor. Do not concentrate the load at one point on the platform. Safety is number one for hydraulic scissor lifts.
Beacon Industries
12300 Old Tesson Rd
St Louis, Missouri 63128 USA
Ph: 1 (314)-487-7600
1 (800) 454-7159
Fax: 1 (314) 487-0100
www.beacontechnology.com

February 1, 2018
Subscribe to Modern Materials Handling Magazine!
Subscribe today. It's FREE!
Find out what the world's most innovative companies are doing to improve productivity in their plants and distribution centers.
Start your FREE subscription today!
Latest Whitepaper
Insider Q&A: The Robotics Revolution is here. Is your company ready for it?
Download this free Insider Q&A with Matt Wicks, VP, Product Developent, Honeywell Intelligrated for his unique perspective on robotics in the modern-day warehouse.
Download Today!
From the February 2019 Modern Materials Handling Issue
Modern's System Report: Robots at GEODIS
ProMat 2019 to showcase record number of exhibitors, 45,000+ attendees
View More From this Issue