Cold storage distributor optimizes rack to continue expansion
Custom drive-in rack enhances longevity and access.

Steel King in the News
Cold storage distributor optimizes rack to continue expansion
Cold storage distributor optimizes rack to continue expansion
Twinlode appoints Lawrence "Skip" Eastman CEO
Custom pick module gives Werner Electric Supply a competitive advantage
Industry group seminar focused on safety in the warehouse
More Steel King News
Warehouse Resource
Crossover Businesses: Blurring the Lines Between Manufacturers, Distributors, and Retailers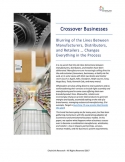 Download the report and uncover how to survive the new challenges businesses are facing and the technology required to keep pace.
All Resources
By
MMH Staff
·
October 15, 2018
To meet retailer demand for efficient cold chain distribution east of the Mississippi River, Manfredi Cold Storage has had to keep expanding its Kennett Square, Pa., facility. The distributor handles fruit, vegetables and foodstuffs from 22 countries at 0°F to 55°F temperatures, and its most recent 70,000-square-foot expansion brings the total to 400,000 square feet. To keep such growth on track, effective operation has required the use of customized drive-in rack.
"About 150 to 200 truckloads of product move in and out of our storage every day, about 25,000 pallets, so the drive-in rack needs to be very durable and accessible," says Rob Wharry, the facility's director of operations.
Drive-in rack enables storing up to 75% more pallets than selective rack and is ideal for high-traffic and cooler/freezer installations. But because forklifts drive directly into the rack, they tend to take more abuse than other rack structures. In cooler and freezer applications, the risks are greater due to the confined space and slick surfaces.
"We're in and out of rack with heavy pallets and equipment so many times a day," Wharry says. "It's a fact of life that sometimes forklifts will run into the rack, so it just needs to be able to stand up to the daily use."
The most recent expansion added about 4,000 pallets of refrigerated storage capacity. Compared to typical racking, the pallet rack is constructed of hot-rolled structural channel column with full horizontal and diagonal bracing. All Grade-5 hardware provides greater shear strength, and a heavy 7-gauge, wrap-around connector plate ensures a square and plumb installation with a tighter connection and greater moment resistance.
The drive-in load rail also includes structural angle rails that "guide" pallets, flared rail entry ends to allow easy bay access, and low-profile arms that increase clearance and decrease product damage. Welded aisle-side load arms eliminate hazardous load projections into aisles, and welded rail stops prevent loads from being pushed off.
"Our operation is a little different than a typical storage customer because we're dealing with lots of different-sized products, so we had a very specific design in mind," Wharry says. "Everything is specific to our application: rack height, width, pallet loads, and how we utilize it."
With continuing growth expected, however, the distributor is already planning to start the construction of a new cold storage facility in southern New Jersey.
"When the new facility is constructed, the racking set up will be just like what we have here," Wharry says. "We've determined what works for us and our customers, and now it's just a matter of ramping up."

October 16, 2018
Subscribe to Modern Materials Handling Magazine!
Subscribe today. It's FREE!
Find out what the world's most innovative companies are doing to improve productivity in their plants and distribution centers.
Start your FREE subscription today!
Latest Whitepaper
Insider Q&A: The Robotics Revolution is here. Is your company ready for it?
Download this free Insider Q&A with Matt Wicks, VP, Product Developent, Honeywell Intelligrated for his unique perspective on robotics in the modern-day warehouse.
Download Today!
From the February 2019 Modern Materials Handling Issue
Modern's System Report: Robots at GEODIS
ProMat 2019 to showcase record number of exhibitors, 45,000+ attendees
View More From this Issue