Space Optimization: Mission Impossible?
When it comes to the economy, not much has changed. Many supply chain analysts are calling this the new normal, with warehouses and distribution centers (DCs) routinely operating under tight budgets while still expected to satisfy increasing customer demands. With limited capital dollars, the recurring theme has been to make do with what you have; and what you have is existing space that's only so wide and so high. So, how do you make the most of it?

Maida Napolitano
·
June 2, 2010
When it comes to the economy, not much has changed. Many supply chain analysts are calling this the new normal, with warehouses and distribution centers (DCs) routinely operating under tight budgets while still expected to satisfy increasing customer demands. With limited capital dollars, the recurring theme has been to make do with what you have; and what you have is existing space that's only so wide and so high. So, how do you make the most of it?
Well, it could be worse. You could be experiencing a string of warehouse and DC closings and consolidations that would inevitably push space issues even more into the limelight. "Even in these remaining facilities, management may still not be willing to expand, putting the onus on DC managers to maximize existing space," reports Bill Elenbark, senior engineer for the supply chain consulting firm TranSystems.
Could this be mission impossible? It actually helps if you look at your space from a 3D perspective. "You pay for three dimensions when you buy or lease a building: length, width, and height. The basic premise of the warehouse/DC business is that you need to use all three dimensions," says Lou Cerny, vice president for Sedlak Management Consultants, a logistics consulting company.
We shared a few space optimization tricks for using all three dimensions in last year's feature titled "5 ways to find hidden warehouse space." This month, we continue in that vein, but we're now going to focus our attention beyond the storage areas to the more critical operating areas: order picking, docks, returns, and value-added services (VAS). These high-traffic areas are notorious for eating up too much footprint while not fully utilizing the height of a facility.
Along with Cerny and Elenbark, we've tapped Ed Romaine, a vice president at KardexRemstar, a leading manufacturer of space-saving equipment, and Ken Ruehrdanz, distribution and warehousing market manager for logistics and distribution solutions provider Dematic, to offer even more ways to maximize operating space.
So, if you're still out of room it's time to pay attention.
Tom much air, too much dust
Many operations only utilize the first 10 feet of building height leaving "too much air" in the remaining empty space up to the ceiling. "With many buildings having clear heights of 30 feet to 35 feet, that's a lot of wasted space that has operating costs associated with it—cost to heat, cost to cool, and cost to illuminate," points out Dematic's Ruehrdanz.
In addition, look for empty space within pick modules such as case flow racks and shelving as more evidence of underutilized space. It's not uncommon to see a three-inch carton located in the same shelf opening as a 12-inch carton. "I've given many seminars on saving space over the years," says KardexRemstar's Romaine, "and I always start out by asking who in the audience has taken a shelf and readjusted it after it was built. I've had only one person in 10 years ever raise their hand."
The presence of too much dust in an otherwise clean facility can also be a telltale sign. Romaine recalls walking through a large DC in New Jersey with rows upon rows of high-value, pick-to-light case flow rack and performing the infamous "white-glove test" on products in prime pick facings. He found many with up to a quarter of an inch of dust.
"Pick-to-light flow rack is meant for highly-active picks," says Romaine. "Management at this facility had been complaining of not having enough space, but these products hadn't moved in awhile- maybe even years. They've been taking up space and pickers have had to pass by them to find the one item that they really needed, compromising productivity."
Curing spatial dilemmas
After identifying the symptoms, it's time to address the possible cures. They range from simple slotting strategies with little or no capital required to the installation of mezzanines and more automated, high-tech pick and storage modules that usher in significant productivity gain, allowing management to realize an attractive return on investment (ROI).
Cure #1: Adopt smart, up-to-date slotting strategies. Although slotting is done primarily to improve order picking efficiency, it's also known to save space. "Instead of slotting items in 10 shelving sections," says Cerny, "slot them in denser case flow rack, allowing you to walk much less and still have the inventory back-up behind it."
Smart slotting involves not just taking into account a product's movement, but also its cube so that a product's cubic velocity can be matched and maximized to the space provided by the appropriate pick module. Once in place, remember to continually monitor your slotting strategy. Products may have changed packaging, creating smaller, more efficient shippable cases.
And don't forget to get creative. For seasonal businesses, instead of creating a dedicated pick lane in case flow rack for each SKU, Elenbark suggests rotating them in seasonally—as was the case of a sporting goods' retailer's DC.
"During baseball season, they were not selling any football goods, yet they had all the empty spots for them in the same space; so we recommended switching baseball and football in and out for a more compact footprint." Not only did the move save space, but it increased pick productivity as workers do not have to travel by all the empty slots.
Cure #2: Where appropriate, use mezzanines. If you have 40 percent of your floor space allocated to receiving and shipping docks, Cerny suggests using mezzanines. "It could be for active or reserved storage, offices, quality control, or VAS processing."
He warns, however, that you have to make sure you meet with local authorities especially when you've got a significant area of mezzanine proposed. "Generally, the rule is not to exceed 33 percent of the footprint of the building, otherwise you're looking at all sorts of additional fireproofing, quickly making it cost-prohibitive."
Cure #3: Pay closer attention to your slow and medium movers. Twenty percent of the fast-moving SKUs typically get the most attention—and the fanciest equipment—but you still have to deal with 80 percent of your slow and medium movers.
Romaine recommends using carousels and vertical lift modules (VLMs) for these slow and medium movers to save space. Carousels and VLMs not only save space but improve productivity because instead of a picker going to the product (person-to-goods), a mechanical device brings the product to the picker (goods-to-person).
Limited to eight feet in height, horizontal carousels can be stacked on top of each other with workers stationed on narrow mezzanines at one end of each level to pick or replenish items. Vertical carousels and VLMs utilize the cube of a facility by storing over 60 feet high within a compact footprint.
In VLMs, product is stored in trays and a central extracting device grabs the required tray and delivers it to the pick window for picking. Both carousels and VLMs are typically arranged in "pods" of two or more units so that a worker can be picking from one unit while the next unit is busy indexing or extracting the next product, improving productivity.
Romaine tells the tale of how a luxury goods producer and distributor was able to consolidate their three facilities into one existing facility by using three VLMs. "This company not only saved up to 80 percent of otherwise wasted floor space, but also increased productivity by 40 percent." He adds that the system was originally calculated for 18 months ROI, "but it came in at 13 months, while contributing significantly to the closing of two warehouses."
Cure #4: Create space-saving layouts for special processing areas such VAS and returns. According to Elenbark, special processing areas have a tendency to creep in size and spread out over larger areas than are required. It may be high time to take a closer look and consider making space-saving changes. If a lot of pallets are sitting on the floor, consider adding a short section of pallet rack to take advantage of cube. Carousels can be used as buffers to accumulate processed returns before returning them to inventory.
Cure#5: Automate. Ruehrdanz says that if a user's business objectives can be linked to objectives such as improving product security, optimizing space, and addressing ergonomic issues, then the use of high density devices such as an automated storage and retrieval systems (AS/RS) may be justified. He adds that the business case can often be very compelling, especially when it eliminates the need to build a new facility. "Typical ROI for AS/RS," he adds," ranges from 2 years to 4 years."
Now that you listened…
So, now that you listened when do you start? Our experts were unanimous: "Yesterday." Our panel agrees that performing spatial analysis on your facility should have already been part of your organization's continuous improvement programs.
If you're finding that work too difficult to complete then getting help may not be a bad idea. "Many times we often don't see the forest for the trees; thus, it helps to get an outsider's perspective. A week's analysis can certainly help facilitate the process," adds Cerny. "Many material handling vendors offer free initial space and density analysis as part of their solutions package. Maybe it's time to call.

February 21, 2012
About the Author
Maida Napolitano Maida Napolitano has worked as a Senior Engineer for various consulting companies specializing in supply chain, logistics, and physical distribution since 1990. She's is the principal author for the following publications:
Using Modeling to Solve Warehousing Problems
(WERC);
Making the Move to Cross Docking
(WERC);
The Time, Space & Cost Guide to Better Warehouse Design
(Distribution Group); and
Pick This! A Compendium of Piece-Pick Process Alternatives
(WERC). She has worked for clients in the food, health care, retail, chemical, manufacturing and cosmetics industries, primarily in the field of facility layout and planning, simulation, ergonomics, and statistic analysis. She holds BS and MS degrees in Industrial Engineering from the University of the Philippines and the New Jersey Institute of Technology, respectively. She can be reached at
[email protected]
Subscribe to Modern Materials Handling Magazine!
Subscribe today. It's FREE!
Find out what the world's most innovative companies are doing to improve productivity in their plants and distribution centers.
Start your FREE subscription today!
Latest Whitepaper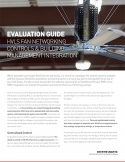 How to Invest Smartly in Industrial Fans
Read this white paper to learn the 7 defining factors to consider about your facility so you can maximize the benefits of your fan investment. HVLS High volume low speed fan white paper, Entrematic fans white paper. Benefits of HVLS fans in the warehouse.
Download Today!
From the April 2018 Modern Materials Handling Issue
Why smarts are central to Internet of Things in the warehouse
New warehouse gives winemaker a "Smooth Finish"
View More From this Issue
Latest Webcast
Industry 4.0: What you need to know today
This webinar takes a closer look at industry 4.0 and provides a roadmap for building and effectively utilizing Industry 4.0 capabilities.
Register Today!