Content from our sponsor
Value added for standard or design to build Scissor Lift Tables
Scissor lifts are ideal for applications where workers perform large amounts of lifting items from one level to another. A scissor lift is an ergonomic way to raise and lower products assisting in preventing worker related fatigue.

Warehouse in the News
ID Label celebrates 25 years
ProMach acquires Code Tech
Motion Industries to acquire automation and robotics company
Pelican BioThermal opens new network location in Jeddah, Saudi Arabia
AMT U.S. Manufacturing Technology Order Report: December dip caps off strong 2018
More Warehouse News
Warehouse Resource
Crossover Businesses: Blurring the Lines Between Manufacturers, Distributors, and Retailers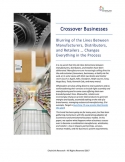 Download the report and uncover how to survive the new challenges businesses are facing and the technology required to keep pace.
All Resources
By
Susan Lee Smith
·
August 11, 2017
Beacon® scissor lifts are available in a wide variety of sizes and capacities from small portable work carts to large stationary work stations and platforms. Widths range from 24" wide to 132" wide and 24" long to 264" long. Capacities are based on an evenly distributed centered load and range from 500 lbs. to 100,000 lbs. Beacon's scissor lift tables can have a lowed height of ½" and others that can have a raised height up to 356".
These units are available as electric - hydraulic, manual foot pump or airbag operation. Standard input power for the electric - hydraulic operation is 460 volt, 3 phase, 60 hertz, with optional volts, phases and hertz available. Leg set designs are offered in steel plate or tube steel construction to meet the capacity requirements for a long lasting and durable unit. If your project is outside the scope of a standard lift, Beacon® can provide a custom lift for your application.
The Beacon® brand was established in 1949 and has a wide range of experience in most all applications. While competitively priced for standard scissor lift tables, Beacon ® boasts of the diversity of providing special size scissor lift tables as well. Providing a range of sizes and capacities are one of many Beacon's strengths.
Beacon® was requested for the task and provided a heavy duty hydraulic scissor lift system, designed as a suppressed road, for an anti-terrorism barrier at a high clearance facility with a final result of a 3rd party engineering certification. Numerous hours of engineering and production time were involved in this application, which includes a special hydraulic counter balance valve design. Many Fortune 500 companies have been relying on Beacon ® brand for the knowledge of variety of scissor lift applications for decades and Beacon ® welcomes your standard or special requirements.
For more information visit Beacon Industries.

August 14, 2017
Subscribe to Modern Materials Handling Magazine!
Subscribe today. It's FREE!
Find out what the world's most innovative companies are doing to improve productivity in their plants and distribution centers.
Start your FREE subscription today!
Latest Whitepaper
Insider Q&A: The Robotics Revolution is here. Is your company ready for it?
Download this free Insider Q&A with Matt Wicks, VP, Product Developent, Honeywell Intelligrated for his unique perspective on robotics in the modern-day warehouse.
Download Today!
From the February 2019 Modern Materials Handling Issue
Modern's System Report: Robots at GEODIS
ProMat 2019 to showcase record number of exhibitors, 45,000+ attendees
View More From this Issue