10th Annual Salary Survey: The Price of Performance
Materials handling professionals continue to be satisfied with their work and their rewards, although more than a few wish their employers would also invest in updated technology.

Technology in the News
Solving the Labor Shortage Crisis: The Four Benefits of an Automated Warehouse
Other Voices: Optimizing WES with integrated order consolidation
NextGen Supply Chain at DHL
Big Picture: On the path to lights out
Other Voices: Seven surefire ways to fuel warehouse productivity
More Technology News
Technology Resource
Solving the Labor Shortage Crisis: The Four Benefits of an Automated Warehouse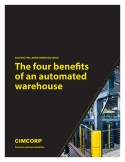 Not enough warehouse staff? Finding it difficult to keep up with orders during peak periods?
All Resources
By
Josh Bond, Senior Editor
·
November 6, 2017
Modern's salary survey, administered by Peerless Research Group is in its 10th year—the same age as the iPhone—and it's safe to say the past decade has been a whirlwind. Although roles and responsibilities in materials handling have evolved dramatically in that time, the disruption has had minimal impact on job satisfaction in our industry.
Despite nearly half of readers reporting their jobs are "very" (38%) or "extremely" (9%) stressful, 93% would still recommend the industry to others. In the open comments section of our survey, respondents repeatedly noted the excitement of the industry's rapid innovation. However, the survey results also point to increasing frustration with outdated technology. Capturing the hunger for change and the rewards for achieving it, this year's survey reflects a workforce that is settling into a new rhythm and enjoying the challenge.
The compensation picture
After peaking at an eight-year record of $98,000 in 2015, average base salaries now stand at $92,175, on par with last year's figures. This year, 67% of respondents said their salary had increased in the previous 12 months, and 2% reported their salaries had decreased. The average base salary increase was 4.5%, down from 5.4% last year (median 3%). Of those respondents whose salaries increased last year, 8% reported increases of 10% or more, down from 14% last year.
However, the bonus structure seems to have shifted since our last survey. This year continues a trend away from larger and more widely available bonuses and commissions, with just 24% reporting an increase.
Those increases also averaged 13%. This was 10% less than in the previous three years. In fact, those whose bonuses have increased saw at least 20% growth for five consecutive years.
Of the 73% of respondents who received a bonus last year, 32% earned less than $10,000—down from 40% last year. About 29% earned bonuses of between $10,000 and $50,000 (the same as last year), but 12% earned more than $50,000. This is three times more than last year, but represents a return to comparable results in 2014 and 2015.
The average bonus now sits at $25,470 (median $10,000), down 8% from last year's record. All told, given a slight increase in average base salary, the survey reported overall compensation down about 1%.
Approximately two-thirds of bonuses are granted based on the company's performance goals, a percentage that has trended slightly downward in recent years. The same goes for the 42% who were rewarded for their individual performance. On an upward trend are bonuses granted for lowering operational costs, but inventory management has emerged as a key focal point this year. About 17% received bonuses for improvements in that area, a 70% increase.
The career track
This year's survey base includes plenty of seasoned materials handling professionals, nearly tying last year's record 24% who have spent 30 or more years in the industry. Although the number of respondents over 65 held at 6%, the 55- to 64-year-old group stands at 37%, up 8% in the last two years.
The percentage of 18- to 34-year-olds saw a promising uptick to 12%. Among the younger-than-35 group, salaries continue to be their most competitive in years, and just shy of $70,000 on average.
The frequency of dramatic cost-saving measures like layoffs had decreased for three consecutive years in the wake of the economic downturn before they increased last year. In 2017, however, the news was universally improved. Up from 60% last year, 66% now report their companies are hiring, reversing a three-year downward trend. Negative indicators like layoffs (23%), pay cuts (15%) and even reductions in benefits (20%) all fell sharply. Those hoping for overtime are among the four out of five who report opportunities have not decreased in the past year.
As reported by readers, the turnover rate within their own departments has decreased to an average of 8.2%, down from 9.1% in 2015. In 2017, 6% of respondents were personally affected by layoffs in the previous year, down two points.
In the months and years to come, 48% expect to finish their careers with their current employer. Just better than a third are unsure, and 17% are sure they will end up somewhere else, down 5% from 2015. About 53% have already been with their employers for at least 10 years—including 23% with more than 20 years of tenure.
Job satisfaction
Satisfaction is still nearly perfect, including 72% who are very or extremely satisfied with their jobs. A quarter of professionals said they are somewhat satisfied with their careers, and less than half a percent are not at all satisfied.
This year, a third of respondents indicate no interest in seeking another job, tying record lows. However, 40% say they are "always open to other possibilities." Roughly a quarter are passively looking for work elsewhere and the same 8% as last year are actively looking. Those looking elsewhere are motivated primarily by compensation (55%), the desire for new challenges (36%), and a lack of advancement opportunities (35%).
Despite ever-increasing pressure to deliver in an environment of constant change, stress levels seem to have tapered since last year, when 14% said their job is "extremely stressful." About 5% have since migrated to "very stressful," a sentiment shared by 38% of readers. The top factors contributing to stress include workload (56%), lack of people (47%), balancing work and home life (38%) and working with outdated technology (35%). All the same, 93% would recommend the materials handling profession to others.
Earnings by demographics
Virtually identical to last year, the 2017 survey reflects the perspectives of people across a balanced range of company sizes. One in 10 work for companies with estimated 2017 revenues less than $10 million, and about a quarter project between $10 million and $50 million. This year, 41% crossed the quarter-billion mark, and 16% expect to surpass $2.5 billion.
Respondents represent industries including industrial machinery (10%); food, beverage and tobacco (9%); 3PLs (7%); transportation and warehousing services (6%); and automotive and transportation equipment (6%). Primary job functions of respondents include warehouse, distribution and logistics (39%); engineering (21%); plant management (12%); company management (10%); and purchasing (6%).
On average, those who have been in the industry less than five years can expect to earn $67,590. But if they stick with it, their next five years will produce an average 20% increase. The next decade promises an average of $93,050 for people with 10 to 20 years of experience. Above the 30-year mark, the average salary hovers around $100,000.
The 10% of respondents in company management (CEO, VP, GM, etc.) added about $10,000 per year between 2013 and 2015, when salaries averaged $163,000. The 2016 survey reported an average of $143,000 for this cohort, which has since fallen to $124,010 in 2017. On the other hand, the engineers who make up 21% of the survey base saw average salaries continue to increase from $88,800 in 2015 to a little better than $94,000 in 2017. Salaries for the warehouse, distribution and logistics supervisors who make up 39% of respondents fell to $81,375, the lowest since 2011.
Those with supervisory responsibilities (72%) can expect to earn 8% more than their non-supervisor colleagues. This gap had been slowly closing in recent years, but it has narrowed dramatically after last year's 25% spread. Similarly, in 2016 those respondents with budgetary responsibilities (65%) earned about 30% more than those without, down from nearly 40% three years ago. Now, the gap is just 6% after average salaries of those without budgetary responsibilities grew more than $11,000.
Average combined salaries and benefits have shifted in certain regions of the United States. In the Midwest, where 42% of respondents are located, salaries nearly broke six figures in recent years, only to settle to 2013 levels at about $91,000. In the mid-Atlantic region, home to 20% of respondents, the average salary crossed the $100,000 mark in 2015, but now stands at $82,365, a record low.
In the West, where 12% of respondents reside, average salaries grew slightly to $96,715. In the Southeast, where 11% of the respondents are employed, average salaries fell again to $93,375. Following several consecutive years of growth totaling 16% since 2012, salaries of the 8% of respondents from the South shed nearly $5,000 to land at $92,940.
---
Respondents, by the numbers
In September 2017, Modern Materials Handling subscribers received an invitation by e-mail to participate in the 10th-annual Salary Survey. The e-mail included a dedicated URL linked to a Website that hosted the questionnaire. The study, performed by Peerless Research Group, received a total of 438 responses from qualified materials handling professionals.
The average respondent earns $92,175 in salary, up less than a percent following a 6.5% decrease last year, which was the lowest since 2012. The median salary held at $82,000. Bonuses, on the other hand, are down slightly after five consecutive years of growth. The average $25,470 earned from bonuses is still the second highest in the history of this survey. The median bonus is $10,000.
The average respondent is 51 years old, a figure that has held steady for several years, aside from a 54% average in last year's survey of more than 600. The average respondent has worked with his company for the past 10 years of his 19-year materials handling career, during which time he has worked for 2.3 companies. About 64% of respondents work for manufacturing companies.
Women continue to hold 11% of materials handling positions, and average salaries of $71,005 for women continued a downward trend since a peak of $90,000 in 2015. The median women's salary, however, recovered to $64,000, up 12%. The average men's salary remained essentially unchanged at $94,905, while the median increased from $85,000 to $90,000.
Of the 65% of respondents with budgetary responsibilities, the average oversees $169,950, down 24% from last year. This is a result of 6% fewer respondents managing $1 million budgets, and 5% more (77%) handling less than $100,000. The trend is also reflected in the average company size of 2,740 employees, down 8% from 3,163 last year. Average revenues tell a similar story, down 8% to $638 million (median: $137 million).
Among respondents, 77% have been in the materials handling industry at least 10 years, and 23% have been at it for more than 30 years. About one in 10 have been in the industry less than five years. Only 6% of respondents were personally impacted by layoffs in the previous 12 months, a new record low.
---

November 6, 2017
About the Author
Josh Bond, Senior Editor Josh Bond is Senior Editor for Modern, and was formerly Modern's lift truck columnist and associate editor. He has a degree in Journalism from Keene State College and has studied business management at Franklin Pierce University.
Subscribe to Modern Materials Handling Magazine!
Subscribe today. It's FREE!
Find out what the world's most innovative companies are doing to improve productivity in their plants and distribution centers.
Start your FREE subscription today!
Latest Whitepaper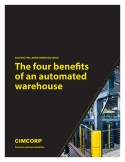 Solving the Labor Shortage Crisis: The Four Benefits of an Automated Warehouse
Not enough warehouse staff? Finding it difficult to keep up with orders during peak periods?
Download Today!
From the March 2018 Modern Materials Handling Issue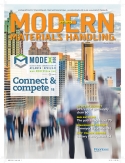 Conveyors & sortation: Carrying the e-commerce burden
2018 Productivity Achievement Awards
View More From this Issue
Latest Webcast

Emerging Technologies for Your Distribution Center
Come get an insider's view of the latest technologies for inside your Distribution Center. You'll learn which technologies are being piloted, which are having success and moving from concept to implementation and into production on the maturity scale, and what's coming on the horizon.
Register Today!