60 seconds with George Prest, Material Handling Industry
The Material Handling Industry's chief executive officer talks about ProMat and the future of materials handling.

Bob Trebilcock
·
January 1, 2013
George Prest, Material Handling Industry
Title: Chief executive officer
Location: Charlotte, N.C.
Experience: 35 years in the materials handling business
Primary focus: To tranistion the association for the next generation
Modern: This month, ProMat 2013 will get underway in Chicago. As both a long-time attendee and now the CEO of MHI, how is the show evolving?
Prest: I exhibited at the first ProMat back in 1985, and I was at every show after that until I sold the company in 2007. It has evolved as our industry has evolved. In 1985, material handling was looked at as a necessary evil and not as something that adds value. Today, many companies recognize that the supply chain is important to their profitability. That is dramatic. Our new tag line is that we're the industry that makes the supply chain work. I really believe that. I also believe that our country's economic future hinges on our supply chain. Without that, we don't have a competitive manufacturing sector, and without manufacturing we don't have a strong economy. Material handling is part of that future.
Modern: There has long been an international component to ProMat. We know that Western Europe and developed Asia have long embraced materials handling automation. As you visit or talk to professionals in emerging markets, how are they approaching automation?
Prest: Here are a couple of fun facts. At ProMat, there will exhibitors from 23 countries and attendees from 125 countries. Many of MHI's members are international and many of our North American members are looking at opportunities in Asia, India, South America and Eastern Europe. If you're talking about the adoption of material handling automation, I've seen big changes. I went to China for the first time in 1995. I saw some highly automated plants, especially those that had been built by foreign manufacturers. Automotive assembly plants are an example of that. At the same time, the plants built by Chinese manufacturers were very labor intensive. Fast forward 17 years, and that's changing. On my last trip, I saw a lot of automation. I think part of that is rising expectations in China. Issues around wages are cropping up and that's driving the need for automation. For the first time in all of the years I've been visiting, there was talk about addressing industrial pollution. As an aside, I think the changes going on in China will mean that we're going to be more competitive in the Americas. I see that as a huge growth opportunity in our industry.
Modern: The best companies are looking at their supply chains as an integrated process from sourcing raw materials through delivery of the finished good. Retailers are challenged with integrating store replenishment with e-fulfillment. How do you think these broader initiatives are impacting what happens inside the four walls?
Prest: What we're seeing is that the roles of our customers and members have expanded beyond the four walls. They are looking at the entire supply chain. The leading companies we deal with don't see supply chain as a cost center any longer. They see it as a way to speed their products to market and add value to their businesses. We believe that automation, along with robotics and automatic identification technologies, is making that possible. That is a shift from when I started in the business. Back then, land was readily available for big DCs, labor was plentiful and affordable and the automation wasn't reliable. Today, that dynamic has shifted.

January 1, 2013
About the Author
Bob Trebilcock Bob Trebilcock, editorial director, has covered materials handling, technology, logistics and supply chain topics for nearly 30 years. In addition to Supply Chain Management Review, he is also Executive Editor of Modern Materials Handling. A graduate of Bowling Green State University, Trebilcock lives in Keene, NH. He can be reached at 603-357-0484.
Subscribe to Modern Materials Handling Magazine!
Subscribe today. It's FREE!
Find out what the world's most innovative companies are doing to improve productivity in their plants and distribution centers.
Start your FREE subscription today!
Latest Whitepaper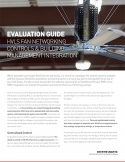 How to Invest Smartly in Industrial Fans
Read this white paper to learn the 7 defining factors to consider about your facility so you can maximize the benefits of your fan investment. HVLS High volume low speed fan white paper, Entrematic fans white paper. Benefits of HVLS fans in the warehouse.
Download Today!
From the April 2018 Modern Materials Handling Issue
Why smarts are central to Internet of Things in the warehouse
New warehouse gives winemaker a "Smooth Finish"
View More From this Issue
Latest Webcast
Industry 4.0: What you need to know today
This webinar takes a closer look at industry 4.0 and provides a roadmap for building and effectively utilizing Industry 4.0 capabilities.
Register Today!