60 seconds with John Hill
Modern spends 60 seconds talking to John Hill, director at St. Onge, about today's warehouse management software (WMS) systems.

Bob Trebilcock
·
May 1, 2013
John M. Hill, St. Onge
Title: Director, St. Onge
Location: San Francisco Bay area, California
Experience: 50 years experience in warehousing, distribution and technology
Primary Focus: Supply chain technology and execution systems development
Editor's Note: This column began as a conversation with John Hill about today's warehouse management software (WMS) systems. As the interview unfolded, we asked Hill to talk a little about the developments he's watched over a 50-year career that began in the earliest days of this industry and continues today.
My career began at the start of the era of automatic data collection. In the mid-1960s, I worked for 3M in Geneva, Switzerland. My responsibilities included collaboration with Sylvania on an automatic railcar identification program focused on providing real-time, network-wide tracking of rolling stock. I also worked on a project that used 3M retro-reflective tape applied to cartons for detection by photoelectric devices to manage material flow and automatically trigger conveyor line sorting to warehouse staging areas and shipping docks.
In 1969, two of my Sylvania colleagues asked me to join them in a new venture that led to the introduction of laser scanners and bar codes for data capture in manufacturing, warehousing and distribution. For the next eight years, we and many others laid the foundation for today's multi-billion dollar bar coding industry.
During that time, it became apparent to me that bar coding—in fact, any technology—is generally only part of the solution for delivering the right products in the right condition to the right location at the right time. It takes solid processes and the right equipment. And, it takes systems.
I realized I needed to expand my knowledge capital, and so I moved on. I first went to Eaton-Kenway, where we built and installed monolithic automated storage and retrieval systems (AS/RS), guided vehicles and a host of other automated materials handling systems. Then, in the early 1980s I joined a company called IDX to launch industrial-grade RFID for tracking and managing manufacturing work-in-process. Finally, in the mid-1980s, I was tapped to lead Logisticon, the world's first WMS company.
What did I learn over those years? Many things, of course, but perhaps the most important from the perspective of the supply chain: The best technology overlaid on flawed processes or ill-defined work and material flows will only enable users to do things badly, faster. This has been my mantra over the past 25 years of learning from others, consulting, teaching, writing and continuing to build my knowledge capital, knowing full well that I still have a long way to go. And, I'm still having fun.
Conceptually or philosophically, little that I teach or write about has changed since we espoused the benefits of real-time tracking to railroaders in the mid-1960s. The difference between now and then is the exponential growth of tools and technology available to help us get the job done.
And, therein lies the rub. The challenge today is sifting through the myriad alternatives to identify that combination of processes, technology and systems that will deliver the best solution for a given supply chain opportunity. Despite all of the tools at our disposal, that first lesson is still the most important: The best technology overlaid on flawed processes or ill-defined work and material flows will only enable users to do things badly, faster.

May 1, 2013
About the Author
Bob Trebilcock Bob Trebilcock, editorial director, has covered materials handling, technology, logistics and supply chain topics for nearly 30 years. In addition to Supply Chain Management Review, he is also Executive Editor of Modern Materials Handling. A graduate of Bowling Green State University, Trebilcock lives in Keene, NH. He can be reached at 603-357-0484.
Subscribe to Modern Materials Handling Magazine!
Subscribe today. It's FREE!
Find out what the world's most innovative companies are doing to improve productivity in their plants and distribution centers.
Start your FREE subscription today!
Latest Whitepaper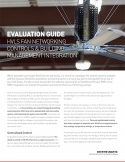 How to Invest Smartly in Industrial Fans
Read this white paper to learn the 7 defining factors to consider about your facility so you can maximize the benefits of your fan investment. HVLS High volume low speed fan white paper, Entrematic fans white paper. Benefits of HVLS fans in the warehouse.
Download Today!
From the April 2018 Modern Materials Handling Issue
Why smarts are central to Internet of Things in the warehouse
New warehouse gives winemaker a "Smooth Finish"
View More From this Issue
Latest Webcast
Industry 4.0: What you need to know today
This webinar takes a closer look at industry 4.0 and provides a roadmap for building and effectively utilizing Industry 4.0 capabilities.
Register Today!