60 seconds with Steve Thomas
Modern sits down and talks green building with Steve Thomas, who will be presenting an educational track at ProMat 2011.

Bob Trebilcock
·
March 1, 2011
Steve Thomas
Title: Television host and producer
Location: Boston, Mass.
Experience: An Emmy Award winner, Thomas was the host of "This Old House" for 14 years. He hosted "Ask This Old House," a series in which viewer questions were addressed on-air, for its first year. A speaker and serial renovator, Thomas consults on residential building and renovation over the United States.
Web: http://www.stevethomashome.com
Modern: At ProMat, you're going to talk about green building. Just what do we mean by that today?
Thomas: There is no common language around green building. In reality, we've been doing it for a long time. The very first project I did on "This Old House" 20 years ago was a green building. It was a restoration barn in New Hampshire, but by LEED standards it would be gold or platinum. Many of these techniques have been around for a long time. Now, in the last five or six years, this concept of going green has emerged, and the industry has taken five or six construction disciplines and put them into one package.
Modern: Has the concept of going green become political and does that affect the decision to go green?
Thomas: Green building has become political, and in my mind, it's become too political. When you get right down to it, there are concrete, economic reasons for sustainable building. For instance, the less money you have to pump in to heat a building, the more you're going to have for your bottom line. A good many companies do realize that. For instance, when Wal-Mart goes to Kenworth and Caterpillar—and they are—to develop more fuel-efficient trucks and engines, that's huge. If you look at the construction industry, I don't think there's a commercial building going up today that is not being built to some kind of green standard. The benefits are demonstrable.
Modern: Can we quantify those benefits?
Thomas: Sure. If you can take advantage of technologies to build a smaller distribution center and get the same amount of throughput, that's a demonstrable benefit.
Modern: What's the most important message you want to get across at ProMat?
Thomas: Green building is a way to improve our position economically. We stand astride this moment in history when critical decisions will be made that will affect our kids and grandkids. Sustainable building is an important piece of the strategic pie going forward.

March 14, 2011
About the Author
Bob Trebilcock Bob Trebilcock, editorial director, has covered materials handling, technology, logistics and supply chain topics for nearly 30 years. In addition to Supply Chain Management Review, he is also Executive Editor of Modern Materials Handling. A graduate of Bowling Green State University, Trebilcock lives in Keene, NH. He can be reached at 603-357-0484.
Subscribe to Modern Materials Handling Magazine!
Subscribe today. It's FREE!
Find out what the world's most innovative companies are doing to improve productivity in their plants and distribution centers.
Start your FREE subscription today!
Latest Whitepaper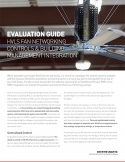 How to Invest Smartly in Industrial Fans
Read this white paper to learn the 7 defining factors to consider about your facility so you can maximize the benefits of your fan investment. HVLS High volume low speed fan white paper, Entrematic fans white paper. Benefits of HVLS fans in the warehouse.
Download Today!
From the April 2018 Modern Materials Handling Issue
Why smarts are central to Internet of Things in the warehouse
New warehouse gives winemaker a "Smooth Finish"
View More From this Issue
Latest Webcast
Industry 4.0: What you need to know today
This webinar takes a closer look at industry 4.0 and provides a roadmap for building and effectively utilizing Industry 4.0 capabilities.
Register Today!