Lift truck user survey: How customers acquire, maintain and replenish their fleets
Lift truck usage survey offers most comprehensive snapshot available of current U.S. fleet management practices.

Josh Bond, Senior Editor
·
April 1, 2012
The modern patterns of lift truck usage, acquisition and maintenance would be utterly unrecognizable to the facility manager of 1982. His fleet maintenance staff might be sufficiently qualified if they knew their way around an automobile engine. His finance department, with whom he rarely communicated, might arrange for delivery of a number of new forklifts every five years. The new equipment would join old equipment on the floor, on the dock, and in the truck shop, for as many years as it was on the depreciation schedule.
Modern facilities can now select from a range of technologies to improve efficiency, capture data and drive process improvement. That said, there are still companies today that have found success in the older, simpler ways of fleet management, as well as companies that did not have a good experience when they finally decided to give new solutions a chance. From pen-and-paper safety checks to wireless runtime data, the results of a recent lift truck usage survey by Peerless Research Group (PRG) illustrate the modern lift truck landscape while capturing its rapid rate of change.
Designed to gauge activities and trends in lift truck usage, maintenance and management, this survey gives insight into the usage of fleet management technology, the impact of the economy on lift truck acquisition, and the types of trucks in use. In June 2012, a survey was sent by e-mail invitation to Modern Materials Handling magazine subscribers. A total of 348 qualified responses were received from readers who are personally involved in the evaluation and purchase of lift trucks in their facility.
According to Judd Aschenbrand, director of research for PRG, the survey indicates a level of market activity that should be very encouraging to lift truck suppliers. Of the 64% of respondents who indicated they would buy or lease a lift truck in the next 24 months, one in 10 said they planned to buy 20 or more, and the average number was slightly more than six units. Exactly 30% said the new equipment would expand the size of their fleet.
The survey also contains cautionary data on how suppliers could lose business, with one in three respondents indicating they have removed a supplier from their short list. About half of respondents claimed to have such a list, which consists of those companies they find to be most competitive, responsive and dependable.
"One of the messages here is that when users talk about reliability, they're talking about it on two levels," says Aschenbrand. "One is the equipment itself and the other is the company. If the customer feels disappointed in either, the supplier risks losing the business."
For this article, we selected a few of the most telling study results and asked Michael McKean, fleet management sales and marketing manager for Toyota Material Handling, for his take on what the numbers say about the past, present and future of lift truck usage.
Types of trucks in use
According to figures from the Industrial Truck Association (ITA), electric lift trucks in classes 1, 2, 3, and 6 comprised 66% of shipments in 2009, a full 7% higher than in any year since the figures were recorded beginning in 1988. The figure fell by a percentage point to 65% in 2010. Today, survey respondents indicated Class 1 trucks alone make up 70% of their fleets, with internal combustion (IC) classes 4 and 5 at 36% and 28%, respectively.
"It's an electric market," says McKean. "It used to be a 60/40 split between IC and electric. Now it has flipped the other way, and it's never going back."
More companies are moving away from internal combustion, he says. The recession prompted both increased electric sales and a relative shift in market share as electric applications tended to center on more recession-resistant industries. Developments in battery and charging technology as well as government incentives helped stimulate that growth, says McKean.
"There are still and will always be applications that can only be served by IC," says McKean, "But I see the electric market continuing to grow in coming years."
Aschenbrand says the survey joins a number of other data points in the industry that illustrate the rise of electric lift trucks, but as with any single data point the results do not necessarily tell the whole story.
"For all we know, a large number of respondents bought or expanded their fleets right before the economy hit the skids," says Aschenbrand. "These numbers are interesting, but get even more interesting when you combine and cross-reference them. Then you can put some qualitative meat on the quantitative bones."
Purchase vs. lease
For instance, 60% of respondents indicate they typically buy equipment outright, although the average number of units acquired through direct purchase is 52%. However, the average number of leased units is 48%, although just 21% of respondents say they typically lease. McKean predicts the third group of respondents, the 19% who said their decision to buy or lease depends on the lift truck and the situation, will likely grow in coming years.
"Those are the companies that are thinking as opposed to reacting," says McKean. Some respondents cited corporate policy to only buy or only lease equipment, a practice McKean strongly cautions against.
"One of the good things about financing is it forces someone to plan for an end, when each lift truck needs to be retired, replaced or recycled," he says. "Buying does not require that discipline and you can end up with customers with equipment from companies that no longer exist. For some customers, a lift truck might have 20,000 hours and $100,000 in repairs, but if it is on a long-term depreciation schedule then it is locked-in and those numbers are irrelevant."
As opposed to blanket policies, McKean recommends customers with more than two trucks establish a core fleet. "They should be thinking about planning in one way for the core fleet and planning in a different way for whatever else might be needed to support seasonal fluctuations in demand," he says. "There are not enough companies looking at the concept of a core fleet, which can save a lot of time and money."
Pairing the right acquisition practice to the right truck begins with improving fleet visibility, which can often require capital outlays, process improvements and new technology. The study reflects a tepid growth in customer interest in fleet management technology, yet a budding interest that McKean has also seen among his clients.
"When a customer who has always bought suddenly comes in and asks about financing, something has happened within their corporation," says McKean, who says these decisions typically follow the customers' collection of new fleet metrics. "In the past five years, we have customers that are looking for data beyond the hour meter for the first time."
How far has technology penetrated fleet management?
According to survey results, tracking the hour meter or age of the lift truck is third on the list of most popular uses of fleet management technology. It follows maintenance history and cost in the top slots, at 90% and 77%, respectively. Just 43% of respondents have implemented or plan to implement some kind of technology to help manage their fleets; a number McKean says is certainly on the rise, but not at the pace he would have expected.
"Some companies are trying to embrace technology, but some companies are making what might be irrational decisions," says McKean. "If a customer has technology, or a tool to measure, then they can come to a vendor and ask, 'What can you save me?'"
For those companies who have yet to get into fleet management, not being able to "see" the savings might be a key reason why they do not explore it, says McKean. Or, they might see marginal savings but question whether the change in processes is worth it.
"It might not be that they lack the time or resources to make that change," he says. "They simply don't see the value."
How does the economy impact fleet acquisition?
Time is money, and, especially since the recession, decisions based on future business conditions can be difficult. The survey results grant some insight into the impact of the economy on fleet acquisition, with more than half of respondents saying the economy influences their decisions either to some extent or to great extent.
"The economy is a barometer, and it's more about emotion," says McKean. Generally speaking, the lift truck market will grow or contract in direct proportion to the state of the economy. But for those customers who claim the economy has little or no impact on their fleet acquisition, one of two things might be happening. The customer might be on a fixed replacement cycle and is comfortable having idle trucks during slow times.
"No one ever complains when the lift truck is parked," says McKean. "They complain when it's not there."
Or perhaps the customer's acquisition habits are based on fleet management data, or considerations of the core fleet and seasonal fleet.
"Folks who fleet manage might not make wait-and-see decisions or might not consider the economy the direct driver of acquisitions," says McKean, who says good data can prompt seemingly counter-intuitive buying decisions in an economic downturn. "Say for instance the maintenance costs are up on a high-use lift truck when the economy suddenly slows. A wait-and-see customer might have a hard time justifying the cost to replace that vehicle, but a company with a well-managed fleet will be able to see the savings that purchase can produce."
Fleet maintenance practices
Fleet data can help inform equipment buying patterns as well as help control equipment maintenance costs, where the budget might lack the scrutiny applied to capital expenses. The least common data points captured by fleet management technology adopters include utilization, up-time and productivity levels. Although a customer might set out on the path of fleet technology with those specific purposes in mind, it is instead the visibility into maintenance costs
that often proves most rewarding.
Just 34% of respondents still primarily service or maintain their fleets in-house. According to McKean, it used to be that job security, whether union or not, was in the maintenance department.
"The shrinking of the truck shop came at about the same time the word 'outsourcing' entered the business landscape, say, 20 years ago," he says. "At that time, I'd estimate more than 50% of maintenance was handled in-house. It was a part of how companies did business. And lift trucks were easier to work on. Now, the lift truck technology has changed so much that well-trained technicians are very highly valued."
As a result, maintenance and service contractors account for 15% of outsourcing, and lift truck dealers have managed to capture 47% of the market, according to the study results. Many customers have made the move to eliminate the maintenance bay and free up valuable real estate in their facility. McKean says companies often have difficulty keeping technicians up to speed with current technology, and so they have turned to the dealer's expertise for cost savings.
"Some folks say they can't afford the dealer technicians," says McKean. "But if their in-house tech is paid a third of the rate and takes five times as long to complete the repair, the customer is not ahead."
This scenario becomes more likely as the complexity of lift truck technologies increases, he says. "Lift trucks have evolved, and so has the process of maintaining them. The number of companies outsourcing to dealers will grow in direct proportion to the evolution of lift trucks."
That process of evolution has been more rapid in the past 10 years than in the half century before. The lift truck usage study affirmed the average lifespan of a lift truck is a little more than seven years, meaning many customers will soon be approaching a crossroads between yesterday's technology, maintenance, and acquisition practices and those of tomorrow.

March 14, 2013
About the Author
Josh Bond, Senior Editor Josh Bond is Senior Editor for Modern, and was formerly Modern's lift truck columnist and associate editor. He has a degree in Journalism from Keene State College and has studied business management at Franklin Pierce University.
Subscribe to Modern Materials Handling Magazine!
Subscribe today. It's FREE!
Find out what the world's most innovative companies are doing to improve productivity in their plants and distribution centers.
Start your FREE subscription today!
Latest Whitepaper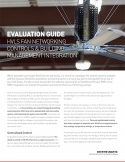 How to Invest Smartly in Industrial Fans
Read this white paper to learn the 7 defining factors to consider about your facility so you can maximize the benefits of your fan investment. HVLS High volume low speed fan white paper, Entrematic fans white paper. Benefits of HVLS fans in the warehouse.
Download Today!
From the April 2018 Modern Materials Handling Issue
Why smarts are central to Internet of Things in the warehouse
New warehouse gives winemaker a "Smooth Finish"
View More From this Issue
Latest Webcast
Industry 4.0: What you need to know today
This webinar takes a closer look at industry 4.0 and provides a roadmap for building and effectively utilizing Industry 4.0 capabilities.
Register Today!