Modern's 2012 Casebook
The 2012 Casebook features 39 case studies that put the spotlight on successful innovation projects that have come to fruition over the past year.

MMH Staff
·
October 1, 2011
Just when we thought things were finally looking up, we're finding that the pressure is still on managers of warehouse and distribution center (DC) operations to carefully weigh and measure each investment inside the four walls—and to do more with less where and when they can.
According to the results of our annual 2011 Warehouse and Distribution Center (DC) Operations Survey, there might even be more slowdown ahead as the U.S. continues to operate under the specter of a still shaky global economy.
Our 2011 survey results tell us that inventory turns are not improving, more DCs are closing rather than opening, and many companies are opting to be even more cautious, leveraging cost reduction measures. However, many operations are continuing to investment in the equipment and systems that will have the biggest impact on their overall operations.
For those savvy materials handling professionals who continue to innovate and improve during this cautious period, Modern Materials Handling proudly offers the 2012 Casebook, a reference guide designed to inspire innovation and investment. It's jam-packed with case studies as well as the most comprehensive directories available of materials handling equipment manufacturers and related information management technology vendors.
The 2012 Casebook features 39 case studies that put the spotlight on successful innovation projects that have come to fruition over the past year. Modern readers will learn how savvy operations are solving lift truck management issues and putting some of the latest AGV technology to work; implementing new packaging solutions; putting new automation and conveyor systems to the task; and taking steps to implement or upgrade information management and software to improve visibility and streamline labor relations.
The editorial team at Modern is well aware of the challenging fiscal environment in which materials handling professionals have been operating over the past two years; however, we also understand the costs of not following through on overdue improvement projects that are designed to boost productivity in the long run.
It's our hope that the 2012 Casebook will inspire the innovation and investment that will keep your warehouse and distribution operation on the road to success for many years to come.
Lift Trucks
Fixed Path
Packaging
Staging and Storage
Information Management
Dock Equipment

November 11, 2011
Subscribe to Modern Materials Handling Magazine!
Subscribe today. It's FREE!
Find out what the world's most innovative companies are doing to improve productivity in their plants and distribution centers.
Start your FREE subscription today!
Latest Whitepaper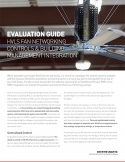 How to Invest Smartly in Industrial Fans
Read this white paper to learn the 7 defining factors to consider about your facility so you can maximize the benefits of your fan investment. HVLS High volume low speed fan white paper, Entrematic fans white paper. Benefits of HVLS fans in the warehouse.
Download Today!
From the April 2018 Modern Materials Handling Issue
Why smarts are central to Internet of Things in the warehouse
New warehouse gives winemaker a "Smooth Finish"
View More From this Issue
Latest Webcast
Industry 4.0: What you need to know today
This webinar takes a closer look at industry 4.0 and provides a roadmap for building and effectively utilizing Industry 4.0 capabilities.
Register Today!