MRO Technician Spotlight: Eric Raschke, Numina Group
Modern Materials Handling staff sat down with Eric Raschke to talk about working in the Maintenance Repair and Operations field.

MRO in the News
Motion Industries to acquire automation and robotics company
Conveyors: A method to the maintenance
Have you checked your lift truck tires enough lately?
Guarding has your back - and more
MRO Technician Spotlight: Jordan Vander Woude
More MRO News
Warehouse Resource
Crossover Businesses: Blurring the Lines Between Manufacturers, Distributors, and Retailers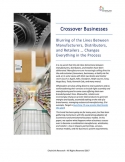 Download the report and uncover how to survive the new challenges businesses are facing and the technology required to keep pace.
All Resources
By
MMH Staff
·
May 8, 2018
Numina Group, designer and integrator of warehouse automation
Title: Service manager
Location: Woodridge, Ill.
Territory: Customers in every U.S. state and international locations
---
MHMRO: How did you get into this industry, and what do you like about it?
Raschke: I was one of those kids who would take anything and everything apart. I had lots of Legos, and I'd put them put together by the directions first, then take them apart and put them back together my way.
I went to school for electrical engineering, and I was always looking for a career that was hands-on, where I was able to use my skills to understand how things work. My first job out of school was as an engineer working under a maintenance manager and that crew had a lot to teach me. Whenever there was an issue, I was part of the team trying to figure it out. I've been in maintenance now since 2006, and I really like working in the service field. It's a very stressful area since everyone wants everything corrected right here and right now, but once you do correct it, you have a real sense of accomplishment.
MHMRO: How does technology help you do your job?
Raschke: Everything is moving so fast that it doesn't even seem like it's moving so fast. We didn't have smart phones 10 years ago, and they are one of the best things that's happened for someone in this field. Even a customer with a limited amount of knowledge can take a video on a phone and give a technician something to see, and it's often enough information to diagnose the problem a lot more quickly. Then we can either repair it remotely or be better prepared when we get to the site.
Another thing I've seen over the last several years is automation equipment being Internet-connected. Each system we install has a remote connection that gives us visibility into what's happening. Back when everything was connected serially, or through some kind of industrial network, there was not that much visibility. The bar code scanner either worked, or it didn't, and that was about all you knew. It's nice now that my technicians can dial into a customer's site from across the country and access detailed diagnostics on each device as though we were right there. More and more devices have that capability.
MHMRO: What would you say to a high school or college graduate considering this field?
Raschke: Learn anything you can. It doesn't matter who it's from. People who have been around 40 years have a lot of knowledge, of course. But when younger guys come in, they might have learned something you haven't yet. Be ready to learn from anyone and everyone you can. That's how you make yourself most valuable.
When I was younger, a family friend told me I should go through life with an imaginary bag and take every opportunity to put something in it. Learn something new. Take a class, even if it's not immediately relevant, because when you go back and look at the knowledge that accumulated in that bag, you'll realize you're a more valuable employee. That bag will open a lot of doors as you go through your career and life.

May 8, 2018
Subscribe to Modern Materials Handling Magazine!
Subscribe today. It's FREE!
Find out what the world's most innovative companies are doing to improve productivity in their plants and distribution centers.
Start your FREE subscription today!
Latest Whitepaper
Insider Q&A: The Robotics Revolution is here. Is your company ready for it?
Download this free Insider Q&A with Matt Wicks, VP, Product Developent, Honeywell Intelligrated for his unique perspective on robotics in the modern-day warehouse.
Download Today!
From the February 2019 Modern Materials Handling Issue
Modern's System Report: Robots at GEODIS
ProMat 2019 to showcase record number of exhibitors, 45,000+ attendees
View More From this Issue