Supply Chain: Health care reform
Automated materials handling and data collection systems are transforming the health care supply chain.

Technology in the News
Modex technology watch: Some use of Cloud solutions now the norm
2018 Warehouse/Distribution Center Equipment Survey: Automation & Robotics Lead Robust Outlook
Why smarts are central to Internet of Things in the warehouse
Lodge Manufacturing forges e-commerce capabilities to bolster brand, customer experience
Enterprise labeling helps double printing speed
More Technology News
Technology Resource
Industry 4.0: What you need to know today
Thursday, May 3, 2018 | 2pm ET
All Resources
By
Bob Trebilcock
·
April 1, 2012
For most of us, materials handling and supply chains are industrial-based. Raw materials, parts, components and finished goods are handled inside the four walls of industrial facilities.
Increasingly, organizations that never thought of themselves as supply chain organizations are looking to best practices in materials handling equipment and technologies to improve operations that aren't necessarily industrial. When they do, they are reducing their labor costs while improving accuracy and turnaround times.
Take the health care supply chain. Manufacturers and distributors of pharmaceuticals, medical devices and supplies have long used materials handling automation and technologies in their industrial operations.
But today, large hospitals are also adopting supply chain technologies to manage the flow of materials inside health care facilities. Those include automatic guided vehicles (AGVs), horizontal carousels and mini-load automated storage and retrieval systems (AS/RS) to move goods and warehouse management systems (WMS) to track the delivery of materials right to the bedside of patients.
Tie them all together and the health care supply chain can theoretically provide visibility into the journey of a product from the manufacturing plant all the way to the patient, in some instances. We may not be there yet, but the systems and technologies needed to achieve that idea are being implemented today.
This represents a different way of thinking about health care and hospital logistics. "One hundred years ago, a health care system was about someone in a white coat giving you chicken soup," says Peter Brereton, CEO of Tecsys, a WMS provider that is installing its software in large hospitals that are transforming themselves into supply chain organizations. "Today, it's a complex supply chain. Our system is being used by hospitals to break down bulk items into patient dosages that are tracked all the way to the bedside, where a nurse scans her bar code, a patient bar code and the product bar code."
Although hospitals are increasingly integrating into the health care supply chain, there are still two distinct sides to the equation: manufacturing/distribution and health care facilities. Each has its own set of materials handling challenges and best practices.
From manufacturing through distribution
Manufacturers and distributors of health care products have to control costs and maintain quality and accuracy just like manufacturers and distributors in other industries. What's different is the degree of regulation confronting providers of health care products. That's because lives, and not just inconvenience, are at stake in health care.
"If you get the wrong book from an e-commerce company, you're unhappy, but your health isn't in jeopardy," says Don Derewecki, senior business consultant with TranSystems. "If you get the wrong medication or the right medication in the wrong dosage or after its expiration date, that's closer to home."
As a result, regulatory requirements are on the rise. Manufacturers and distributors must provide an audit trail of everything that went into the manufacture of a product along with a record of every touch throughout the supply chain. Providing that electronic pedigree is driving the adoption of software applications that provide visibility.
"In the health care industry, it's not enough to be cheaper on labor," says Matt Walker, an executive vice president with TAKE Solutions.
"Companies that are regulated by the FDA must be able to provide visibility into the parts, components, materials and lot numbers of everything that goes into the manufacturing process. In the case of a recall, they must provide track-and-trace visibility across the supply chain."
Similarly, to get a new drug, medical device or other regulated health care product approved for production, manufacturers must validate their supply chain processes. That includes a demonstration that they have a Good Manufacturing Process, or GMP, in place.
"Before you can start manufacturing, you have to document that what you say you're going to do is what happens when you run software, fill vials, pack cases, load pallets and ship product," explains Tom Coyne, CEO of System Logistics. "You must chart out your supply chain and map where the product is touched. You must prove that the quality of your processes is there."
That's where automation comes into play. Horizontal carousels, mini-load automated storage systems and AGVs are clean, efficient and accurate. Those attributes are important to controlling costs. In addition, the software systems that direct automation are able to collect data at every key point in a process. "Health care manufacturers are interested in efficiency and cost," says Coyne. "But the ability to demonstrate that you have control over your processes drives this industry more than any other we have worked in."
Automation, Coyne adds, removes the human element from the equation. "When you're using automated materials handling, you're collecting information at every step that can be used for the validation process." The high cost of the products being handled, in comparison to consumer goods, makes the systems easier to justify.
In addition to manufacturing, automated materials handling systems are playing an increasingly important role in health care distribution, according to Kim Baudry, market development director for Dematic. "Just as retailers are investing in automation to make smaller and more frequent deliveries, the health care industry is rethinking how product is distributed," Baudry says.
For example, she points out that hospitals are bypassing the traditional wholesale distribution channel and receiving shipments directly from manufacturers. "If I'm a drug manufacturer like Pfizer or Merck, I might have shipped pallet load quantities to a distributor like Cardinal Health," Baudry explains. "Now, I might ship directly to a major hospital, but I'll ship in smaller and more frequent orders."
Those orders might be broken down into even smaller units of measure destined for a specific floor or department in the hospital. And, as with the manufacturing supply chain, automated order fulfillment systems record every time a product is touched through the distribution channel network. "We're seeing a lot of voice and pick-to-light systems that collect information about the fulfillment process to comply with regulatory requirements," says Baudry. "And by using an automated storage technology, they add a measure of security to the process."

click here to download PDF article
Hospital logistics
Health care manufacturers and distributors have recognized the importance of their supply chain operations for years. Large hospital systems with 600 to 1,000 beds are coming to realize that they, too, are supply chain organizations and are developing hospital logistics to optimize the storage and flow of inventory through a facility.
"Health care provider groups are facing tremendous financial pressures," says Tecsys' Brereton. "Medicare and insurance payments are being squeezed as patient expectations are rising. They no longer have unlimited funds. They are trying to improve patient care while improving their business model."
In fact, hospitals have many of the same complications as a direct-to-consumer distribution center. For instance, a large hospital delivers thousands of individual orders to hundreds or even thousands of delivery addresses within a complex. What's more, the range of products and number of SKUs is complex: a typical hospital delivers surgical kits to an operating room, replenishes supplies in the supply rooms at a nurse's station, manages the hospital gift shops, fills thousands of individual prescriptions and meal orders, as well as items like towels and sheets. It also has a reverse logistics requirement, removing trash, dirty laundry and empty food trays from the hospital.
Inventory is a significant cost.
Not only do supplies get squirreled away at nurses' stations, but hospitals face the same SKU proliferation as retailers.
For example, physicians have the ability to order Physician Preference Items, or PPIs. The result is that three different physicians in the same department may each use similar tools from different manufacturers for the same procedures or treatments. "Imagine if every client who walked into a drug store could design their own shampoo and asked you to carry it and you get a sense of the problem," says Brereton.
Warehouse management systems are bringing the same level of inventory management to hospital logistics that they brought to the distribution center a decade or two ago.
"You can translate millions of dollars of inventory back into cash within the first year by not having to replenish areas that may already have inventory squirreled away because nurses and doctors didn't trust the old system," Brereton says. Those same systems are then used to direct the order fulfillment processes at a very granular level. "We are working with a hospital system in St. Louis that is using a WMS to break down bulk items into patient dosages that are tracked right to the bedside and to the patient's bill," says Brereton.
Similarly, hospital systems are adopting the same automated materials handling and data collection solutions for their systems as health care manufacturers and distributors. Those include horizontal carousels, mini-load systems, pick-to-light and voice-directed fulfillment systems for storage and picking as well as AGVs to deliver product from the warehouse area into the hospital itself.
"You don't want the same person handling patient dosages who is handling food trays and hauling trash," explains Jay Yale, managing director for Frog AGV Systems. "A stainless steel AGV virtually eliminates contamination from human handling. What's more, we can build in three or four security checks to ensure the accuracy of a delivery. And, an AGV delivers on time on a 24/7 basis."
Those same requirements for clean, timely and accurate deliveries are driving the implementation of other technologies such as carousels and pick-to-light. "The hospitals we are working with are using automation to improve accuracy and control labor costs like any other facility," says Denny Arciero, director of distribution solutions for Systems Logistics. However, automation works well with the heightened urgency associated with hospital operations. "You're supplying the nursing stations, operating rooms and patient rooms," Arciero says. "On-time delivery is a must."
Adds Brereton: "Our industry has always been about delivering the right product to the right place at the right time. Hospitals are realizing that automation and supply chain software drives down the cost of providing health care, saves lives, and improves the patient's experience. That's what this is all about."
Companies mentioned in this article
Dematic: dematic.com
Frog AGV Systems: frog.nl
System Logistics: systemlogistics.com
TAKE Solutions: takesolutions.com
Tecsys: tecsys.com
TranSystems: transystems.com
Cleveland Clinic's health care reform
One of the nation's premier medical centers transformed a manual, paper-based warehouse into a state-of-the-art facility using automated materials handling technologies to optimize the delivery of food, supplies, medications and surgical tools to more than 14,000 locations.

click here to download PDF article

March 31, 2016
About the Author
Bob Trebilcock Bob Trebilcock, editorial director, has covered materials handling, technology, logistics and supply chain topics for nearly 30 years. In addition to Supply Chain Management Review, he is also Executive Editor of Modern Materials Handling. A graduate of Bowling Green State University, Trebilcock lives in Keene, NH. He can be reached at 603-357-0484.
Subscribe to Modern Materials Handling Magazine!
Subscribe today. It's FREE!
Find out what the world's most innovative companies are doing to improve productivity in their plants and distribution centers.
Start your FREE subscription today!
Latest Whitepaper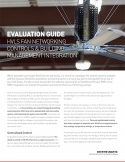 How to Invest Smartly in Industrial Fans
Read this white paper to learn the 7 defining factors to consider about your facility so you can maximize the benefits of your fan investment. HVLS High volume low speed fan white paper, Entrematic fans white paper. Benefits of HVLS fans in the warehouse.
Download Today!
From the April 2018 Modern Materials Handling Issue
Why smarts are central to Internet of Things in the warehouse
New warehouse gives winemaker a "Smooth Finish"
View More From this Issue
Latest Webcast
Industry 4.0: What you need to know today
This webinar takes a closer look at industry 4.0 and provides a roadmap for building and effectively utilizing Industry 4.0 capabilities.
Register Today!