Pentagon gift to our industry: A pipeline of MSSC-certified vets
Armed forces are combating the skills gap for the front-line materials handling and distribution workforce.

Leo Reddy
·
June 2, 2016
Like other technology-intensive sectors of the economy, the transportation, distribution and logistics (TDL) sector is facing a growing shortage of skilled workers. Industry association MHI reports that the supply chain industry will need to fill about 1.4 million new jobs between 2014 and 2018—roughly 270,000 new jobs a year. With an increase in baby boomer retirements and the persistent failure of the nation's schools to produce a sufficient number of skilled technicians, the well-documented "skills gap" is only widening.
The Pentagon is coming to our rescue. The services, especially the Army, are now producing a generation of veterans who have secured—while in the military—the leading national industry certification for the front-line materials handling and distribution workforce. These industry-recognized, nationally portable credentials are offered by the MSSC: Certified Logistics Associate (CLA) and Certified Logistics Technician (CLT).
Here are the key work activities covered by these credentials:
Foundation-level Certified Logistics Associate (CLA)
Demonstrate an understanding of the various roles in the global supply chain logistics life cycle.
Demonstrate an understanding of the logistics environment.
Operate and use equipment.
Practice safety principles.
Practice safety principles in the handling of materials and operation of equipment.
Practice quality control principles.
Employ work communication practices.
Practice teamwork and good workplace behavior to solve problems.
Use relevant computer systems and applications to increase productivity.
Mid-level Certified Logistics Technician (CLT)
Receive products.
Stock products.
Process product orders.
Prepare packages for shipment and ship products.
Maintain control of inventory.
Handle hazardous materials in a safe manner.
Evaluate transportation modes.
Perform dispatch, routing and tracking operations.
Understand U.S. measurements and metric system conversions.
Most vets who have these MSSC credentials will also have had practical experience with a variety of logistics functions, ranging from 1 to 2 years to 15 to 20 years. This combination of MSSC credentials and hands-on experience make these vets ideal job applicants for a variety of jobs in the TDL industry.
On top of preparing service members with these MSSC certifications while they are on active duty, the Pentagon is providing another valuable service for all industries seeking certified vets. In selecting civilian industry certifications for use by the services, the Pentagon is adding rigorous quality assurance requirements. This is designed to distinguish well-established, high-quality industry standards, training and certification programs from the growing proliferation of "credentials" that are becoming a cottage industry in the United States.
Specifically, the National Defense Authorization Act of 2016 contains a new provision (Sec. 559) on this subject entitled, "Quality Assurance of Certification Programs and Standards for Professional Credentials Obtained by Members of the Armed Forces." This statute requires any credentialing program used by the Armed Services to be accredited by an accreditation body that ensures the objectivity and impartiality of its accreditations and meets a "recognized or international standard that directs its policies."
One of the reasons why the Armed Services are using MSSC is that it accredited by the American National Standards Institute, the U.S. representative of the International Organization for Standardization (ISO), under ISO Standard 17024 (the international quality standard for personnel certification).
The Pentagon's selection of MSSC as the preferred civilian certification for front-line work in our industry and the new quality assurance requirements for civilian certifications are a gift. When our companies have job openings, they will have the opportunity to interview highly qualified, MSSC-certified vets.
To take advantage of this opportunity, please contact Rebekah Hutton, vice president for strategic initiatives and MSSC's military liaison, at [email protected] msscusa.org or at 703-739-9000, ext. 2227.

October 25, 2016
Subscribe to Modern Materials Handling Magazine!
Subscribe today. It's FREE!
Find out what the world's most innovative companies are doing to improve productivity in their plants and distribution centers.
Start your FREE subscription today!
Latest Whitepaper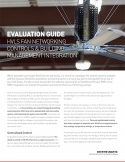 How to Invest Smartly in Industrial Fans
Read this white paper to learn the 7 defining factors to consider about your facility so you can maximize the benefits of your fan investment. HVLS High volume low speed fan white paper, Entrematic fans white paper. Benefits of HVLS fans in the warehouse.
Download Today!
From the April 2018 Modern Materials Handling Issue
Why smarts are central to Internet of Things in the warehouse
New warehouse gives winemaker a "Smooth Finish"
View More From this Issue
Latest Webcast
Industry 4.0: What you need to know today
This webinar takes a closer look at industry 4.0 and provides a roadmap for building and effectively utilizing Industry 4.0 capabilities.
Register Today!