Equipment Report: Conveyors and sortation keep up the pace
By staying ahead of the curve, facilities can increase induction accuracy, even as the sizes and shapes of packages continue to diversify.

Equipment in the News
A3 announces call for 2019 Automate Launch Pad Startup Competition
CEMA reports November 2018 shipments up 23.2% compared to November 2017
SencorpWhite names Corey Calla president
RFID companies innovate to harness the growth opportunities generated by Manufacturing 4.0
Systems Report: Bulking up at Canadian Tire
More Equipment News
Equipment Resource
Southworth Brouchure Shows Practical Applications of Ergonomics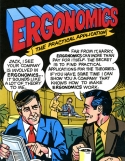 This little booklet done in comic book style uses simple illustrations to take readers on a walk through a hypothetical, yet typical, plant where the plant manager, safety director, and controller point out a variety of problems that were solved through the practical application of ergonomics.
All Resources
By
Chris Lewis
·
February 1, 2016
For anyone who remembers the days in which the most pressing issue for conveyor and sortation systems suppliers was the need to handle cartons of varying sizes, the demands of e-commerce has ushered in a brave new world—chockfull of innumerable packaging options, sizes and materials, including bubble packs, poly bags and shipping envelopes, to name a few.
This evolution in packaging is good news for facilities focused on reducing the sizes of the packages they ship to minimize dimensional shipping rates. However, shipping has never been more challenging for the conveyor and sortation systems that must handle all these packages, as they now come in all sizes, shapes, weights and rigidity. After all, most systems were originally designed for large, firm packages, rather than the smaller items and soft goods that are now being inducted.
To increase the accuracy of the induction process, decrease mis-sorts and accommodate the diversity of packaging—all without compromising throughput—facilities must be proactive. Rather than waiting until major issues arise or working around shortcomings, companies need to be aware of the latest features and advances of conveyor and sorter technology.
Modern spoke with a few leading suppliers to find out not only the latest trends in conveyor and sortation technology, but also to learn how tried and true equipment can perform better, and, consequently, how packages of all shapes and sizes can be conveyed and sorted more efficiently.

Conveyor and sortation offerings
As facilities embrace the future of e-commerce purchasing, as well as the continuous evolution of supply chain and fulfillment methodology, our experts say that most companies today are purchasing, assessing or restoring the following types of conveyors and sorters: 24-volt powered conveyors, crossbelt sorters, narrow belt sorters and pouch sorters.
• 24-volt powered conveyors. Generally used in distribution or manufacturing operations, 24-volt powered conveyors offer benefits like low noise and reduced energy consumption, as they only run when products are present and need to be conveyed. These conveyors come in a few types. Traditionally, these conveyors have been motor-driven roller (MDR) conveyor, and have a section that's divided into small zones. At least one roller in each zone has an internal motor that turns the roller. Another type of 24-volt powered conveyor available today has a motor that is external to the roller, offering more flexibility and benefits such as easier maintenance.
Compared to traditional high voltage systems that run 24/7, whether conveying or not, 24-volt conveyors can reduce power consumption and maintenance costs by nearly 50%.
"The conveyors also provide diverting, transferring, transporting and zone accumulation with 24-volt DC power, rather than high voltage or pneumatics," says Stephen Cwiak, senior vice president and head of subsystems for Interroll. "Since high voltage drop and pneumatic plumbing isn't required, the system is simplified, as only one type of power source is used."
Compared to high voltage, the 24-volt DC motors are also low torque, so entanglement or injury at pinch points is not possible since the 24-volt DC drives will stall before hurting personnel, Cwiak adds.
According to Boyce Bonham, director of integrated systems and controls at Hytrol, 24-volt conveyors can also accurately process orders through distribution centers in less space than traditional high voltage systems. And, if designed properly, these conveyors can be very efficient in space utilization, while conveying—and even sorting—up to 50 cartons per minute.
"By utilizing space, entire systems can be created with 24-volt conveyors, including transportation, accumulation, induction and sortation," Bonham explains. "These conveyors can also help distributors cost justify automating their operation, which can double the speed in which orders are completed and shipped."
• Crossbelt sorters. Due to their flexibility, crossbelt sorters can handle a variety of product types and sizes, including cartons, padded envelopes, and heavy and lightweight items at a high rate of speed. A crossbelt sorter is a looped track with individual carriages riding on the track. Each carriage in the systems holds a 2- to 3-foot cell of belt conveyor powered by a small motor. When an item reaches the divert location, the motor moves the conveyor, discharging the item sideways off the sorter into a chute or onto a takeaway conveyor.
The versatility of these sorters provides multiple solutions—including returns, routing and shipping—within a single sorter. As a result, facilities can reduce their energy consumption, maintenance costs and floor space, all while achieving sortation rates of at least 150 cartons per minute, according to Garrett Smith, regional sales manager for viastore.
Some newer crossbelt sorters run entirely on a contactless power and data supply, as they are propelled by linear motor drives with no moving parts, thereby reducing noise levels and wear and tear.
"Crossbelt sorters can also have adjustable belt trays," says Alex Kushner, sales and proposal manager of sortation and distribution for the Beumer Group. "When interfacing from induction to an empty tray to the sorter, the tray rotates to accept the product and provide a smooth transition. The product is scanned and centered on the tray. If the item is on the front or back side of the tray, the tray will discharge sooner or later to the assigned discharge with adaptive discharge timing."
In addition, distributors can program new crossbelt sorters to automate the sortation of returns, an otherwise manual process.
"The output can be cartonized, or not," Kushner says. "And the returns sort can be a single pass or multi-phase to get down the necessary granularity, based on the sorter's size. By applying the crossbelt sorter to handle returns sortation, an automated piece of equipment is leveraged to increase speed (pieces per hour) and accuracy, thereby driving further ROI into equipment otherwise intended for order consolidation and fulfillment. This provides an opportunity for distributors to reduce time and labor from a time-consuming and labor-intensive process."

• Narrow belt sorters. These sorters are designed with multiple narrow belts that transport product until it reaches a divert location. Then, high-friction wheels pop up between the belts to divert the product when needed. Facilities will typically use this kind of sortation when they are transferring small to medium-sized boxes, cartons or totes.
Narrow belt sorters provide the flexibility to sort at 90- and 30-degree angles. At times, the 90-degree angle will either change the orientation of products as they are sorted or it will sort them onto a parallel line so that orientation is maintained, according to Hytrol's Bonham.
To do so, parallel accumulation lanes may be used on either side of the conveyor. Products can then be sorted to the parallel lines, as well as work areas created for palletizing, so the entire palletizing operation can occur in a narrow area.
A unique narrow belt sorter, released in the United States in 2014, eliminates the need for diverts. This sorter has balls molded into its belt, as well as a rotating disc underneath, which allows products to move in any direction, rather than just specific angles. Due to its 1-inch ball spacing, the sorter is versatile and can convey various types of packages, including cardboard and parcel post packages. The load limit is currently 1 pound per ball.
"Since its balls are molded into the belt, the sorter also reduces the chances of printing or labeling damage and rejects, compared with pneumatic pushers and other diverting mechanisms," explains Mike Suter, vice president of marketing for Regal Power Transmission Solutions. "And, as packages have become smaller, its 1-inch pitch allows for small package handling."
Through such automation, narrow belt sorters are presently able to handle sortation rates of 80 to 150 cartons per minute, according to viastore's Smith.
• Pouch sorters. As more companies automate, they are discovering that maintenance is a challenge, as it requires higher skill sets than they've required in the past. To ease the demands of maintenance, pouch sorters are being used for transportation, staging and storage. A pouch sorter consists of a pouch, a common hanging carrier, which enables a wide selection of articles to be transported. According to Rene Luchsinger, CEO of WRH Global, the pouch design can be easily loaded and unloaded by hand, thereby providing maximum flexibility.
Some recently released pouch sorters use a single carriage that can incorporate a variety of functions into one system, from identification and merging to storing and verification.
"Hence, there is much less maintenance involved," Luchsinger says. "The easier the technology, the less effort that is required to maintain it."
In addition to completing functions like pick-up, transfer and weighing, pouch sorters can also implement processes such as labeling and order picking during the conveying sequence itself. And, the core design feature of the sorters is rolling friction, rather than sliding friction.
"Rolling friction is the basis of our technology. By using rollers, we keep friction in the system to an absolute minimum, rather than allowing sliding friction to occur between the contact surfaces of moving parts," Luchsinger says. "The result is a very low number of drives minimizing the efforts in controlling the entire conveyor system. So, the design takes advantage of the three-dimensional space of a facility and uses gravity where possible to transport the carriage, while using the least amount of drives possible."
Dashboard displays
Many conveyor and sortation systems today feature dashboard displays that can help facilities acquire an integrated perspective of the fulfillment process and identify potential bottlenecks and areas for improvement. The technology uses graphs and data sets that are continuously updated in real time to measure the results of companies' current operations and monitor key performance indicators (KPIs) including average discharge rate, average sorting completion time and more.
Average discharge rate. Since the average discharge rate dashboard display presents the total percentage of items that discharge locally, its number should be as close to 100% as possible, according to Beumer Group's Kushner. If recirculation occurs, the dashboard display's number will steadily decline.
"This rate is a key indicator of packing efficiency, particularly related to slow packing that causes blocked chutes and recirculation," he adds. "A solution may be to add labor in a certain area or check client waving."
Average sorting completion time. This tool measures the time in which the first item is assigned to an order to the last time an item is assigned, thereby completing the order. The display features spikes in a graph, which represent missing items.
"Low average sorting completion time indicates efficient waving, as orders are opened and closed in a timely manner," Kushner says. "You may decide to adjust the configurable priorities within the dashboard display's sorter control software to gauge the impact on order completion."
Discharge management technology
Discharge management technology is also vital for today's fast-moving systems. According to Satyen Pathak, senior product manager at Intelligrated, "in real estate, the creed is location, location, location," but for crossbelt sorters, it is "accuracy, accuracy, accuracy of the item location on the belt being discharged." In addition to addressing the relationship between where an item resides on the belt and the center of the chute (discharge location), discharge management technology also decouples induction accuracy—where an item is located on the sorter—from discharge accuracy.
"In the past, discharge accuracy was closely correlated with induction accuracy," Pathak says. "Now we can compensate for a poorly inducted item (either manual or automatic) so that a good discharge outcome is always provided."
This technology can provide a higher chute density, as chutes with smaller divert centers can give more chutes and destinations in smaller footprints, without having to compromise sort accuracy. The technology can also offer double-duty crossbelt sorters, including those that feature large items on one side and small items on the other side, while also compensating for any items that have been on the sorter for a long time, Pathak adds.
"Without this technology, crossbelt sorters typically assume that an item is in the center of the crossbelt section and do not account for differences in item size or location on the belt," Pathak explains. "If an item is not in the center of the crossbelt section in these systems, then operations risk a less accurate divert, which can lead to a missed chute, jam or recirculation."
By using an overhead vision system, the technology accounts for the exact location and size of items on crossbelts and then adjusts accordingly to maximize divert accuracy. Therefore, items do not have to be centered on the belts to ensure accuracy.
Pathak adds, "The increased level of precision of discharge management technology means that chutes don't have to be as wide either, which also enables higher chute density."
Companies mentioned in this article
• Beumer Group
• Hytrol Conveyor
• Intelligrated
• Interroll
• Regal Power Transmission Solutions
• viastore
• WRH Global

August 19, 2016
About the Author
Chris Lewis Chris Lewis is the owner of Innovative Written Solutions, a content development and editorial services company based in Troy, Mich. In addition to developing content for Modern Materials Handing, he has also written for a wide variety of companies, ranging from Golf Channel to St. Jude Children's Research Hospital, as well as industries like engineering, higher education and workforce solutions. He can be reached at
[email protected]
or www.linkedin.com/in/chris-lewis-aa301b14.
Subscribe to Modern Materials Handling Magazine!
Subscribe today. It's FREE!
Find out what the world's most innovative companies are doing to improve productivity in their plants and distribution centers.
Start your FREE subscription today!
Latest Whitepaper
Making the Case for Warehouse Consultants
Benefits for logistics/operations managers, CFOs, and COOs all lead to safer workplaces, lower costs, and happier customers.
Download Today!
From the January 2019 Modern Material Handling Issue
Inside Canadian Tire Distribution Center: Design for flexibility
Continuous improvement in action
View More From this Issue